Few British actors have had a rave review from Barack Obama. But there – on Sophie Okonedo's mobile phone, when we meet in a cafe near her north London home – is the 44th president of the United States, revealing, in a dressing room at the Ethel Barrymore theatre on Broadway, that he and Michelle had "enjoyed so much" watching her play a poor Chicago mother in the recent revival of Lorraine Hansberry's 1950s play A Raisin in the Sun, in a cast that also included Denzel Washington.
Strictly, the Obamas were still in the middle of enjoying it, having unusually "come round" to meet the actors during the interval, as one of the measures to confuse potential malefactors, who might know that the theatrical convention is for admirers to visit the dressing room after the final curtain. In another security precaution, the secret service had instituted a ban on mobile phones, but Okonedo persuaded one of the understudies to keep filming until an agent stepped across the shot.
"It was totally full-on," she says. "We had to get to the theatre three hours early, all the roads around Broadway were closed and there was a huge tent erected round the stage door, with sniffer dogs, and everyone was searched coming in." Even Denzel Washington was treated as a potential assassin? "Yes, everybody."
With A Raisin in the Sun bringing her both presidential compliments and a Tony award – US theatre's equivalent of an Oscar; she was nominated for one of those in 2004 for her performance in Hotel Rwanda – Okonedo is unarguably one of the standout talents among the generation of British performers who left drama school (Rada, in her case) in the early 90s. As such, she should be a useful rebuke to the loud complaints about the frustrating under-employment of non-white actors in this country: last month, Lenny Henry launched another campaign to increase diversity on screen.
But alas, for UK TV bosses with red faces over this issue, Okonedo will make them blush some more. "I do notice that – over the last year – I've had maybe two scripts from England and tens and tens from America. The balance is ridiculous. I'm still struggling [in the UK] in a way that my white counterparts at the same level wouldn't have quite the same struggle. People who started with me would have their own series by now, and I'm still fighting to get the second lead or whatever. I think I'm at a certain level and have a good range, so why isn't my inbox of English scripts busting at the seams in the same way as my American one is? There's something amiss there."
Certainly, her highest-profile performance in theatre to date was the Obama-endorsed run that she has just completed in New York and, during rehearsals, she filmed a pilot for a CBS drama with a potential seven-year run. It would be unfair, though, to say that all of her most interesting offers come from the US, as one of them was an Australian project: the eight-part adaptation of Christian Tsiolkas's novel The Slap, in which she played Aisha, a young Melbourne woman whose storylines explore the toxic residues of racism in a Melbourne family.
Is it because of racism in Britain that non-white actors often struggle?
"Oh, look, I don't know. This is why I don't give interviews. All I know is that I have to go across the Atlantic to get work."
While some would attribute her UK-light CV to prejudice, Okonedo also cites Pride and Prejudice. "I think a lot of it is [due to] costume and period drama, which must be, what, at least 40% of what we do here? Which means that 40% of opportunities are closed to me already."
If she were running British TV, what would she do?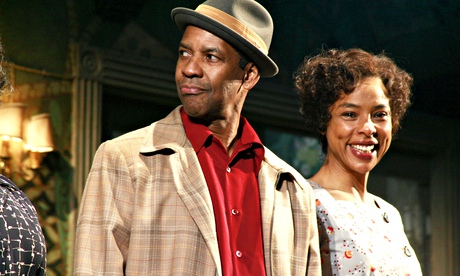 "I think you have to start with the stories. If the writers all come from the same backgrounds, you are going to get the same sorts of characters. Get a broader variety of writers and you get a bigger range of stories. One of the things I have noticed in America is that so much more time goes into script development. If you just say, 'We're going to do a police drama with someone from EastEnders,' or, 'Let's do another Dickens', then you're not going to get diversity."
Okonedo also argues that, whatever casting disadvantages may come from not having a white face, there is a wider problem in Britain for any actors whose features aren't famous. "It's not just about black and white. In America, they would take a risk on a relatively unknown actor for one of their major shows: like Bryan Cranston in Breaking Bad. It's much better to use someone lesser-known. Because, if it's one of the people we always use" – you will have to fill in the names because, with characteristic diplomacy, David Tennant's co-star in BBC1's The Escape Artist declines to do so – "they are so layered with stuff we know about them: 'Oh, they were in that', or, 'They're married to so and so'. With someone you don't know, it is much more believable that they are this new character." She laughs. "I realise I'm talking myself out of work saying this. But there could be so many more risks taken in using new people. The tried and tested becomes very boring. There's no way that the British equivalent of a Bryan Cranston would get the lead in a British equivalent of Breaking Bad."
In her early theatre career in Britain, Okonedo was a beneficiary of so-called "colour-blind casting" playing roles, in plays such as Edward Bulwer-Lytton's Money, and Thomas Middleton and William Rowley's The Changeling, that had been written and previously played white. And it's more than a decade since the black British actor Adrian Lester played Henry V at the National Theatre; although, as a few pigment pedants still wrote to the papers to point out, the king was historically white-skinned. Television, though, has always resisted, say, an Asian Mrs Dashwood in Sense and Sensibility or a Great Expectations with a black Miss Havisham. Privately, TV executives use the excuse that the screen is a more literal and realistic medium than theatre.
However, later this year Okonedo will start filming a UK TV part that may prove as symbolically significant for really broad casting in broadcasting as Lester's Henry V did in theatre. "I'm doing something next which will really challenge conventional ideas. Some people will be thrilled, others less so."
It is an open secret at the BBC and on the internet that the role is Queen Margaret – a white Frenchwoman – in an adaptation of Shakespeare's Henry VI and Richard III plays for the series The Hollow Crown. Although the project has been widely reported, Okonedo regretfully confides that the producers have ordered her not to talk about it in this interview – she rang up to ask permission, which suggests that she is both a rule keeper and team player – as it has not been officially announced. "I was told I'm not allowed to say anything. Why, I don't know."
Longtime observers of the BBC may wryly note that, though having made a casting decision that would greatly help the corporation in the current diversity controversy, it then orders the performer not to talk about it.
Okonedo, though, is subject to double omertà at the moment. At the end of next year, on Broadway, she will cause another double-take when she plays, in a "classic American play", the lead role, "which has never been played by a non-white actress before. It is going to be a real shock for some people." Frustratingly, this play can also not be specified until contracts are finalised.
"Is it Tennessee Williams?" I guess. (Okenedo has the beauty, mystery and vulnerability to be a great Blanche DuBois in A Streetcar Named Desire.)
"Um, not far off. But I'm not allowed to say."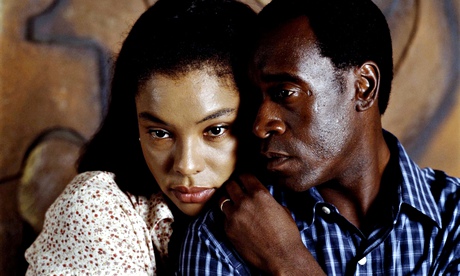 Okenedo's campaign against stereotypical casting is helped by the fact that her background resists easy categorisation. What might be the "suitable" roles for someone who is, by inheritance, Anglo-Nigerian and Jewish-Christian? After her parents separated, she was raised in a liberal Judaic tradition by her mother, which gives her an unusual take on British intolerance.
"I never suffered antisemitic racism because no one thought I was Jewish." Was she ever abused for being black? "Yeah. A bit at school. But most of the racism I would have received as an adult I wouldn't know about. It's covert now."
Okonedo is living proof of the influence on children of role models from similar backgrounds. While at primary school, she saw a song from the musical Annie on the Royal Variety Performance, noticed a young black girl playing one of the orphans and told her mother: "That's what I want to do." Her mother – a Pilates teacher who, while we talk in the cafe, is running a class in a gym across the road – booked tickets for Annie. "But when we got there, there were no black people in it by then!"
Okonedo's list of recent credits seems to alternate, in a way that looks almost systematic, between race-specific parts – such as A Raisin in the Sun and The Slap – and race-neutral characters: skin colour was irrelevant to her role as the wife of a man who joins a religious cult in Joe Penhall's Haunted Child at the Royal Court three years ago, and to that of a barrister defending a psychopath in The Escape Artist. So does the face of a character ever play a part in deciding between scripts?
"Initially it's, 'do I want to play this part'? Afterwards, it might cross my mind that this is interesting because it was written white, but that is secondary. It may surprise you, but I actually don't think about being black most days. So I don't think about it when I'm acting. I'm not thinking: 'Is this person black or white?' but: 'She's 21, she smokes, she loves her husband, this is the scene where they try to take her house away from her' and so on." But what if racism is one of the themes, as in The Slap? "Oh, then I think about it at that moment. But this is what I'm saying. It's like in life. If someone called me a racist name in the street, I'd think about racism. But I might not be thinking about it a bit later, getting on the bus. If I were playing Boadicea, I would think about what it's like to be a warrior, not the colour of her or my skin."
The fact that Okonedo is less well-known in Britain than her work deserves can partly be attributed to unimaginative casting directors, but also to her deliberate decision to keep a low profile on the party and publicity circuits. Her biographical footprint extends little beyond the fact that she has a grownup daughter from an earlier relationship, and now lives with a partner who is, as showbiz people say of civilians, "not in the business".
This discretion reflects Okenodo's belief – in line with that earlier remark about seeing an actor on TV and thinking they are "married to so and so" – that invisible actors can play more credible characters, but also suits her temperament. "I can't, for example, Google myself, because I am very sensitive. I also stay very local to where I am, I don't do many promotional events. I have to keep a low-key life because I'm very sensitive and aware of it. But it's great for acting, as I can access my feelings and emotions."
That carefully low profile has inevitably been raised by the Tony award and the exposure of being on a Broadway stage with a major Hollywood star. "People would shout out: 'Don't, Denzel!' or 'You can't treat her like that!' At one point, Denzel and I have a kiss on stage and a woman shouted out, from the gods: 'Forget her – I'm up here!'" Regular theatre-goers tend to be sniffy about such audible involvement but Okenedo thinks that, while performers should never allow the audience to take control of a show, they should be tolerant of such responses. "You can't have a rarified atmosphere and a sense of, 'This is how theatre should be.' It's nice if people want to come who don't know the rules."
A new theatre audience would certainly be found in Britain for Washington and Okonedo in A Raisin in the Sun in London's West End, so might it be a possibility? "I asked Denzel and he said: 'Oh, I don't know.' We're all pushing him. I would love to do it next year for 8-10 weeks in London."
Her mum comes across from the gym for a chat before Okonedo walks home up the hill. "I keep reading that I live in America, but I work there – for the reasons I've told you – and then come straight home. This is home."
• This article was amended on 15 March 2019 to correct a quote referring to a role that "has never been played by a white actress before". That has been changed to non-white.