It wouldn't be film awards season without a critical chorus of complaint following every major announcement – none louder than the one that greeted the best British film Bafta nod for Gravity, that quintessentially English ode to keeping calm and carrying on.
Two of its rivals in the category, as it happens, hit DVD shelves tomorrow; one deserves a lot more than puny secondary prizes. That'd be The Selfish Giant (Artificial Eye, 15), Clio Barnard's astonishing northern morality tale of unguarded children in the industrial wilds of Bradford. A somewhat oblique evocation of the Oscar Wilde fable, it stars ferocious 13-year-old newcomer Conner Chapman as a young terror whose aptitude for scrap metal collection takes him into dangerous adult realms of corruption, compromising his friendship with sweet-natured pal Swifty (the equally impressive Shaun Thomas) in the process. A contemporary companion to Ken Loach's Kes, yet shot through with an unruly lyricism all Barnard's own, it loses none of its gasping power on the small screen.
Meanwhile, Ron Howard's Rush (StudioCanal, 15), already a fairly vapid achievement in cinemas, looks less impressive still with the roaring sound design and gorgeous radioactive hues of Anthony Dod Mantle's cinematography minimised for the living room. A proficient but psychologically unilluminating study of the none too real-life rivalry between 70s Formula One titans James Hunt (Chris Hemsworth) and Niki Lauda (Daniel Bruhl), it offers some whizzy thrills for petrolheads, while Peter Morgan's script hammers home the racing-as-living metaphors for all they're worth. In his first UK production, Howard appears to have entered the Clint Eastwood phase of his career: he's made the film because he can, but it's hard to detect much emotional investment in the enterprise.
While we're on the subject of awards contenders, two strong films recently nominated for the best documentary Oscar are available for home viewing this week. On DVD, Zachary Heinzerling's Cutie and the Boxer (Dogwoof) is a bristly, candid portrait of two ageing New York bohemians – hard-living pop artist Ushio Shinohara, now a cantankerous octogenarian, and his significantly younger, improbably patient protege Noriko; observing how mutual artistic passions can salvage a highly imbalanced marriage, it's an improbably touching love story.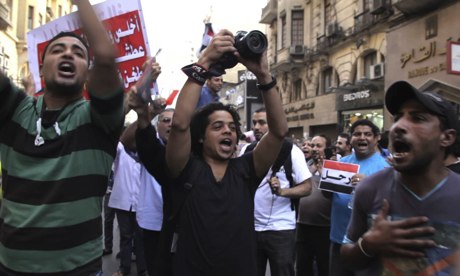 On the online front: The Square, Jehane Noujaim's rigorous study of the still simmering Egyptian revolution, was rightly praised by this paper's Mark Kermode on its cinema release only a couple of weeks ago and has already made the leap to Netflix. There's a reason for the swift progress: it's the first film ever to be both theatrically and digitally distributed by Netflix, as the streaming giant seeks to expand its media portfolio in 2014. An Oscar nod straight off the bat will bolster its confidence; expect more films to follow this release path in the future.
Finally, swerving back to DVD, The Call (Warner, 15) is a cracking bit of nonsense from B-movie ace Brad Anderson: a lean, lurid thriller stars Halle Berry (actually doing some work for once) as a 911 operator drawn remotely into a grim kidnapping case. If all that nutritious awards fare has you craving the cinematic equivalent of a dirty burger, this should fit the bill nicely.