"Who, after all, speaks today of the annihilation of the Armenians?" asked Adolf Hitler, and this mass murder in 1915 by the Ottomans of the minority Armenian population is still a hugely controversial subject, especially in Turkey where there is resistance to assuming a retrospective burden of genocidal shame. Fatih Akin, the German-Turkish film-maker, has made it the starting-point for a heartfelt, if soapy Zhivago-ish quest epic, his first English-language movie; he directs, produces and co-writes with Mardik Martin, the veteran screenwriter who worked with Scorsese on Raging Bull and Mean Streets.
It's a big, ambitious, continent-spanning piece of work, concerned to show the Armenian horror was absorbed into the bloodstream of immigrant-descended population in the United States, but it is a little simplistic emotionally, especially in its latter half as the film trudges across America with its hero. It doesn't have the sophisticated nuance and wit of Akin's contemporary German-language movies, like Head-On (2004) and The Edge of Heaven (2007).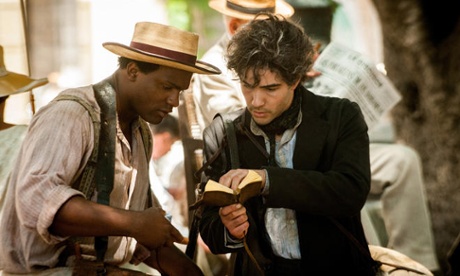 This horrifying historical episode is neglected in the cinema — although Atom Egoyan addressed it in his 2002 film Ararat; Akin takes it on in good faith, although Armenian communities may take exception to the fact that he actually dramatises, on screen, the brutal deaths of 30 or so victims. The part can stand for the whole of course, but the total numbers involved are not specified.
Tahar Rahim plays the embattled hero Nazareth, a blacksmith and Armenian Christian who is torn from his wife and twin daughters by the Ottoman authorities for a supposed military conscription which is nothing more than slave labour on a work gang and a forced march heading to racial annihilation. But he encounters decent Turks: a civilian prisoner who pretends to cut his throat at the orders of a soldier, but merely stabs him in the neck, leaving Nazareth alive but mute. Nazareth scrambles away, an undead fugitive from history: a crew of Turkish army deserters help him with food and water.
He is finally taken in by a soap manufacturer: the ambiguous metaphor is there if we want it — the soap which genuinely cleanses, or merely something with which powerful people will wash their hands of responsibility. The manufacturer attempts to give some of his wares to soldiers, and calls after them: "The whores of Aleppo will thank you!" Poor, mute Nazareth becomes obsessed with one thing: finding his daughters, now young women, a mission which will take him on a journey of thousands of miles.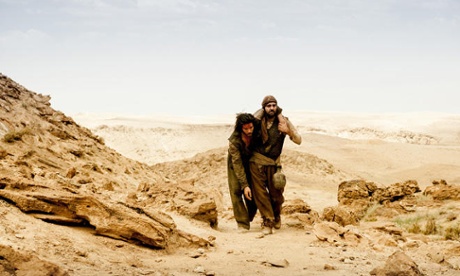 It is this journey which is frankly the film's weaker aspect. There is little historical or political contention in it, and not much actual drama; the horror itself recedes in the memory to be replaced by a long search and a long haul, with disappointments verging on the farcical, in the course of which Rahim's character does not grow or change that much. He remains pretty boyish-looking, despite some grey hairs at the end. (At the beginning of the movie, in fact, he has a look of Pasolini's Christ in the Gospel According To St Matthew.) And he is mute, of course, which means that there is not much in the script for Tahar Rahim to work with, and he gives what amounts to a very subdued performance although interestingly one moment when he does comes alive is in his entranced reaction to a silent movie show: Chaplin in The Kid. Nazareth's eyes light up like a child's.
But otherwise the movie is not much leavened with comedy or happiness. It's understandable. The Cut can mean the brutal act of murder itself; it can mean the division of husbands from wives, parents from children, and it can mean the present from the past, the insidious amputation of memory. Whether The Cut encompasses this last sense is up for debate, but it is a forceful, watchable, strongly presented picture and a courageous, honest gesture from Fatih Akin.