The actors Brad Pitt and Angelina Jolie are married, a spokesperson for the couple confirmed. The pair exchanged vows in France on Saturday, before traveling to Malta to begin work on experimental romance By the Sea, which shoots on the island next week.
By the Sea will be Jolie's third film as director, and the first since Mr and Mrs Smith that the couple have acted opposite each other. They met on the set of Doug Linman's spy caper in 2005, became engaged in 2012 and have six children together. It was pressure from their offspring, reported Pitt at the time, that led them to decide to tie the knot. They also deferred their engagement until a time when the law enabled same-sex couples to marry in the US.
It is the second marriage for Pitt, 50, who was with first wife Jennifer Aniston for five years, and the third for Jolie, 39, who was previously married to Jonny Lee Miller and Billy Bob Thornton.
The wedding was believed to have taken place at Château Miraval, the couple's 1,000-acre property in the south of France. It is from here that they produce a range of wines, including a rosé previously named Pink Floyd in honour of the band, who recorded tracks for 1979 album The Wall at the estate in 1979.
Pitt wore a wedding ring to attend a press junket for new film Fury at the Bovingdon Tank Museum in Dorset on Thursday.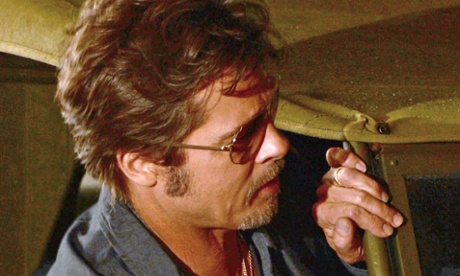 The film, directed by End of Watch's David Ayer, premieres later this year and stars Pitt as Sergeant Wardaddy, who leads his ragtag troop behind enemy lines in a tank called Fury.