If travelling really does have the edge over arriving, Olivia Wilde must be enjoying the time of her life. It is no slight on this poised, intuitive performer to say that she has been on her way for most of her career. Each year has brought with it another handful of movies that might give her the success and recognition she deserves – or might not. But here she comes again anyway. The question being: when is she finally going to get there?
It's not that she has wanted for work or variety. She has acquitted herself well in delicate indies (Conversations with Other Women), intense, macho-method drama (Alpha Dog) and blockbusters festooned with CGI (Cowboys and Aliens, Tron: Legacy). She had a youthful spell on the teen TV drama The OC, and was sparky during her five years as the enigmatic Thirteen in the medical drama House. But admirers have been squinting at some of her career choices like expectant relatives scrutinising the flight arrivals board for news of their loved ones. Only now does she seem to have reached her destination. She assumed a credible English accent for the recent Formula One movie Rush, and will soon be seen in Spike Jonze's Her, which stars Joaquin Phoenix as a man who falls in love with a Siri-style app. But it's her current film, Drinking Buddies, that has done the trick for her. "I feel it's the first time I've hit a real nerve," she confesses. "It's the only film of mine that I'd tell people: 'Please, please see it!' I think it's a really honest piece of work." She reflects on this, then says with a loud and mordant laugh: "It only took me 12 years!"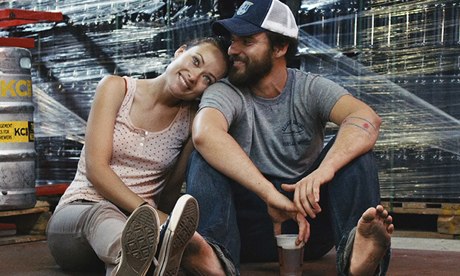 We are sitting knee-to-knee on a sofa in the penthouse bar of a Los Angeles members' club. Turning up 20 minutes late due to traffic, I had anticipated frostiness. What I found was very different: Wilde kicking back in the attire of an off-duty dancer – white T-shirt, black leggings, sunglasses nudged to the top of her head. In between chewing the fat with the stylist from the photo shoot, she looks up at me with a breezy "Hey!" She is 29, fresh-faced and mildly feline, her hair pulled tightly back. It is early October and the announcement that she is expecting a baby with her fiance, the comic actor Jason Sudeikis, has not yet been made.
Drinking Buddies is an improvised comic drama from Joe Swanberg, a figurehead of the lo-fi indie "mumblecore" movement. Wilde plays Kate, caught between a drab relationship and the promise of something zestier with her close friend Luke (Jake Johnson). Kate is not always a likable character, but she is a plausible one, and Wilde's performance is purged strikingly of any vanity. She excels especially at those moments when Kate believes she is being playful or cheerily evasive when in fact she is merely bruising everyone's feelings. "You go from liking her to hating her to hopefully liking her again," she says. "Guys who've been hurt by girls like her hate her. Single guys of a certain age who are looking for someone fun say: 'Why can't I find a girl like that? She's spontaneous!' I'm, like: 'Are you kidding? She's an emotional terrorist!'"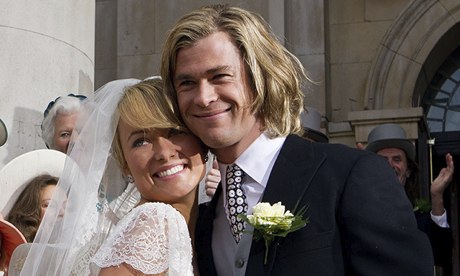 Swanberg's insistence on top-to-toe improvisation seems to have unlocked a daring part of her talent that hasn't been accessed by other directors. "There was no script," she says excitedly. "Nothing was written down. I never got so much as a piece of paper. You improvise to find out what the scene is about. Then you start again, but you reach the point sooner. Ninety per cent of what you do may be worthless but you have to be willing to blurt it out. It feels like the first time I've been able to loosen up and let it flow." This she does with a vengeance. Kate can be a calculating strategist who moves between romantic prospects like a woman queue-hopping at the supermarket, but Wilde throws everything into those scenes in which she is able to cut loose from any internal panic: a food fight, a rambunctious blackjack lesson, an emotionally tense campfire scene on the beach.
"That was not planned," she says. "We knew Jake and I would sit by the fire but we didn't know what would come next. It felt too obvious for them to kiss. Plus there's no way back from that. I thought: 'What's another way they could test one another?' Then I realised Kate is a version of me. I know this girl. It's night, the water's warm, what's she gonna do?" Reader, the answer isn't stone-skimming.
Swanberg had noticed Wilde in Alpha Dog, where she played a dazed hanger-on in a gang that pulls off an impromptu kidnapping. "Olivia struck me right away as very smart in that film," he tells me. "I kept up with her career and she wasn't getting very many interesting parts. I'd basically see her in huge-budget movies where she wasn't the lead, but she's so beautiful that it was like that's all anybody was interested in. It was great to realise how much she has going on outside the film industry. A good improviser to me is someone who can carry a decent conversation. I'm really looking for someone who can talk and has enough life experience that they can tell stories and reference things that don't all relate back to some time they were on a film set. That's her."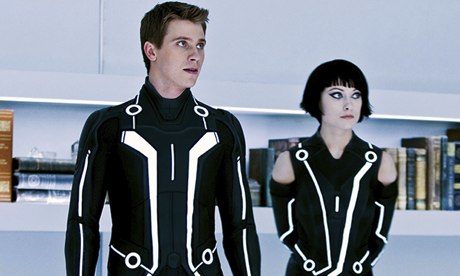 Wilde was born into what she calls a creative, questioning environment – her parents, Andrew and Leslie Cockburn, are journalists, as was her grandfather, Claud Cockburn, who was also a novelist. His books include Beat the Devil, which he published under his pen-name James Helvick (it was later adapted into a screenplay by Truman Capote and directed by John Huston). She insists her change of name was in tribute to her grandfather: "I thought how wonderful it would be to have a separate name for your artistic self." The Wilde is from Oscar. "Being half-Irish I connected with him. And it was also important to forge my own path. At one point I thought changing my name might help with privacy, but that was before the internet." She gives a snort.
She knew since childhood that she wanted to act, and later attended Dublin's Gaiety School of Acting. But there doesn't seem to have been a lot of actual fulfilment along the way. She can pick out highlights. The time she appeared aged 13 in a school production of The Complete Works of William Shakespeare (Abridged) and felt that the audience was rooting for her: "That's an important moment for an actor." Or her small part in the 2005 film Conversations with Other Women – the closest experience she had got at that point to the satisfaction of Drinking Buddies – in which she was plonked in a lift with Helena Bonham-Carter and told to improvise belittling comments. "Helena being one of the greatest actors in the world, I just thought: 'Oh fuck.' But I figured out the scene. It went well." Indeed it did. Wilde completes a full-on character assassination with a couple of snide, corner-of-the-mouth asides and a barking laugh. "That gave me confidence in matching my own creative powers to the story. I thought: 'OK, I can do this.'"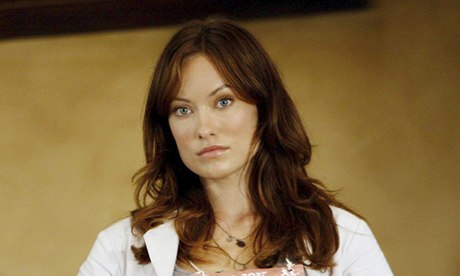 If only she got the chance more often. House gave her a global audience and the luxury of several years to bring complexity to a character who started out as simply "mysterious" (Wilde makes mocking quote marks in the air as she says the word). But even the intriguing Thirteen – a wild, secretive, bisexual, terminally ill care-giver – fell at first within the parameters of the stereotype the industry had given her. "I got cast in The OC and even initially in House as a very icy, confident, emotionally reserved woman, which is not me. I can't really analyse why. People saw I could do it. But it takes more courage to play someone vulnerable. Power tends to get confused with repression. A good female character is seen as one that's really badass – a femme fatale. But a great female character can often be a complete mess. People thought I could only play the badass so I'd always get those roles. It just doesn't feel very human." Sometimes it actually wasn't. "I got cast as a computer program in Tron: Legacy and an alien in Cowboys and Aliens. I was, like, 'There's something wrong here …'"
She puts it down now to her mid-20s and a work ethic she associates with youth: "Just keep it together and keep going, going, going." It can't have helped her clarity of vision that she was going through a personal upheaval at the time, divorcing her husband, the Italian film-maker Tao Ruspoli. She is in a different mindset now. "At a certain point you look at your life and say: 'Who am I really?'" Evidently not the sort of person who would still say "yes" to a film such as The Incredible Burt Wonderstone. "Oh dear," she says when I mention that comedy, in which she played a magician's assistant. "I don't want to offend anyone but that is an example of how it's all a big crap shoot. You really just have to love the process. I can't tell you the amount of film sets I've been on where people are talking about Oscars in the middle of the production. It happens all the time. On Drinking Buddies, we would still have loved doing it even if it only ended up being shown in someone's basement."
Swanberg has no doubt that Wilde is grounded enough to cope with the success that should at last be coming her way. "She's been married and divorced, she has friends not in movies, she has what seems to me to be a very rich, normal life rather than one that's 100% industry-focused all the time. It's kind of miraculous that for as famous and recognisable as she is, she's shockingly normal. I've hung out with her. She can't go anywhere without having her picture taken, but it hasn't crept into what she considers important."
Earlier in our conversation, Wilde had been groping for a John Steinbeck quote to express the newly self-possessed state in which she now finds herself. While I'm waiting for my taxi in the lobby after the interview, she scurries over to me. "I remembered it!" she trills. "'Now that you don't have to be perfect, you can be good.'" She smiles, says her goodbyes and trots to the door, only to be stopped by the concierge. "Just to give you the heads up," he says in a half-whisper, "there's a line of paparazzi outside, so you might want to take a right." She rubs her hands together gleefully. "Great! I'll get some water balloons ready." Then she leaves. Though, in another sense, she's just arrived.