Chris Hemsworth, AKA Thor, God of Thunder, crown prince of Asgard, calls me from the M25. It's 6pm, and he's just wrapped for the day on Ron Howard's In The Heart Of The Sea, a true story about a ship destroyed by a sperm whale in 1820. It's shooting at Leavesden Studios, and Hemsworth is in the car home to London, where he and his family have been living for the past few years while he's been making movies, including last month's F1 drama Rush. He'll be here into the spring too, for Avengers: Age Of Ultron. "It's the new Hollywood," he says of Greater London, taking care not to reference the weather.
Thor: The Dark World (sequels are all about colons these days) was also filmed a hammer's throw from the M25, with Pinewood Studios standing in for Asgard, Thor's otherworldly digs. There is, though, a more grounded feel to the alien environs this time; the film was directed by Game Of Thrones' Alan Taylor, who wanted it earthier than Kenneth Branagh's shiny first instalment. Hemsworth loves HBO's gory breastfest to the point of obsession, he says, so was thrilled when Taylor signed up. How has Game Of Thrones seeped into Thor: The Dark World? "Very much. I just saw the film the other day and was blown away by how expansive it is," he says. "Everything is broken down that bit more, the costumes, the sets, even the hair… you can certainly see the fusion of where he comes from." Presumably there's a little less sex and blood, though. "Yeah, slightly less breasts and swearing."
Hemsworth cut his chops on Home And Away before quitting in 2007, moving to LA and almost immediately being cast as Kirk's doomed dad in JJ Abrams's Star Trek. Yet after wrapping the thriller A Perfect Getaway, he suffered eight months of unemployment ("I couldn't get hired, I couldn't get a job") before finally landing a part in postmodern horror Cabin In The Woods, produced and co-written by Joss Whedon, later to direct Avengers Assemble. It was Whedon who told Hemsworth to go for Thor in the first place. "It was down to four or five people and Joss said, 'Why the hell aren't you playing Thor?' When casting reopened he called Ken [Branagh] and put in a word for me."
Hemsworth has since turned out to be a no-brainer for studios, a killer combo of pecs and presence, although his incredibly charismatic turn as James Hunt in Rush proves that there's a whole lot more to him than wham-bam blockbusters. Still, Thor is Hemsworth's second skin: this is his third outing as the character in as many years. Is it becoming somewhat automatic? "I'm well aware of that danger," he says. "And that was the challenge, to find those depths and layers and not repeat what we'd done, to see if we could advance it. I felt, this time, much more comfortable in the skin of Thor, but also just as an actor. I'd been working solidly on other films since the first one and had learned a lot. Every time you shoot a film you go, 'Oh god, I should have done this, or this…' and in this instance that's the bonus, you get to attack it again."
'I couldn't imagine a worse scenario than not enjoying being Thor, because it's gonna consume a good 10 years of my life'
Hemsworth, a gentle giant who seems both grateful and gracious, talks passionately about Thor, with no winking and no weariness. It sounds as if he has genuine affection for him. "Yeah, definitely. Ah look, not only because of the opportunities it's given me, but to spend that much time in a character's head and not have affection for him or empathise with him is a lot harder of a task. Yeah, there are times when you get frustrated with things, limitations about it, but you'd drive yourself crazy. I couldn't imagine a worse scenario than not enjoying this character, because it's gonna consume a good 10 years of my life."
It really is: by the end of the decade he will have played the character six times (he's contracted for a third instalment as well as two Avengers sequels). He basically squeezes other films into gaps in his Thor schedule. Which, really, is bonkers. "Ah, it's nuts. That's what I mean, even unconsciously you have to find a way to love it. Also, whether it's Tom Hiddleston or the guys in The Avengers, we all talk about what an opportunity it is to be part of something that people love across the board, people of all ages have such affection for it. It feels like what Star Wars was when I was growing up, how everyone talked about it, the influence on pop culture, and it's kind of crazy to be a part of that."
Does he get wide-eyed kids gawping at him? "I was at the airport a few weeks ago," he laughs, "and this kid with a little cape on and a hammer was running around smashing into things and his parents looked over at me and said to him, 'Look, look, it's Thor!' And the kid looked up and said: 'No it's not.' And just ran off and continued to be Thor around the airport. And I realised, I ain't Thor without the costume and the hammer."
Hemsworth lives a quiet, private family life, but although he avoids the spotlight when he's not on the promo train, it doesn't avoid him. A few weeks ago, myriad gossip sites published photos of the Malibu home he just bought, going through the place room by room. "Ah, that was odd for us, man. I emailed my manager saying, 'Are they allowed to do this?' And they said, unfortunately, yeah. It's a strange feeling, you know?" It is particularly intrusive. "It is, we've hardly even been there, and for it to happen that soon, wow. It is what it is, you trick yourself into thinking that you can avoid it or ignore it, but when it's literally in your home like that it's a strange thing."
'It was refreshing to be able to spend all the time on my character in Rush and not be sidetracked by special effects and spectacle'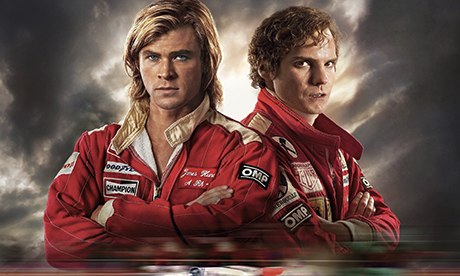 That level of attention, one assumes, must be rather unnerving. "At times, yeah. When you think about it. Most of the time I can get away with not paying any attention, and then occasionally it's in your face. I just stay off the internet. And I found that living in LA, during the time I wasn't working, I think part of it was because I was too in the middle of it all, living in Hollywood, auditioning and working there, and everywhere you drive and walk and move you're reminded of the industry and what you're not involved in, and you just end up tightly bound, spinning in circles with it. The more you do things that are further from that, experiencing parts of life that aren't absolutely the industry, far more authentic kinds of activities, you feel like a person again. Because you can quickly become a prototype for Hollywood."
Indeed, Hemsworth's ascension has been swift since Thor's success; he's now prime box-office stock, a marquee name for the number crunchers. The recent underwhelming Red Dawn remake, in which Hemsworth starred, was actually shot in 2009. It was postponed due to MGM's financial woes, but having it finally hit screens after the success of Avengers Assemble and Snow White And The Huntsman also looked like a cash-in. "Yeah. I think a bit of both," he says. "It was certainly held up because of MGM going bankrupt, but I think when it came time to release it they sat on it a little to see what Thor was gonna do. You want your most recent thing to be the representation of where you're at, and to dig up something that was in the past was a little scary. But Ken [Branagh] said, 'I liked being able to introduce you to the world as a fresh face,' so it was maybe an advantage in that way."
In-between his Asgardian outings Hemsworth wants to make smaller character-driven films. He recently filmed Cyber, Michael Mann's thriller about a code-writer pulled out of prison to help track down a cyber-terrorist, and relished the attention to detail Mann pushed for. "He's an absolute workhorse," he says. "He made me do two-and-a-half months of computer classes." Really?! Was it worth it? "Yeah. It may be an overload of information, but I think he thinks if you can limit that slight shadow of doubt in your eye, that you know what you're talking about, then it's worth it." Hemsworth was hugely inspired by Rush, which he gushes about. "It was a reminder of why I fell in love with acting," he says. "Everything's there to support you as an actor and the character and the intimacy of that story. And it was refreshing to be able to spend all the time on that and not be sidetracked by special effects and spectacle, which a lot of other films I've done have been. So in between Thor and Avengers I want to do something like that again. That's where my gut is pulling me. A nice balance."
He's nearly home, so I let him go: the man who ain't Thor without the costume and the hammer, a god who walks among men in airports, invisible to kids dressed as him. Pretty cool.
Thor: The Dark World is in UK cinemas on 30 Oct