There are two men on a balcony looking out at the panorama of Rome. It is the summer of 1975. "Are you happy in Rome?" says one. "As happy as an exiled Jew can be," says the other. The man asking the question is Claude Lanzmann. He has just started work on what will take him 10 years to finish: Shoah, the ground-breaking, nine-and-a-half-hour film about the Holocaust, composed of first-hand testimony and eschewing historical footage. Simone de Beauvoir, his one-time lover, later called the film "a monument – one that for generations to come will enable everyone to understand one of the most sinister and enigmatic moments in history".
The man answering the question is Benjamin Murmelstein, who was the last president of the Jewish Council in Theresienstadt ghetto, the concentration camp in the city of Terezín. Murmelstein was the only "elder of the Jews" (as the Nazis called the Jewish leaders they employed as administrators) not to have been killed during the war – and the only Jew allowed to sit next to Adolf Eichmann, one of the architects of the Final Solution, for whom he was forced to work. Murmelstein's task was to preside over the daily life of the ghetto, to keep it going.
In that summer of 1975, Lanzmann convinced Murmelstein to speak for the first time, on camera – an extraordinary testimony, with shattering revelations. But Lanzmann, finally confronting his hundreds of hours of footage years later, decided not to include Murmelstein in Shoah. Speaking in his Paris apartment, a stone's throw from the catacombs where his fellow teenage members of the Resistance oversaw the liberation of Paris in 1944, Lanzmann explains why. "Shoah was epic and told a relentless tragedy. Murmelstein had no place in it. If I had included him, Shoah would have had to be 20 hours long."
Lanzmann chose instead to feature a dead man, Adam Czerniaków, the president of Warsaw's Jewish Council who killed himself on 23 July 1942, the day after mass deportations to Treblinka started. The diary he kept is read by Raul Hilberg, the US historian. Hilberg, whose 1,273-page The Destruction of the European Jews is considered the seminal study of the Final Solution, hated those Jews who "collaborated" with the Nazis. "We had endless conversations," recalls Lanzmann. "Genuine collaborators like the French collaborators, sharing Nazi ideology, did not exist among Jews – except perhaps in Warsaw, with a small group known as The Thirteen. The others were appointed by the Germans, and refusal to accept meant death. I convinced Raul Hilberg that those men had been crushed by a hellish system, that they were the victims of savage contradictions."
Murmelstein, who called himself "the last of the unjust", perfectly represented those contradictions. His testimony raises a trail of questions, all painfully complex. Indeed, his extraordinary presence, blunt sincerity, acerbic wit and erudition would shake anyone who has inherited history's prejudices against those Jews who worked with the Nazis. Lanzmann has endeavoured to rehabilitate them. In the preamble to his new film The Last of the Unjust, which will screen at the Cannes film festival on Saturday, he writes that Murmelstein's revelations never ceased to haunt him, and that the time had come to share them. "Murmelstein was brilliantly intelligent and extraordinarily courageous," Lanzmann says. "During the week I spent with him, I grew to love him. He does not lie: he is as harsh with others as with himself."
The Last of the Unjust is a remarkable film. Lanzmann has woven his 1975 interviews into visits to the places where the events described occurred: Austria, Poland, Israel and the Czech Republic. We leave the youthful 50-year-old Lanzmann, chain-smoking on that balcony in Rome, to find him, 38 years later, white-haired but as imposing as ever, on the platform of Nisko station in Poland, where the first deported Jews arrived in October 1939. Over sweeping views of the Czech city of Terezín today, we hear Murmelstein saying: "Theresienstadt was a lie, an enormous lie. A seaside resort for elderly Jews, they said. As if. Jews were supposed to live in family boarding houses, except they were cramped in derelict attics. Jews were supposed to enjoy a well-deserved retirement, except they were left to rot and die. Everything was a lie. And we had to live that lie for the world." Many Austrian and German Jews gave their savings to go and live there. "Theresienstadt," says Lanzmann, "was human in appearance only. It was the worst kind of concentration camp, with blackmail, lies and naked violence."
The Rome interviews may have been the first in his 10 years of research for Shoah, but Lanzmann's talent is already clear, with each scene carefully thought out. Murmelstein's personality emerges. Forceful and irresistible, he never shies away from the facts. Instructed by Eichmann to organise the forced emigration of Austrian Jews from the summer of 1938 until the beginning of the war, Murmelstein helped more than 120,000 flee to the US, Britain and Palestine. During that time, he himself could have emigrated – he was even offered an academic position in Britain – but chose to stay.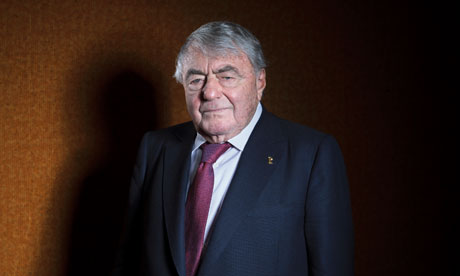 When Lanzmann asks why, Murmelstein gives an incredible answer: "A taste for adventure." He's a young man then, only 33, and thinks he can make a difference. He gets to know Eichmann well. "I saw him participate with his bare hands in Kristallnacht. He denied this during his trial in Jerusalem and was not challenged. Eichmann was not a banal bureaucrat obeying orders." At the time of Eichmann's trial, Murmelstein offered to testify but was turned down by the judges. "I was not deemed worthy of trust," he says. Yet he witnessed Eichmann's personality and intentions at close quarters.
"The trial of Eichmann was a dirty trial, a trial run by ignorants," says Lanzmann. "The prosecution even got names of places and people wrong. The trial was a political show wanted by Ben Gourion as a founding act for the creation of the State of Israel."
Murmelstein says he assisted the Nazis in generating propaganda for the Theresienstadt "model ghetto" in order to save lives. "The Nazis wanted a puppet. I was no fool. I managed to pull some of the strings. It was the whole point. I participated in this theatre, this propaganda of the 'model ghetto' because I thought that if the world knew about us, then the Nazis wouldn't be able to get rid of us." He eradicated typhus at Theresienstadt and found wood to rebuild dormitories. "I needed everything I could lay my hands on in order to help save lives."
"But it was hell," retorts Lanzmann.
"A surgeon must not cry on the patient he operates on ," replies Murmelstein, "or the patient will die."
In October 1944, Murmelstein was ordered to draw up a list of 5,000 people to be deported east – to Auschwitz, in fact, although nobody in Theresienstadt knew this. Murmelstein refused. "It was a calculated risk," he says. "I thought the Nazis could kill me for refusing. On the other hand, they needed me." He was proved right.
Murmelstein is an erudite figure, often quoting mythology to make a point. In one beautiful moment, he talks about the dangers of looking back and mentions Orpheus and Eurydice. "If you look back, you may be stuck for ever in the past." Asked if he might liken himself to Falstaff, he says: "No and neither am I Mad Orlando in Orlando Furioso. I think I was more a Sancho Panza in a crazy world."
When the camp was liberated, Murmelstein held a diplomatic passport from the International Committee of the Red Cross. He could have left but didn't and was arrested. "I knew people in the camp were angry at me. I knew I had to answer questions. I was in many ways a voluntary prisoner." Murmelstein was held for 18 months in Prague's infamous Pankratz prison, where hangings took place every day. He was acquitted of all charges and chose exile in Rome.
At the end of the film, Lanzmann and Murmelstein walk side by side near the Roman Forum, almost 3,000 years of history surrounding them. Lanzmann asks if Murmelstein knows that Gershom Scholem, the German-born Israeli philosopher and historian, wants him hanged. Murmelstein replies: "Listen – today, a member of the Jewish Council is like a dinosaur on a motorway. What do you do with them? People are right to condemn me but are not competent to judge me. As for Scholem, he is a great scholar but he's a bit capricious when it comes to hanging. Didn't he oppose Eichmann's own hanging?"