Jim Carrey has shocked producers of forthcoming comic-book sequel Kick-Ass 2, in which he stars as a baseball-bat-wielding masked crimefighter, after denouncing the "level of violence" that permeates the film in the wake of the Sandy Hook shootings.
Carrey, who has been an outspoken proponent of increased gun control in the wake of the shootings by gunman Adam Lanza in December, tweeted on Sunday that he could no longer support the film. He wrote: "I did Kick-Ass 2 a month b4 Sandy Hook and now in all good conscience I cannot support that level of violence. My apologies to others involve[d] with the film. I am not ashamed of it but recent events have caused a change in my heart."
Scottish comic-book writer and Kick-Ass 2 executive producer Mark Millar, whose original work forms the basis of the sequel, today responded on his own blog, pointing out that Carrey, who plays a character named Colonel Stars and Stripes, knew exactly what he was letting himself in for.
"[I'm] baffled by this sudden announcement as nothing seen in this picture wasn't in the screenplay 18 months ago," he wrote. "Yes, the body count is very high, but a movie called Kick-Ass 2 really has to do what it says on the tin. A sequel to the picture that gave us Hit Girl was always going to have some blood on the floor and this should have been no shock to a guy who enjoyed the first movie so much …
"Like Jim, I'm horrified by real-life violence (even though I'm Scottish), but Kick-Ass 2 isn't a documentary. No actors were harmed in the making of this production! This is fiction and like Tarantino and Peckinpah, Scorsese and Eastwood, John Boorman, Oliver Stone and Chan-wook Park, Kick-Ass avoids the usual bloodless bodycount of most big summer pictures and focuses instead of the CONSEQUENCES of violence … Our job as storytellers is to entertain and our toolbox can't be sabotaged by curtailing the use of guns in an action movie."
Kick-Ass 2, which stars Aaron Johnson-Taylor in the title role and sees the return of Chloë Grace Moretz as teen vigilante Hit Girl, is the sequel to 2010's Kick-Ass, itself a target for conservative condemnation over violence and the then 12-year-old Moretz's startlingly potty-mouthed turn. Carrey is the most high-profile addition to the cast for the sequel, but his comments are likely to boost rather than damage the film at the box office, just as the furore around Moretz's use of the C-word did little to damage interest in the original movie.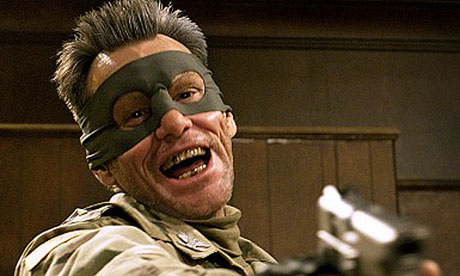 The Canadian comic upset US rightwing commentators when he spoofed the late Charlton Heston (and by inference the entire National Rifle Association, of which Heston was the former president) with a much-shared Funny or Die skit riffing off the Planet of the Apes star's famous "cold dead hands" speech. Now it appears Carrey feels honour-bound to respond to the side of the argument put forward by gun control opponents, who argued in the wake of Sandy Hook that violent Hollywood movies must take the blame for inciting such massacres.
Twenty children and six adults died in the shooting at Sandy Hook elementary school in Newtown, Connecticut, on 14 December 2012, in an event that reignited debate over US gun control laws. Michael Moore and Quentin Tarantino, the latter in the wake of his ultraviolent western Django Unchained, are among the Hollywood figures who have since been drawn into the debate.
Kick-Ass 2, which is directed by series newcomer Jeff Wadlow from his own screenplay, arrives in UK cinemas on 14 August, with the US release following two days later.