The ever narrowing window between the theatrical and DVD release dates of smaller-scale arthouse films is a bittersweet blessing. Viewers in multiplex-only regions get to access them before the critical conversation has cooled entirely, though the sadder flip-side is that their life in cinemas is increasingly brief. Viewed on any size of screen, however, Calin Peter Netzer's astonishing Child's Pose (Studiocanal, 15) – released theatrically only last month – is among the year's most essential films.
There's been a recent critical tendency to elevate indiscriminately just about any product of the so-called Romanian new wave to masterwork status, no matter how dour or protracted, which is perhaps why even discerning audiences were hesitant to see this diamond-hard domestic thriller – a deserved Golden Bear winner at the Berlin film festival. Dramatically coiled around a viciously brilliant turn from Luminita Gheorghiu, it's the rare Romanian film to take on upper-class concerns, or at least to play them mercilessly against lower-class ones.
Gheorghiu plays fur-lined society matriarch Cornelia, whose expertise in maintaining and exploiting lofty connections is put thoroughly to the test when her selfish oaf of a son kills a child in a hit-and-run accident. Her ensuing manipulation of the authorities plays out in Razvan Radulescu's script both as a searing indictment of the country's institutional corruption and a raven-dark study in monstrous motherly love; it's an equivalent achievement to Romanian benchmark 4 Months, 3 Weeks and 2 Days.
Child's Pose at least got a cinema release, which is more than can be said for 11.6 (Studiocanal, 15), a grey-toned but entertaining heist film from France that goes a long way on the hangdog charisma of François Cluzet (Untouchable). He stars as real-life security van driver Toni Musulin, who devised an ingenious way of making off with €11.6m of his employers' cargo. A headline-maker in France, the case carries rather more suspense for us.
Also being introduced to UK audiences on DVD is another provocation from Hollywood's self-styled renaissance man James Franco. Co-directed with queer-film-maker Travis Mathews, Interior. Leather Bar. (Peccadillo, 18) is a film-within-a-film riff on missing footage from William Friedkin's reviled S&M thriller Cruising. Too flimsy to qualify as a cinematic essay, it is at least a steamy, striking curio.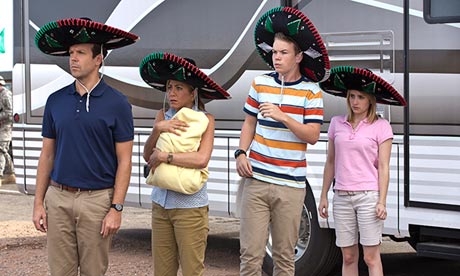 Crasser mainstream pleasures are on offer in We're the Millers (Warner, 15), a soft-headed but funnier-than-it-should-be comedy in which four deadbeats masquerade as an apple-pie American family in order to pull off a gargantuan cross-country drug deal. Rarely raising its brow above low, or its gaze above Jennifer Aniston's cleavage, it gets by on its stars' raucous goodwill: Aniston's zesty comic timing remains a thing of undervalued beauty, and our own Will Poulter reveals an unexpected knack for zonked goofiness.
Would that anyone was quite as sweetly game in Pain & Gain (Paramount, 15), Michael Bay's Miami-slick but fatally unpleasant stab at black comedy, in which Mark Wahlberg's lunkheaded bodybuilder pursues the American dream in ways both unfunny and violently unconstitutional.
Back to unreleased gems, and another one surfaces on Netflix this week. La Camioneta is a lyrical documentary with an admittedly unalluring premise, as it follows the fate of a decommissioned American school bus, one of many given new life as community vehicles in rural Guatemala. Pointed socio-economic commentary and wry personal narratives are braided into this recycling study; it's well worth flagging down.