For 39 years, under General Francisco Franco's repressive regime, it was almost impossible for Spain to create a vibrant film industry and for talented film-makers to express themselves freely. However, after the death of the Generalissimo in 1975, there was a burst of creativity, with Pedro Almodóvar paving the way for directors such as Bigas Luna, who has died of cancer aged 67.
After some years as a conceptual artist who experimented with new audio-visual media, Luna became known internationally for his "Iberian passion" feature film trilogy: Jamon Jamon (1992), Golden Balls (1993) and The Tit and the Moon (1994), which explored the darkest depths of eroticism and stereotypical Spanish machismo. The first film introduced Penélope Cruz to audiences and launched Javier Bardem as the embodiment of the Spanish stud. "I owe my career to Bigas Luna," Bardem said in 2001.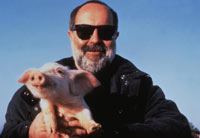 In the trilogy, Luna, like Almodóvar, mined the subversive potential of melodramatic excess, a tradition that can be traced back to Luis Buñuel's surrealist classics. However, Luna's films are more extreme than Almodóvar's, mainly because they are populated not by emancipated lovers but by emotionally stunted characters whose sexuality turns pathological. Luna also seems to question whether Spain's shift to democracy and consumerism was really as liberating as presumed.
Luna was born in Barcelona and became interested in painting and design at an early age. After the 1977 law ending censorship in Spain, he made several erotic low-budget films, which demonstrated a fascination with the manipulation of images and sexual symbolism. In Bilbao (1978), a lonely man living with a domineering wife whom he does not love becomes obsessed with the eponymous stripper and prostitute.
Reborn (1981), Luna's first and last film in English, was a religious cult thriller shot in Italy, with an international cast headed by Dennis Hopper playing a fake TV evangelist who joins up with a woman (Antonella Murgia) with real healing powers. Another kind of cult has since grown up around Anguish (1987), a bizarre horror-film-within-a-horror-film.
The Ages of Lulu (1990) refers to the education of a young girl, which includes a blindfolded threesome with her brother and frolicking with a male gay couple (one of them Bardem). "Men enjoy looking at lesbians, so why can't I enjoy gay men?" she wonders. As the film bordered at times on hardcore, it was not widely seen outside Spain, unlike Jamon, Jamon, which won the Silver Lion at Venice in 1992, and was released in most European countries and the US.
To prove that the film has cojones, the opening shot is of a billboard of a gigantic black bull with huge testicles. In this parodic fast-paced melodrama, Bardem plays a would-be bullfighter who models underwear. As in several Luna films, it counters the criticisms of misogyny with a narrative driven by female desire. Roger Ebert noted that "it is frankly outrageous, it has the courage to offend, it is not afraid of sex, and it goes over the top in almost every scene. Of course it's in bad taste, of course it's vulgar, of course it flies in the face of all that is seemly, and, of course, that is the idea."
The title of Golden Balls, the second in the trilogy, reflects the fact that Bardem, as a horny young man, who dreams of building a skyscraper (an unsubtle phallic symbol) as a monument to himself, sleeps his way to the top. Luna's bawdy pastiche of soap opera holds up the macho male to ridicule, while paying homage to Salvador Dalí, one of the director's idols. The Tit and The Moon is a surreal fantasy about a pre-pubescent boy's (and/or the director's) obsession with breasts and the milk therein. By shooting it as a rites-of-passage drama, Luna somehow distances it from the "nudie-cutie" movies of Russ Meyer.
Luna continued his trips into erotica with Bambola (1996) which concentrated on the physical charms of the voluptuous Valeria Marini, once described by the director as "exuberant, obsessive and excessive, just like bologna sausage". Here again is a swapping of gender roles, exemplified by the characters' swapping of underwear. With The Chambermaid on the Titanic (1997), a restrained, multilayered tale of a man who has, or has not, had sex with the woman of the title, but uses his imagination to embellish the tryst in a hotel room on the eve of the launch of the doomed liner, Luna proved that one does not have to shock to get attention.
Cruz returned to the Luna fold in Volavérunt (1999), an uncharacteristic epic biopic that revolves around Goya's womanising and the mysterious death of the Duchess of Alba. Sound of the Sea (2001) and My Name Is Juani (2006) continued Luna's explorations of the over-sexed male matched with a carnal woman. His final film was Di Di Hollywood (2010), about a barmaid rising to Hollywood stardom, helped by a sham marriage to a secretly gay star.
Luna, a bon vivant, and his wife, Celia, lived for many years in the Catalan province of Tarragona, where they produced wine, ham and organic products. He is survived by his wife and three daughters.
• Juan José Bigas Luna, film director, born 19 March 1946; died 6 April 2013