One evening – we are not given a date, but it must be the early 1960s – the great French philosopher, essayist, novelist and pioneer of feminism Simone de Beauvoir was, as so often, at the theatre. But this was a stranger night than most. On De Beauvoir's left sat her lifelong companion and erstwhile lover, the greatest philosopher of his generation and founder of existentialism, Jean-Paul Sartre. To her right was her current lover, the writer, former resistance fighter and film director Claude Lanzmann. And on stage: Lanzmann's sister Évelyne, a foremost actress of the day, playing the lead role in Sartre's play Huis Clos.
The evening had been contrived as a response to Sartre's recently conceived passion for Évelyne; he was determined to become her lover, asked Lanzmann to organise the outing and, as of this night, – "my sister was radiant, beautiful", recalls Lanzmann – duly won her heart. It was yet another association of ideas and romance in the intellectual, cultural and creative foment that was the Parisian Latin Quarter during its golden age, which were also halcyon days of European philosophy and revolutionary politics.
But of the leading protagonists in that intellectual cauldron, only one titanic figure remains, Claude Lanzmann, whose memoir is published in the UK this month.
Lanzmann is a witness of his time. He is one of the few people still living who can testify at close range to the epic events by which the second half of the 20th century is defined and measured.
During the second world war, he was a teenage guerrilla in the French resistance. In its aftermath, he was among the first western writers to probe communist East Germany, the USSR, Chairman Mao's China and even North Korea, where he fell in love. He lived and worked among that Left Bank, leftwing existentialist avant-garde around his close friend Sartre, and was for many years the lover, travelling companion and confidant of De Beauvoir. He accompanied fighters of the Algerian revolution in desert redoubts under bombardment by the French air force, befriended both its leaders and General de Gaulle, only to be tear-gassed on the streets of the Latin Quarter during the événements of May 1968. He "embedded" himself (as we would say today) with the Israeli armed forces as deeply as is possible without actually joining the IDF, or Tsahal, as he calls them, by their Hebrew name.
But most famously of all, Lanzmann researched, directed and conducted the searing interviews for what is arguably the greatest film of all time, and certainly the most ambitious: the nine-and-a-half hour – "it could have been much longer", he says – Shoah, which, more than any archive project, history book or attempt on film, remains the definitive and inimitable record for all time of the most appalling catastrophe in history.
One could put it this way: there are memoirs of survivors themselves, by writers such as Primo Levi, Charlotte Delbo, Tadeusz Borowski or Jean Améry – and there is Shoah. Nothing else can claim the same authority or cogency.
Now, Lanzmann has created a different kind of epic – a book, a memoir of his own, to record this remarkable life. "Autobiography" would be the wrong word, as its enigmatic title, The Patagonian Hare, suggests. It has no chronology, and is a meditation upon, rather than a narrative of, this life among lives.
Often, books by great men or women read humbly – or at least modestly – but when you encounter them in the flesh, there can be an element of pomp, sometimes even arrogance. With Lanzmann, it is the opposite. His book is often bombastic: "I became an able, fearless skiier, undaunted by sheer, even vertical slopes," he explains; De Beauvoir later "expressed her astonishment at how I had penetrated the dark soul of this apparently model priest", and on another occasion, she "and Sartre were waiting for me in Capri, eager to see me, hungry for stories about my trip" to North Korea.
And yet, in person, Lanzmann is the model of decorum, greeting me at his central London hotel with the impeccable manners of the really great person, who does not need airs and graces. He is physically small, but with the pugnacious build of a quarterback.
Lanzmann's narrative begins during his wartime childhood in occupied France: he describes to me in detail his assignment for the Maquis to collect suitcases of ammunition from a stranger arriving by train and his part in the ambush of a Nazi convoy as it emerged from a road tunnel in the Auvergne. But it builds towards its core, what he calls "those days" on the left bank of the Seine, along the boulevards St Michel and St Germain: "It was a liberation of France, it was the end of Nazism; it was a strong moment, and we were ready for adventure, ready for anything, to create the next world."
Lanzmann calls Sartre "the sultan of Rue Bonaparte", and his beloved De Beauvoir by her famous nickname, Castor. He confides playfully how he fixed his first date with her, asking if she would accompany him to a film; "What film?", the philosopher replied, jealous of her time. "Any film!" replied Lanzmann. After the ensuing night together, Lanzmann left for Israel, and returned to her after a flurry of letters exchanged and a terrible storm at sea, to find – he writes – "Castor's eyes, her arms, her mouth, her hands moving over my body as though to recognise it, the long, slightly tremulous embrace of our reunion."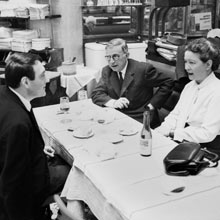 But, he adds: "It was not love at first sight, it had to be learned, and take its time." He says that "the rapport between us was both intellectual and carnal", and describes the usual – but very unusual – working day in Paris: he and De Beauvoir would rise together and write in each other's company during the morning, after which "she lunched with Sartre, or with me, or someone else". De Beauvoir would then "spend her afternoons in Sartre's office, where she had her own desk. One evening was reserved for Sartre, the next for me; the nights we spent together. But we also often had dinner together, sometimes the three of us, on occasion with the rare friends, such as [the Swiss sculptor] Giacometti, of whom Sartre was particularly fond."
The founder of existentialism was, says Lanzmann, "magnificent, a philosophical genius – a truly great thinker, and when he started to think he was generous with what he was doing – he would share his ideas, want to discuss them. And every time you left a meeting or a conversation with Sartre, you felt this sense of being capable of doing anything, such was his special charisma." His "usual gaiety and hyper-active optimism" could sometimes sink into "a chasm of meaninglessness, the obvious, irrefutable fact that 'man is a useless passion'. Existential angst, whatever Sartre may have said while showing off … was not merely a philosophical concept but a reality."
The recollections – both in the book and in conversation – are more about travelling together than philosophising: to Spain, to Cuba, to the ancient Egyptian Sphinx and Giza, and an especially affectionate account of a drive to Athens, "Sartre chirruping like a bird, somewhere between six and eight stopovers scheduled, as well as a number of 'specials' planned by Castor, who always insisted on deviating from the shortest route in her determination not to miss some wonder of nature or art".
I ask whether there was really as little jealousy in these intense but apparently fluid friendships and relationships as the book – along with very many other accounts of them – imply. "Why should we have had any jealousy between us?" Lanzmann retorts. "When I started my love affair with Simone de Beauvoir, she had no sexual relationship at all with Sartre. They did not make love. That would have been unbearable for me – I could never share a woman I loved."
The Patagonian Hare contains much about philosophers, of course, including those who taught Lanzmann, and hilarious anecdotes about his shoplifting of philosophical texts during student days. But he does not write a great deal in the book about actual philosophy, or his own views on existentialism – "philosophically," he says in conversation, "I am very close to Sartre." Lanzmann still edits Les Temps Modernes, the Parisian cultural review founded by Sartre in 1945, and adds this: "There is this fashion nowadays to say that no one reads Sartre any more, but this is absolutely not true, and my next issue of Les Temps Modernes is entitled Les Lecteurs de Sartre [the readers of Sartre, a meditation on his friend's legacy]."
Lanzmann's book is written in a deeply satisfying style, as though he were unfolding his life as thoughts occurred to him over dinner. At one point, he laments the fate of his favourite cafe, the Royal, in which he would sit with De Beauvoir – [I frequented it myself as a youth, because she went there] on the corner of Boulevard St Germain and the Rue de Rennes. It closed to make way for the "drugstore St Germain" and in turn, says Lanzmann contemptuously, "a boutique". He similarly regrets the passing of Le Diva bookshop on the corner of Rue Bonaparte.
So far as family, sex and intense personal relationships are concerned, Lanzmann bares himself entirely, both on the page and in conversation. His mother left and forever hated his father, he clarifies, because he tried to sodomise her on their wedding night. "Among my people, there are still many women of her view," he explains, who "refuse this 'animal coupling'".
There is a raw account of his sister's life and suicide in 1966. Évelyne was deeply in love with the philosopher Gilles Deleuze, who left her – which Lanzmann could never forgive, until Deleuze took his own life almost 30 years later. "When I started the book, I had no idea I would do this," he says, "that I would write about such personal things. But the more I wrote, the more it became necessary not to avoid these things. The things I write about my mother and my sister are not things I expected to write. It was extremely difficult, especially my sister's suicide, but I decided I had to tell her life, and her death." And so: "The book is a mix of these private things, set against these huge events. You never escape them, they are always present."
Indeed they are, and there is one point in Lanzmann's book at which his tone changes markedly, cueing a passage in which he describes with an uncharacteristic awe and humility his relationship with the extraordinary Frantz Fanon, who was dying of leukaemia when Lanzmann met him.
Fanon was a psychiatrist, revolutionary and existentialist philosopher from the French colony of Martinique whose treatises on black consciousness and race are arguably the finest ever written. Fanon aligned himself with the Algerian revolution and became the ambassador to Ghana for the provisional Algerian government. As a leading advocate of revolutionary violence, he is often tarnished by those who know no better as some kind of godfather of modern terrorism.
"That notion, which I have heard, is entirely false," spits Lanzmann angrily. "He was deeply, in himself, against what we nowadays call terrorism. He was a very soft man, very tender. Much of his vision was mistaken, but there was so much in what he said, one was obliged to listen to him, to approve."
Lanzmann was so enamoured of Fanon after their first meeting that he arranged for Sartre and De Beauvoir to meet him too – which they did, in Rome, for a rolling discourse lasting three days. "And it was the same with Sartre, this effect – it is absolutely true, the fact that Sartre did no work of his own over three whole days – something I never saw, before or after."
Fanon was dead by the time of the six-day war of 1967 and Israel's counter-offensive – and the seeds sown for so much ferocity since. One wonders how those conversations might have gone had Lanzmann and Fanon had them in that post-1967 world.
But Lanzmann did have a major argument over the Middle East with Sartre – probably the only one between him and the great philosopher. Sartre "refused point blank" during a study visit to Israel to meet anyone in military uniform, leading to what Lanzmann called "a drastically reduced view of the country", which Sartre, he says, saw as practising "consubstantial imperialism" (Sartre would later endorse the murder of Israeli athletes taken hostage at the 1972 Munich Olympics by the Popular Front for the Liberation of Palestine).
I ask Lanzmann – a strong supporter of Israel and director of two important films on the Jewish state – whether one could regard this fracture with Sartre as equivalent to that between Sartre and the other great genius of existentialism – Albert Camus – over Algeria, whose independence Camus was always uncomfortable with. "Of course not," replies Lanzmann. "Sartre and I edited an edition of Les Temps Modernes together which gave over half of its pages to the Arab side, and just under half to the Israeli side; it starts with Maxime Rodinson [author of a groundbreaking book entitled Israel and the Arabs] attacking Israel."
In his book, Lanzmann says he regretted leading off the issue with Rodinson's attack on Israel. Given how central these deliberations on Israel are to his book, life, and work in film, I ask whether Lanzmann believes that the singularity of the violence of the Holocaust allows him to forgive – or perhaps tolerate – violence in defence of Israel that he would not tolerate in another context. This is the inference from his film Tsahal, made with the IDF – to which he was granted full and unfettered access – and of an intriguing, brilliant point Lanzmann makes about soldiers who wear their hair long, as the IDF do, in contrast to the bullet-headed norm of any American, French, British or Russian squaddie.
"It is complex," Lanzmann says, and there is a pause. "I don't want to go into policy, but there are so many victims who become killers. It's a question of life. Every young Israeli soldier knows that if he is caught during an ambush, he will be tortured and lynched. There was the case of the soldiers who lost their way – and Israel delivered 1,027 Palestinian prisoners to get back just one Israeli soldier. One has to think about the lack of equality in this exchange… There is a real integrity in this army. It is not only about the survival of Israel, it is the uniqueness of the fate of this country. And the fact that one does not see an end to this."
"Are you against Israel?" asks Lanzmann as I write his answer. I reply that I am very interested in the work of Daniel Barenboim, in getting young Israeli and Palestinian musicians together to play orchestral music. "Barenboim is against the state of Israel," says Lanzmann. And he urges: "We should talk about the book" – which, in a way, we are.
Lanzmann has an extraordinary relationship with Germany. He was the first French writer to tour with relative freedom around the communist German Democratic Republic – "I must have been crazy," he confides now – and he adores Berlin. "The Germans have faced their past," he says. "They do not try to escape it – some, of course, but most, no. The first time that Shoah was shown in Germany was at the Berlin film festival of 1986. The cinema was completely packed. The people were so intensely involved, they sometimes could not stand it. They'd go out and smoke a cigarette, but they returned. Young Germans came to me, wanting to speak about this past, to stare at this past; the discussions would last almost a full night."
Which brings us to the matter of the greatest film of all time. "Holocaust," says Lanzmann, "is an improper word, an inappropriate word. It is an invention of the Americans and British. The appropriate word is Shoah [the Hebrew for catastrophe or calamity]."
To find the right word to describe those who survived the Nazi exterminations is the perennial difficulty of anyone trying to write on the subject. "Victims" is clearly wrong, since it both belittles and confuses them with those who perished; "survivors" is a passable word, but Lanzmann finds a better one: "revenants" – the returned, which in French can also mean ghosts. It is a term that recalls those terrifying lines from a poem by Lanzmann's compatriot, resistance fighter and Auschwitz survivor, Charlotte Delbo: "And so I came back/ You did not know, did you/ That one can come back from there."
Delbo also sets the language for further matters crucial to any discourse with revenants who survived the Holocaust: the associated issues of memory, and self-destruction. Between what Delbo calls memoire ordinaire – ordinary memory, which permits one to function – and memoire profonde – deep memory, which contains the truth of experience – is a skin, which, when cracked, "gives back the contents", as Delbo puts it, of deep memory, and their full, catastrophic force. How could Lanzmann, in this great work, talk to the revenants without cracking the skin between the memory that allows them to function, and that which contains what they know?
"It was extremely difficult," he says, illustrating his point with reference to a man he calls the Barber of Treblinka, a Jewish prisoner called Abraham Bomba, forced to cut the hair of women before they were sent to their deaths in the gas ovens, in accordance with the Nazis' grotesque preoccupation with the value of their victims' tresses. His book tells us the stories of how he found each member of his cast, and finding Bomba was a chase – across the Bronx, Pelham Parkway, Upstate New York and Israel. Once arranged, the interview is conducted in a barber's shop. "How difficult it is," Lanzmann explains by way of understatement, "to tell these things in front of a camera and a cinematic team. To relate what he went through, cutting the hair off naked women before they went to the gas chambers, with no possibility to tell them that they were about to die in a few minutes.
"I wanted him entirely to myself, first, to talk. Bomba had a wife who wanted to talk for him. So I took him to a little hut in the mountains in New York state which belonged to him, with no one but him and I. We spent two days there – no camera, no tape recorder, hardly a pen; I did not take notes. He understood that I was not only interested, but completely sincere, in my understanding of the Jewish pity of Shoah."
There was also of course, the raw instinct that makes for great – as opposed to good, let alone mediocre – film-making: "I had to know as much as I could before shooting anything, in order to help them talk in front of camera. The act of shooting is to create something in itself, that cannot be foreseen – and I could not foresee the moment when Bomba suddenly broke." It is a fearsome, indescribable moment, when the "skin" begins to crack before our eyes, between the face and voice of the barber, and what he knows – yet apparently not so; Bomba survived not only Treblinka, but the telling of Treblinka.
"In the beginning, he talked in a cold manner, as if it did not happen to him, but to someone else. I had to stop that, and bring him back to talking about what he did, to talk about himself. But one has to be on permanent alarm in such talk, as the tension grows, and we cannot be sure what will happen – this is not theatre, this is real."
All the while, the reel rolls, and there is this question of judgment: "I had to work with short rolls of film, which had to be reloaded every 11 minutes. I had five minutes left on the reel at one point, which is a lot in a way. But I decided to reload the film nonetheless, and I was right – Bomba broke into tears – and if I had not changed the roll, I'd have missed it."
Lanzmann's epic is divided between survivors, witnesses and perpetrators. His accounts of tracing, locating and filming the SS and Nazi killers – usually with hidden cameras – make for some of the most exciting passages of the book. But of the revenants, he explains: "From the Jews, I wanted to know everything. All these are people who 'worked' for the Nazis, in the Sonderkommando [groups of Jewish prisoners forced to perform tasks in the extermination]. "They are not the normal deportees," says Lanzmann. "They were workers in the last station of the destruction process." I tell Lanzmann that I have just completed a book about survival of the camps in the Bosnian war which the Auschwitz survivor Thomas Buergenthal, former chairman of the committee on conscience at the Holocaust Memorial Museum in Washington DC had called "an echo" of the Shoah, helping me to establish a respectful but cogent language.
Then Lanzmann says: "I must tell you that my main theme is not survival. It is film about death and the extremity of death in the gas chambers." Of course. As the great historian of Holocaust memory, Lawrence Langer says, all testimony of the Shoah is charged with the fact that the narrative's main protagonists, the dead, cannot speak.
"Not one of them should have remained in order to testify," says Lanzmann softly. "They were to die too. They succeeded in escaping their fate with an extraordinary mixture of courage, audacity and luck. But [in the film] they were not interested in talking about how they succeeded in escaping, how they survived. They were entirely conscious of the fact that they were the spokesmen for the dead."
Silence fills the room in Pall Mall, for there is everything, but nothing, further to say.
Why The Patagonian Hare? Hares make three appearances in the book. The first is its opening, a passage reproduced from The Golden Hare by Silvina Ocampo, in which a hare is being chased by hounds: "Where are we headed?" cried the hare, in a voice that quavered like a lightning flash. "To the end of your life', howled the dogs." "I know the whole story by heart," says Lanzmann.
The second describes a moment in Patagonia, which Lanzmann takes as a cue for the affirmation of life itself. He is driving when "a long-legged hare leapt like an arrow and hopped across the road in front of me. I had just seen a Patagonian hare, a magical animal. Now, all of Patagonia suddenly pierced my heart with the sure knowledge of our mutual existence."
He wears a tie with a repeated design of hares jumping around it. "I love them," he says. "I respect them, and their nobility. They are very, very beautiful animals. So fast, and their speed is their means of survival; every time I meet a hare, I know I am safe for a long time."
The third mention in the book is by far its most spine-chilling moment – at once utterly surreal and spectrally redemptive in the strangest way: "If there is any truth to metempsychosis and if I were given the choice," he writes, "I would unhesitatingly come back as a hare. In Shoah, there are two shots that are fleeting but crucial to me, [one is of] a hare, its fur the colour of the earth, sitting by the barbed wire fence at Birkenau extermination camp while a rare escapee from Auschwitz called Rudolf Vrba speaks. As Vrba continues, we see the animal flatten its back, hunker down and crawl under the barbed wire. He too escapes. There is no killing in Auschwitz-Birkenau now, not even of animals; all forms of hunting are forbidden. No one keeps count of the hares, but there are a lot of them and I would like to think that many of my people chose, as I would, to come back as hares."
"I watched it, that animal," says Lanzmann, his final remark before we bid farewell, "arriving at the fence at Auschwitz, and burrowing its way under the wire, cunning and determined, knowing it had to leave that place..."
• This article was amended on 7 March 2012. The original referred to Alberto Giacometti as Italian. This has been corrected.