The hotel room where I am waiting for Sam Rockwell feels fit for a torture session: it is bare save for two clapped-out chairs, a couple of lamps and a bathtub. But when Rockwell bowls in, he brings his own ambience. Interviewing him is like being the only audience member at a one-man acting masterclass. He's not averse to leaping to his feet to demonstrate how posture and movement affect characterisation. His conversation is focused but there's a twitchy energy about him. Within a few seconds of declaring that he has stopped impersonating his friend Christopher Walken ("I really didn't feel good about doing it once I got to know him"), he has a silent change of heart. In a flash, it could be Walken sitting before me.
Rockwell doesn't go in for extreme physical transformations. "I should probably do a British accent. Or put on a hump. Sometimes I'll throw in a moustache. If you have a malleable face, there are tricks you can do. If I put on these glasses …" He gropes around in the inside pocket of his jacket, only to grasp a handful of teabags. "Uh, not these," he deadpans, dumping them on the table. Back goes the hand. Out come more teabags. "They're for my girlfriend. We love these. Yorkshire teabags. I was falling asleep earlier so they brought me lots of them."
Filmmakers have often used Rockwell as a human pep-pill or defibrillator: he can accelerate a movie's tempo or jolt it back to life. He brought frazzled lunacy to the death-row drama The Green Mile, where he scampered around his cage like a rabid orangutan. He exuded repressed mania as the gameshow creator and possible CIA assassin Chuck Barris in Confessions of a Dangerous Mind. His little arias of arrogance have enlivened mainstream hits such as Charlie's Angels and Iron Man 2, while his gloriously silly streak is laid bare in Galaxy Quest (he plays a crap TV actor), The Sitter (closeted drug dealer) and Gentlemen Broncos (intergalactic cowboy whose testicles are stolen). Some admirers have been waiting for years for the big Sam Rockwell breakthrough role without realising that there doesn't need to be one: he's already made it on his own terms.
Now he is playing another 90mph goofball, a dognapper named Billy Bickle in Martin McDonagh's anti-violence comedy-thriller Seven Psychopaths. "It wears you out," he says, moving my tape recorder closer to him. "Billy's a bit of a bruiser but he has this boyish insanity and some interesting contradictions: he's a liar but he's also incredibly honest. He's almost got Tourette's." I tell him I saw Billy as a cartoon devil whispering bad advice in the hero's ear. "Get a few pints in me and I'm a little bit like that," he chuckles.
At 44, Rockwell is only now starting to phase out such hyperactive puppy-dog roles. He is still fundamentally an imp. He has short, spiky hair, receding slightly. Bare ankles peek out of the gap between black jeans and electric-blue Nikes. His face is pointed and puckish, and he regards the world with an amused, inquisitive squint. But in recent films he has at last started to look weathered. In The Assassination of Jesse James By the Coward Robert Ford, he was ratty and corroded as Ford's big brother Charley; he gave off authentic pangs of desperation as a sex addict in Choke and as a hellraiser accused wrongly of murder in Conviction. He has always been thorough. These days, there's also a crust of experience around his performances; he has acquired the depth to play men bruised and bamboozled by life.
"I'm not just getting offered boy-men any more," he says emphatically. "I'm happy that I'm finally getting some lines in my face. I always looked too young for the kind of roles I wanted. It was constraining. My face didn't fit my innards until I reached 40." In his 20s, he flunked auditions for films such as Dead Poets Society and Unforgiven, and missed out on playing Carter, the part that went to Noah Wyle, on ER. "I looked so young, but I wasn't always good at playing young. When I read for Unforgiven, I played the character [wannabe gunslinger The Schofield Kid] as though he was James Dean. I got that one totally wrong."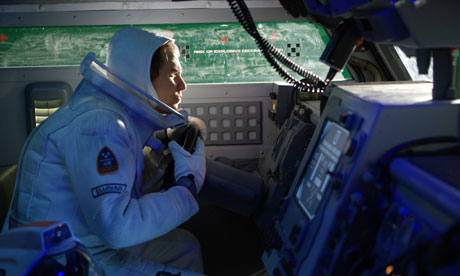 This split between interior and exterior wasn't the only division in the young Rockwell's life. As a child, he lived in San Francisco with his father and stepmother, whom he describes as "kinda straight", and spent a month during the summer with his mother, who was pursuing her acting career in New York. He would hang out with her bohemian friends, drinking beer and smoking dope, even acting on stage with them. Then it was back to normality. "I felt like an alien," he says.
His own acting career began in theatre, and with bit-parts in TV and movies; he was a non-reptile in Teenage Mutant Ninja Turtles and a street tough with a knuckleduster in Last Exit to Brooklyn. He got his big break in the 1996 comedy Box of Moonlight, playing a nature-boy in a Davy Crockett hat. The director, Tom DiCillo, wrote in his on-set diary: "Sam careers through each scene like a new-born colt, stopping suddenly, then racing off in a completely different direction. At times, [John] Turturro scolds him for being unfocused. Sam stiffens and ignores him like a rebellious teenager."
Harvey Weinstein saw Box of Moonlight and declared: "He's a movie star." So it proved. Sceptics should be pointed in the direction of Moon, a virtual one-man show in which a subdued Rockwell differentiated delicately between multiple roles as an astronaut and his own clones. Or Iron Man 2, where his instincts and integrity thrived in the unlikely crucible of a superhero blockbuster. He played the strutting suit who bankrolls the villain (Mickey Rourke), only to torment the brute in his cell when he doesn't deliver the goods. "Jon [Favreau, the director] got me all revved up that day. He's saying to me: 'Mickey's stealing the scene from you. C'mon, man, what are you doing?' He needed me to be threatening. He knew I could do it, and he knew how to get me there." He reflects for a moment. "You know, for an action movie, I did a lot of talking and a lot of acting. You can only handle so many explosions. It's the shits-and-giggles that make it."
He had previously been in the running to play Iron Man, which would surely have made him a marquee draw, and yet he evidently cherishes his status as a character actor. Several times during our conversation, I have to steer him gently away from expansive stories about colleagues and back to a subject he finds noticeably less stimulating: himself. "If I'm hanging out with Phil [Seymour Hoffman], I'll usually fade into the woodwork while he gets recognised. It's a relief." So did Rockwell dodge a bullet when he wasn't picked to be Iron Man? "No, I was fucking jealous as hell! I would've loved that part. But nobody could have done it as well as Downey."
Reading this on a mobile? Click here
Unusually for a character actor, Rockwell has a trademark that crops up in much of his work: the witty, boastful, elegantly frenzied dance sequence. From Conviction to The Hitchhiker's Guide to the Galaxy, from Iron Man 2 and Charlie's Angels to Confessions, few actors outside the musical genre have resorted so frequently to dance to express character. "I used to breakdance. I can do some good James Brown footwork. But now I think I've danced too much. My girlfriend made fun of me: 'Enough with the dancing.'" I tell him there are entire YouTube montages devoted to his happy feet. "I know. It's bananas. It's too much."
At least he has the energy. Hasn't he hit his midlife crisis yet? "I'm having it right now in this interview," he laughs. "Wait. Let me have a fag and think about this." He produces a pouch of tobacco and rolls a smoke. "After 40, you want to reverse the ageing process. That's complicated for me because I spent so many years wanting to be older. So now I go out drinking and I go to the gym. But it's also great because you know more. You know what you wanna do, and you can do it more quickly. You have clarity. That always makes for a sharper knife."