The King's Speech reigns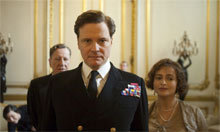 Not a bad week, then, for Tom Hooper's stuttery monarch drama. On Monday it picks up a Golden Globe best actor award for Colin Firth. On Tuesday, Bafta gives it nominations in almost every single category, and it's revealed it's actually growing at the UK box office. On Wednesday Jonathan Freedland's article about it becomes the most read on the entire site and on Thursday it's announced that Guardian readers will have the chance to quiz Hooper for a live webchat on Friday lunchtime. There was some bad news, of course - Screen Yorkshire, the regional funding body which oiled the wheels of the shoot, announced that it was looking at making 15 of its 19 staff redundant (echoing the a similar move at the BFI). But it's still difficult to quite grasp how wide and sustained the interest in this rather low-key, terribly British drama has been. We're really looking forward to finding out how its director is coping tomorrow – do send in your questions for him on anything and everything by 9am GMT tomorrow, and check back at lunchtime for his responses.
Golden Globes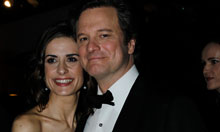 At first, everyone was excited by Firth's win and The Social Network's board sweep. But it quickly became apparent that the real story was how close to the wind host Ricky Gervais sailed …
• Hadley Freeman was up all night liveblogging the Globes
• Peter Bradshaw endorsed the results
• Best quotes of the night
• Gallery of film winners
• Video highlights
• Full list of winners
• Ricky Gervais's disappearing act sparks Golden Globes conspiracy theories
• Ricky Gervais wins rightwing US fans with Golden Globes jokes
• Ricky Gervais: I won't be back next year
• Tim Dowling: who'd be an awards show presenter?
Batfas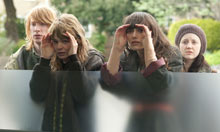 No sooner has one awards ceremony wrapped than another kicks off. Tuesday morning saw the announcement of this year's Bafta nominees …
• The King's Speech got 14, Black Swan 12, and one for the late great Pete Postlethwaite
• Front-runners in pictures
• The full list
• Xan Brooks: Bafta will crown The King's Speech but why has it exiled Never Let Me Go?
• Pass notes: just what is going on with all those noms?
And if you thought that was it for fllm awards, think again. Tuesday sees the announcement of this year's Oscar nominees. But will the Nazi smear harm The King's Speech's chances? Need a primer to who has won what at all these awards? Here you go.
Other news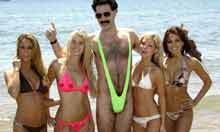 • Sacha Baron Cohen to star in film of Saddam Hussein novel
• Will Smith considers Annie remake with daughter Willow and Jay-Z
• Ralph Fiennes takes Coriolanus to Berlin film festival
• Berlin film festival to honour jailed Iranian director Jafar Panahi
• Nicole Kidman announces birth of daughter born through surrogate
• Ridley Scott's Alien prequel no longer an Alien prequel
• Arnold Schwarzenegger: I'll be back on the big screen
RIP Susannah York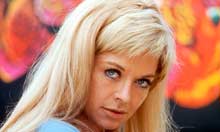 On Saturday night, sad news – the great British star of 60s cinema passed away aged 72. You can read her obituary, survey her career in clips and read David Thomson's tribute.
From the blog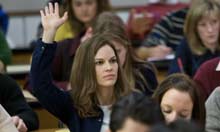 • Clip joint: hell
• Anne Hathaway's Catwoman walks into a crowded Dark Knight Rises
• Arnold Schwarzenegger should fire up his comeback bazooka
• Craving Craven? Scream 4 more
• Film clubs: fancy a cheap night out at the Picture & Pint?
• The Green Hornet buzzes to the top of the box office
• Do you have the courage of Conviction to fight miscarriages of justice?
Other site highlights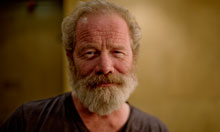 • Podcast: Jason Solomons speaks to Black Swan star Mila Kunis
• Darren Aronofsky is In the Director's Chair
• Peter Mullan as interviewed for print by Cath Clarke and by Andrew Pulver for video
• Video: exclusive clip from Rabbit Hole
• Peter Bradshaw on Don't Look Now and that red coat
On the site tomorrow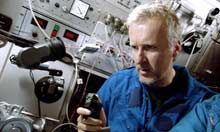 Stand by for some exclusive clips from James Cameron's Sanctum, Danny Leigh's blog, a timeline of the Road to the Hobbit, plus first night news and reviews from Sundance and a Reel review of Black Swan. And more!
Coming up in the paper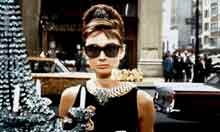 Vincent Cassel is interviewed in G2 tomorrow, while in Film & Music there's an audience with Ros Pike and an examination of why Audrey Hepburn still matters. Plus Carey Mulligan is the front cover of the Weekend magazine.
Still want more?
You can go on a two-day film appreciation course with speakers including Stephen Frears, Xan Brooks and Danny Leigh, run from Guardian HQ in Kings Cross. And you can follow @guardianfilm on Twitter