Around the world, but mostly in Hollywood, film folks' letterboxes and inboxes are filling up fast. Piles of DVD screeners are amassing, ballot forms are arriving and invitations to screenings and Q&A sessions swirl like the first snow flurries. Forget Christmas, awards season is coming, with the first big nominations announcement – the Golden Globes – due on 14 December. Elsewhere, marketing departments, dress designers and red-carpet cleaners are going into overdrive in readiness for the avalanche of acronyms and glamour engendered by Bifa, Sag, HFpA Golden Globes, Bafta, NBR, DGA and the Ampas Oscars.
Of course, the hoopla that holds us most rapt is still that around the Oscars ceremony – although its televised broadcast has for the past few years been shedding viewers like spilt popcorn on a multiplex floor. Thinking it was maybe a presentation problem, they've tried tinkering with the show's host: Chris Rock, Hugh Jackman, Jon Stewart and Ellen DeGeneres have all had a go at winning back the big audiences through jokes and song'n'dance numbers, until the event practically acknowledged defeat with last year's unglamorous double act of Alec Baldwin and Steve Martin. Conclusion: it's not the host.
So it must be, as it should be, about the movies. And here the Academy is caught between the rock of art and the hard place of commerce. Basically, the Oscars now go to films which, to use the brash Hollywood term, nobody sees. The Hurt Locker, Crash, No Country for Old Men, Million Dollar Baby – artistically worthy as these might have been (I said might have), none were big box office. The fact that Slumdog Millionaire, winner in 2009, was also a big hit is not without irony – it was probably the most "indie"-style film to scoop best picture since Midnight Cowboy in 1969.
At least last year's ceremony did heavily feature James Cameron's Avatar, the biggest hit ever. The Oscar TV show's bosses thought that would get the blockbuster's fans tuning in to cheer their favourite on, but in these days of American Idol when they can vote their favourite to victory, watching the choices of 6,000 Hollywood types is rapidly losing appeal to younger audiences.
How to combat this, then? It looks as if the studios have come up with their own answer. Their boutique arms such as Fox Searchlight and Focus Features produce award winners and bestow prestige on the company, allowing the main studio – Fox, Universal – to come up with the summer franchises, the comic-book adaptations, the superhero movies, the big-buck blockbusters – the films, as they say, that everybody goes to see but which you couldn't pretend merited inclusion on a list of paragons of the art form.
Last year, the Academy widened the best picture race to 10 contenders in a bid to get more popular films in the mix. I'm not sure it worked and I can't see this year being any more commercially skewed. In fact, without an Avatar or even the possibility of a superior superhero flick such as The Dark Knight, 2011 could be one of the "indiest" years yet. That's not to say the films won't be good ones. On the contrary, there's a certain revival of the independent spirit in the mainstream, with films such as The King's Speech and Never Let Me Go already nominated in next month's Bifas (the British Independent Film Awards), and likely to appear in the Baftas and Oscars.
The Oscars is a funny old race. I always find that constructing my own top 10 of any given year provides an infinitely more fascinating collection of films than the list of main contenders that mysteriously, yet concretely, establishes itself without fail over awards season. The manouevrings, hype and publicity campaigns timed to peak over the coming months often mean that by the time the big ceremonies arrive at the end of Feburary, it seems filmic life has been reduced to about five or six movies, almost to the exclusion of all else.
Prince William and Kate Middleton have really given The King's Speech a boost with all that royal hullabaloo, haven't they? I doubt Harvey Weinstein, who's distributing the film in the US, had a word with anyone at the Palace, but I wouldn't put it past the Oscars' wiliest old dog, I really wouldn't.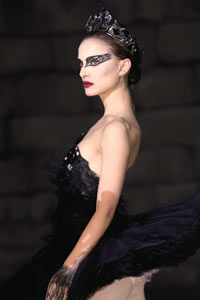 The success of The Wrestler put director Darren Aronofsky firmly back in the ring. His follow-up is this corking ballet psychodrama, about Natalie Portman's obsessive New York ballerina and her commitment to being perfect in a production of Swan Lake. Her balance is thrown when a young upstart joins the company (Mila Kunis) and vies for the affections of the production's choreographer (Vincent Casselcorrect). Shot in grainy handheld, the film, with its backstage bitching and amibition, has echoes of Oscar nominations legend All About Eve (joint record-holder with 14), mixed with Fame, Single White Female and The Red Shoes. Portman finally fulfils the promise of her youth with her most all-out, unguarded performance to date, and there are nice surprises along the way, with appearances by Winona Ryder and a chilling Barbara Hershey. The music score is particularly fine, with regular Aronofsky collaborator Clint Mansell working magic on Tchaikovsky's original. The film will be released in the UK on 21 Jan.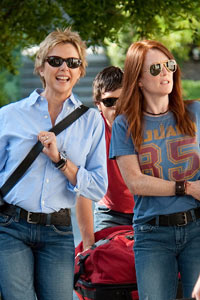 If ever Sarah Palin needed proof that Hollywood is a poisonous sewer spouting corrupting liberal values, along came lesbian director Lisa Cholodenko's film. A comic drama about a lesbian couple whose children seek out their biological father, it's a hilariously self-aware portrait of modern boho life in LA. Decent box office on US release actually suggested the nation was surprisingly accepting of non-traditional family models (it performed less well here in the UK). But with gay marriage still a political flashpoint, the film will have to withstand the spotlight of awards season – although stars Annette Bening, Julianne Moore and Mark Ruffalo will surely be persuasive on the all-important chatshow circuit. Expect respectful nominations, rather than wins.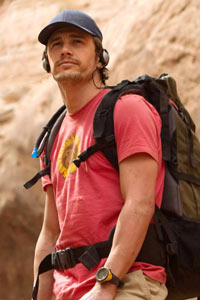 Once you're in the Oscar family, you stay. After Slumdog Millionaire, Danny Boyle's kinetic, euphoric style and British pop-cultural sensibility are now recognised by the American mainstream while he smartly retains all artistic credibility. Admiration runs high that he refused studio blockbuster offers for this intense true story about extreme sports hiker Aaron Ralston, who got his arm trapped under a rock in the Utah desert. Boyle's clever casting gives rising Hollywood favourite James Franco his best role yet, and he proves, as he must, charismatic company. Oscar nominee AR Rahman's propulsive score is again innovative, although any awards for the attractive cinematography will have to be shared - duties were split between Anthony Dod Mantle and Enrique Chediak. Released here on 5 Jan.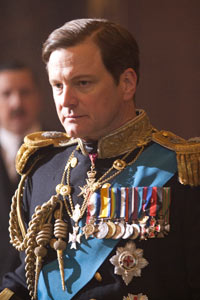 By some distance the current Oscar darling, Tom Damned United Hooper's film telling the story of how King George VI, with the help of an Australian therapist, overcame a stammer to lead Britain through the second world war, has been receiving rapturous ovations at festivals and industry screenings in Hollywood. That said, American audiences often feel the need to bow to films about British royalty. Given that acting with a stammer is this year's awards equivalent of acting with a disability and after missing out last year for A Single Man, Colin Firth is very likely to be anointed the Academy's king. The film also looks handsome on a limited budget – for all its apparent splendour, one of the big surprises is that it's really a British independent production. With high-calibre cast and crew, expect nominations to flow in many categories, from veteran David Seidler's screenplay to Eve Stewart's astute production design. Due on our screens 7 Jan.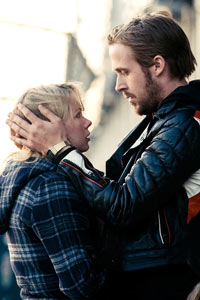 Only securing UK distribution last week through Optimum Releasing, and due in cinemas on 21 January, this beautifully cool indie film has been quietly winning admirers since last winter's Sundance festival, travelling through directors' fortnight at Cannes and debuting here at the recent London film festival. It features blazing performances from former Oscar nominees Ryan Gosling and Michelle Williams and charts the deterioration of their once-blissful young marriage. Director Derek Cianfrance has earned comparisons with John Cassavetes for diving into the emotional maelstrom, yet the film is perhaps more memorable for its tender, funny moments, such as Gosling singing "You Always Hurt the One You Love" falsetto on a banjo while Williams tap dances. That we love them for it, rather than want to slap them both, is testament to the film's delicate skill. With music from Grizzly Bear, it's likely to be the cool kids' film of choice throughout awards season but, although hardly explicit, its sex scenes could lead to a NC-17 rating, which often means Oscar averts his moralistic gaze.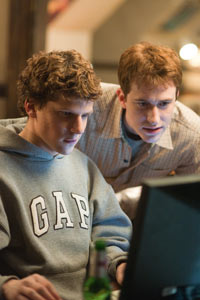 Let's start with the certainties: if Aaron Sorkin doesn't win the adapted screenplay Oscar, we gurus might as well give up. Better-known as a TV scribe, Sorkin's quick-fire patter throughout this film keeps the energy levels so high that you forget it's just a movie about geeks typing and lawyers tutting. A film about the internet will either make older Academy voters feel trendy or alienated but it should, at least, appeal to their Hollywood experiences of loyalty and betrayal. The male-dominated young cast represent a refreshing new talent pool, with Jesse Eisenberg particularly impressive, and Justin Timberlake on hand to provide Oscar night with possible pop-star glamour in the supporting category. Director David Fincher is much admired, too, although this is ostensibly his most traditional-looking, least showy work to date. Perhaps most intriguingly, the film manages to be youthful, hip and liberal yet remain cravenly capitalist. The mantra "a billion dollars is cool" will certainly not be unwelcome among Hollywood studio execs.
Jason Solomons's other runners and riders
BEST ACTRESS
Melissa Leo: I'm told this experienced, classy, supporting actress steals The Fighter as the mom with a "big heart, big wig, big mouth".
Sally Hawkins: May be too obscure for voters, but her gutsy dynamo performance in Made in Dagenham and understated Brit charm could win them over.
Helena Bonham Carter: Long respected in LA, her giggly turn as the future Queen Mum gives The King's Speech comic relief. She's always a sight on a red carpet, too.
Nicole Kidman: An Oscar fave who's struggled since winning in 2003 for The Hours, she's said to be back on top, gritty form in John Cameron Mitchell's Rabbit Hole.
BEST ACTOR
Andrew Garfield: Soon to be Spider-Man, a nomination for his strong support in The Social Network would cleverly boost this shy, rising British star's standing and exposure.
Michael Douglas: Gordon Gekko was back on good form in Wall Street 2, and with his public cancer battle the actor will be a popular vote in supporting category.
Ryan Gosling: A surprise Oscar nominee for Half Nelson (2006), likable star should cement his acting credentials with explosive showing in Blue Valentine.
Colin Firth: He's the King, he stammers, he is British, he is witty, they love him. Only an old, unrewarded LA fave can stop him, like Jeff Bridges last year.
MORE FILM CONTENDERS
Another Year: Mike Leigh's autumnal ensemble piece will dominate at Bafta while Oscar, always a fan of Leigh, should nod to its strong acting performances and acute sense of milieu. Likely: acting, screenplay.
The Fighter: Oscar loves boxing (Rocky, Million Dollar Baby) and Mark Wahlberg's true-life Boston underdog fight flick, complete with crack addict brother, looks tasty. Also starring Christian Bale and Melissa Leo. Likely: acting, film, director.
Toy Story 3: Pixar/Disney's 3D film had men weeping and reigned supreme at the box office. A best film Oscar would be hugely popular and a nod to all three films in the series that breathed new life into cartoons. Likely: film, animated, music.
True Grit: The Coen brothers are now Oscar pets and with last year's winning dude Jeff Bridges on board for this John Wayne western remake, the omens are strong. Likely: screenplay (as always), film.
Winter's Bone: Director Debra Granik's backwoods noir put the Ozark mountains on the map (OK, they're in Missouri). Gritty, chilly story of Rhee, a 17-year-old hunting her crank-cookin' daddy. Likely: actress Jennifer Lawrence, screenplay, director.
Inception: The summer blockbuster with brains, Christopher Nolan's thriller will surely do good business on the awards trail. Likely nominations: film, effects, direction, screenplay.
KEY DATES IN THE OSCARS RACE
5 Dec Bifas (British Independent FIlm Awards)
14 Dec Golden Globe award nominations
16 Jan Golden Globe awards ceremony
18 Jan Bafta nominations announced
25 Jan Oscar nominations announced
30 Jan SAG (Screen Actors Guild) awards ceremony
13 Feb Bafta awards
27 Feb Academy awards