And the award for best awards ceremony goes to …
The Oscars season got an unofficial starting pistol this weekend, with two major awards ceremonies dominating the cinema headlines. Saturday was the turn for Tallinn to enjoy the limelight, as the European Film Awards travelled to Estonia and awarded a rather remarkable number of trophies to Roman Polanski's The Ghost.
Sunday was the London's turn, as the British Independent Film awards bowed down before The King's Speech. Charles Gant wrote us his alternative awards; and the podcast – as well as featuring an interview with David Lynch on how he went pop – brought us a Bifas special, featuring chat with award winner Rob Lemkin.
Meanwhile, over at the Marrakech film festival, there was a golden star for Catherine Deneuve, a lifetime achievement award for Francis Ford Coppola and a whole lotta love for John Malkovich.
Still not sated your thirst for cinema silver? Try the Women in TV and Cinema awards (big story: Shelia Hancock got honoured) and the Hollywood Reporter's 100 most powerful women in entertainment (big story: Helen Mirren accused Hollywood execs of being penis obsessed).
In the news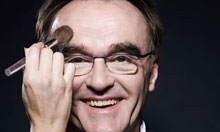 • George Clooney ditches British cast for Enron film
• Kathryn Bigelow plans black ops tale before braving Triple Frontier
• Danny Boyle: Trainspotting sequel 'will happen'
• Silvio Berlusconi 'used state funds' to fly Bulgarian star and director to film festival
• Curzon launches video on demand service
• Peter Jackson tinkers with Tolkien to hand Cate Blanchett Hobbit role
• Michelle Yeoh and Luc Besson linked with Aung San Suu Kyi biopic
• Why the extraterrestrials of Monsters aren't imperious colonisers or battlers against oppression – they're simply alien
• Jeff Bridges's age-spanning turn will be new Tron's legacy (and you can read our first review of Tron: Legacy here).
On the blog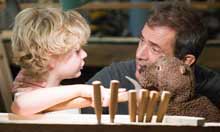 • Clip joint took a peek at windows
• Which actors can you genuinely not recognise from one role to the next?
• Mel Gibson's The Beaver: we review the trailer
• Peter Bradshaw is impressed by James Nesbitt's hair transplant
• Does George Lucas really want to reanimate dead actors through CGI?
• Only quotas can make British cinema great again, says Jon Williams
• Megamind won't, Monsters can't, Secretariat keels over: it's Harry Potter again at the UK box office
• But in the US, Tangled has Harry all in a twist
Other site highlights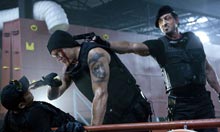 • Misters Muscle love the job you hate: The Expendables, digested
• Reel history gets to grips with Michael Collins
• You nose it makes sense: scratch and sniff cinema
• Narnia director Michael Apted is In the Director's Chair (online this afternoon)
Coming up in the paper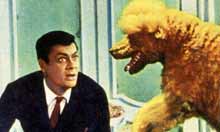 Nic Roeg remembers Tony Curtis, Elizabeth Day meets Vincent Cassel, Andrew Pulver on London noir Night and the City, Phillip French's picks of 2010, Damon Wise meets Stephen Dorff and Becky Barnicoat meets Andrea Riseborough
Online tomorrow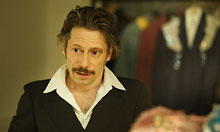 Stand by for a video interview with On Tour's Mathieu Amalric, a Reel review of Somewhere, plus blogs from Danny Leigh and much more.
Thanks for reading; do email in with comments and suggestions.
Somehow come to this page but not through your email? Here's how to sign up to Close Up
Still want more? You can go on a two-day film appreciation course with speakers including Xan Brooks and Danny Leigh, run from Guardian HQ in Kings Cross. And you can follow @guardianfilm on Twitter