At first glance, there's something strange, even skewiff, about the collaboration between Tilda Swinton and Luca Guadagnino. The pair met in Rome 20 years ago. Swinton was already a star; Guadagnino a student 11 years her younger. He had written to her months before to ask if she would become involved with an adaptation he was planning of William Burroughs's Penny Peep Show Arcade. To which, no response. So he cornered her at an official reception and asked why. She was contrite, and charmed.
They never did make the Burroughs, but they have made three other films together: artsy murder mystery The Protagonists (1999), close-up interview The Love Factory (2002), and now I Am Love, a ravishing melodrama about a Milanese dynasty thrown into disarray when the paterfamilias leaves the lucrative textile business to his grandson, as well as his son. Swinton stars as Emma, wife to the son, mother to the grandson; a Russian emigre who bends the bars of her gilded cage when she begins an affair with a chef. A chef who is – slightly disconcertingly – a dead spit for Guadagnino.
In person, though, the two seem just straightforwardly, easefully friendly. They're an elegant, leggy pair: she shorn and angular in black, he feline in a lemon cardie. They lap up ice cream together between interviews, lark about during the photoshoot. If anything, Swinton acts – perhaps partly on account of it being her home country – like an affectionate mother to a slightly skittish son. Guadagnino is goofier – especially when speaking of his admiration for Sacha Baron Cohen ("I bumped into him once and I was shaking and trembling, because of the magnitude he was communicating") – but also more earnest, when he puts his mind to it.
I Am Love has been in gestation ever since they shot The Love Factory. "Something occurred to me when we were making that film," says Swinton, "about the relationship of love to loneliness." The latter is, for her, "the last great taboo of modern western civilisation. Capitalism is built on the idea that one can go out and buy another scented candle and get less lonely somehow. But I think the deal is that you are fully lonely, and the sooner we accept and embrace our loneliness, the healthier we are. And that real love has nothing to do with that romantic idea of oneness, of distracting and healing each other from our loneliness, it's about witnessing each other as individuals and saying: I'll show you mine if you show me yours."
They both giggle. Guadagnino nods agreement with Swinton's take. "And we realised," she continues, "how revolutionary that concept of love is, and how, if one really imbibes that, it's an amazing antidote to so much that's fractured in society. And so we started to think about placing that idea in the heart of a very brittle environment." She sips her tea. "The thing about Emma is that she's like an avatar. She's not someone who's been repressed by these surroundings. She's a carrier of programmes. She's a free radical."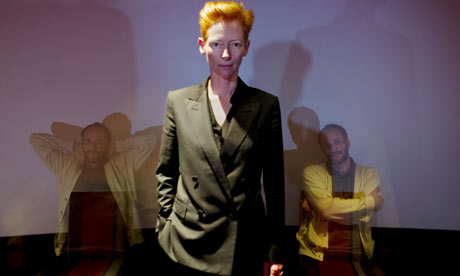 I Am Love climaxes when Emma must choose between the pull of her family and the tug of her heart. It's a tension that speaks to both Swinton and Guadagnino. "I personally don't think that blood ties should be something that signifies so much more than anything else," he says. "I understand perfectly when somebody leaves their family for good. I do believe that if you stick to these blood ties you are going to stick to a big hypocrisy. I have always felt ashamed and embarrassed by the idea that there is something of such value in a family. It's awful, it's terrible."
"There's always such a danger with families," says Swinton, "this myth that members of one family represent each other and carry some kind of collective identity. It's so endlessly problematic and wasteful." So why do people cling to it? Control, says Guadagnino. Inheritance, says Swinton. "Not just that of capital, but the whole idea of the energy matrix going through every family; the sort of theme tune. Finding any sense of individual identity is always rather challenging."
And yet, I say, the stereotype is that family is of paramount importance in Italy. Sure, nods Guadagnino. "I think it is everywhere." Particularly in Italy, though? I mention Mid-August Lunch, Gianni Di Gregorio's comedy from last year about a middle-aged man caring for his mother. Guadagnino pulls a face. "To me it is morbid. I didn't like the movie at all. It's boring. It's self-pleasuring. I am a Hitchcockian – I still believe that Psycho sets the standard for mother/ son relations."
Guadianao, it turns out, is unusually frank about films he doesn't approve of. Far from Heaven, Todd Haynes's Douglas Sirk-style romance is, superficially, a film I Am Love might feel some kinship with. But Guadagnino thinks it cold. "It's a big joke. I don't understand when movies are mocking some style. It offended my sense of cinema." Likewise Sam Mendes's war drama, Jarhead. "The first quarter of an hour is all about mocking Full Metal Jacket."
It wasn't intended as homage? Guadagnino is firm. "I don't like post-modernism. It's cynical, and takes no discipline – you just copy. It doesn't allow a film to be open to reality. I think Stanley Kubrick would have felt very embarrassed by them copying his work." Swinton sings from the same hymn sheet. "It's mocking because whatever it's intended to be – and often it is meant as some kind of honour – it imposes a great insult by suggesting the original filmmaker was dealing with some kind of formula that can be replicated. It's like pissing in the same corner."
"I agree. It's like saying, I can do that," says Guadagnino. "But Kubrick wasn't on the set saying: now we need a cool shot. Cool and cinema is no good."
Indeed, for all its arthouse cred, I Am Love is a defiantly uncool film. It's unabashed Technicolor opera with the knobs turned up to 11. And it's not, thinks Guadagnino, a movie that sits easy with the prevailing mood in Italy today. "There is an incredible, unbearable atmosphere [there]. A degraded level of morality. It's very orgiastic in the negative sense of the word; a place where there is no more restraint. It's extremely wild. In the movie we're dealing with a class that kind of doesn't exist any more; that has been surpassed by a new class of power and wealth that doesn't have the restraint that comes from the denial that these characters have."
Swinton agrees: "When we went to Milan recently, I felt everything was made of latex; it was a rubber world that was completely opaque. It's like a double exposure, or those magic-eye books where you stare at something and then suddenly you see something else. I just haven't got my eyes to focus to it properly yet."
They speak, bleakly, of rising fascism and censorship, of Berlusconi's grip on power, and his idolisation of Thatcher. What does Guadagnino think will happen to the country? "I don't know. It's very dangerous. I feel much more at home here or in America or France or Morocco. In any other place but Italy, where I really feel alien. Because there must be a sense of community. Of – it's strange I say it – rules. Discipline is disliked in Italy. And I think this is a very disciplined movie. It's very consistent in keeping a sort of rigour in achieving its goals. It's good quality, you know? It's like leather."
Swinton smiles, put his hand on her friend's shoulder. "Yes. It has a good Italian leather sole," she says. "Spelt any which way you like."