Beautiful, dark twisted fantasy: why fashion fell for the folklore image
From McQueen to Rihanna, does our love affair with fairytale imagery have a deeper root?
Priya Elan
07, Apr, 2016 @5:02 AM
From the joy of capes to the great tights uprising: seven style lessons from couture
This season's high-fashion shows have schooled us on hosiery, eggs and what the industry is determinedly calling 'athevening'. Here's everything we learned from the Paris catwalks
Jess Cartner-Morley
27, Jan, 2016 @6:00 AM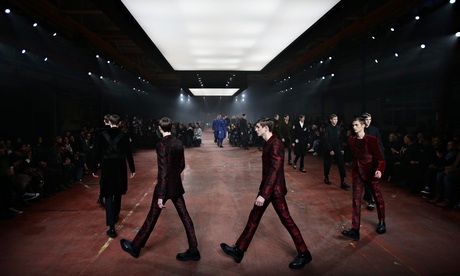 Alexander McQueen's menswear show is a thing of savage beauty
Military-style collection takes centre stage in London the same year that McQueen gets a retrospective at the V&A
Lauren Cochrane
11, Jan, 2015 @7:57 PM

How did Alexander McQueen's Savage Beauty become fit for a princess?
From its starring role in the Duchess of Cambridge's tour wardrobe, to a forthcoming retrospective at the V&A, the McQueen brand is riding high. So how did a label known for avant-garde fashion become the duchess's go-to supplier of elegant pastel outfits, asks Jess Cartner-Morley
Jess Cartner-Morley
29, Apr, 2014 @3:55 PM

McQueen's frock coats and frayed lapels turn heads at London Collections: Men
Imogen Fox: Sarah Burton's Edwardian-style show impressed with its romantically dishevelled feel and its razor-sharp modern tailoring
Imogen Fox
18, Jun, 2013 @10:57 AM

Babies: the latest fashion accessory
Previously thought of as a bit messy and disruptive to beauty sleep, babies are hot – as Givenchy's latest campaign proves
Lauren Cochrane
20, Mar, 2013 @7:31 PM

Sarah Burton brings ceremonial splendour to Alexander McQueen
Collection based on ecclesiastical wear, with ornate ruffs and cartridge-pleated skirts redolent of pomp and ceremony
Jess Cartner-Morley
05, Mar, 2013 @9:21 PM

Sarah Burton's Alexander McQueen collection sets Paris abuzz
Royal wedding dress designer's honeycomb-inspired outfits prove she's queen bee of the Paris catwalk
Jess Cartner-Morley
02, Oct, 2012 @9:44 PM

Paris fashion week: Sarah Burton for Alexander McQueen, Chanel and Valentino - in pictures
Alexander McQueen's successor set Paris abuzz with her bee-inspired collection, while Chanel wowed, yet again, with restrained elegance and colourful boucle at the Grand Palais, and Valentino went for power with print and patterns during day eight of the spring/summer 2013 collections
Guardian fashion
02, Oct, 2012 @4:29 PM

GB cyclists head and shoulders above the rest in Olympic headgear contest
In the velodrome, anyone worth their fashion credentials was yelling: 'McQueen visor! Chris Hoy's wearing a McQueen visor!'
Simon Chilvers
02, Aug, 2012 @6:21 PM

Wedding dress designers cut loose from 'meringues' to offer chic styling
Sarah Burton dress for Kate Middleton underpins trend for brides to look beyond the traditional satin-and-lace
Lauren Cochrane
08, Jun, 2012 @2:48 PM

Issey Miyake wins fashion prize at the Design of the Year awards
Wedding dresses, crazy prints and conceptual fashion on display at the 2012 awards
Imogen Fox
24, Apr, 2012 @7:30 PM