Beauty trends are among the most persistently baffling of fads – remember that totally disturbing phase in the 90s when everyone was expected to wear really dark lipliner with pale lipstick? It wasn't stylish, instead we all looked like badly constructed automata. So, it is only reasonable to wonder just what products will complement our peplums and balloon sleeves this season? Happily, the Vogue website is on hand to advise: "A splash of bold colour on the eyes is just right for autumn/winter 2012-13." For the uninitiated, this translates as bonkers eyeshadow applied liberally in garish hues: swaths of ferocious blue, fierce, pumpkin orange shaded right up from lid to brow, and – startlingly – flares of sooty black shadow topped by neon eyebrows.
On the models, I have to say it looks wonderful – in an extraterrestrial way. But how might it work on the ordinary-looking lady who is not 15-and-a-half, and going about her daily life?
I stand in my bathroom, bewildered among pots of MAC, Guerlain, Lancome and Yves Saint Laurent eyeliner. The first look I try is the extravagant blue eyes worn at Anna Sui: wings of colour above, and a small tear-sized dot below. I attempt my best cack-handed recreation in the mirror, and find there is something unexpectedly pleasing about trowelling a load of colour on to one's face; I feel I am back in GCSE art class, messing about with the gouache.
Out on the street, I lose my gusto. It's hard not to keep your gaze fixed towards the floor when walking about with a face like a demented Pierrot. Occasional peeps upward are met with quizzical looks, and by the time I have reached the end of my street I am already turning back.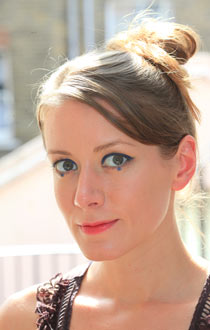 I decide next to be bold, plumping for the extraordinary look seen at Prada: ghoulish black shadow, stern liner with a violet underline, and orange brows, which I have to confess look somewhat singed. I sit in the park a while, like a disconsolate ginger goth in the sunshine, and then walk to a local cafe, where the only reaction from the barista is a mild frown and a quiet "wow".
Perhaps, I decide, I will get more reaction in the horse-startlingly orange look seen at Dries Van Noten. Disappointingly no one says anything at the supermarket; they probably think I am a Dutch fan, lost on my way to the Olympic Park. But on my walk back home, my spirits are lifted when I pass a small girl carrying a balloon, her face painted like a tiger. We give each other a look I like to think of as comradeship, and exchange a low thumbs-up. Perhaps not the thumbs-up Vogue is after, though.
Emma Strenner, beauty director at Elle advises on a subtler way to apply these looks: "Yves Klein blues and ceruleans were just the thing this season, as seen at key shows like Miu Miu and Anna Sui. Thankfully, we don't all have to opt for dots and jewelled embellishment to take part in this trend. Instead, try wetting your eyeshadow and applying with a precision-point brush in a feline flick on the lashline. It will make your eyes pop, especially brown-eyed girls, and let you dip your toe into the trend."