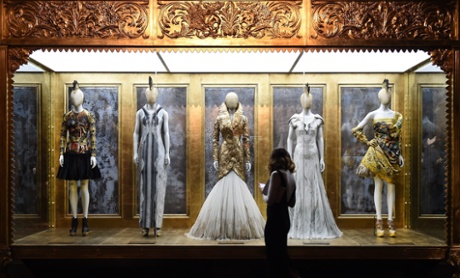 The V&A's retrospective of the career of Alexander McQueen, Savage Beauty, began its life at the Metropolitan Museum of Art in New York, where it was a huge hit. Expanded and edited to talk a little more to the city where the designer (1969-2010) was born and learned his craft, it will doubtless be an even bigger smash in London. At the early-morning preview I attended, various fashion editors and PR types could be seen wandering its rooms almost listlessly, as if under a spell. So great was their fascination, there were points when – just imagine it – they momentarily forgot even to lift up their tightly clasped mobiles to record this embarrassment of riches for the benefit of their followers on Instagram.
A part of me understood the rapture. Savage Beauty isn't like any other fashion exhibition I've ever seen. Stick me in front of a show by, say, Balenciaga, and I tend to experience nothing more complicated than hot lust. I feel restlessly acquisitive, just as I do in Liberty or at the vintage fashion fairs I haunt. But McQueen's work is of a different order altogether. Even as you wonder at its technical accomplishments – a dress of razor clams! A skirt made from plywood! – your awe is already shading into unease. Many of these clothes are exceptionally beautiful; they're as close to being works of art as fashion ever comes. But many are exceptionally disturbing too: suggestive and cruel. A few are actively repulsive. For every heaven-sent gown (if I must, my stand-out is a silk jacquard dress from 2010 that had been miraculously printed with the angel of the annunciation from the 15th-century Portinari Altarpiece by Hugo van der Goes) come half a dozen that seem to have risen straight up from the underworld, the better to strangle you. "I want people to be afraid of the women I dress," said McQueen famously. I've always wondered about this. It seems to me that the element of fear in his work is, and always has been, all about him, for what kind of man would take so much trouble to cut a dress so exquisitely, only to cover the face of the woman who wears it?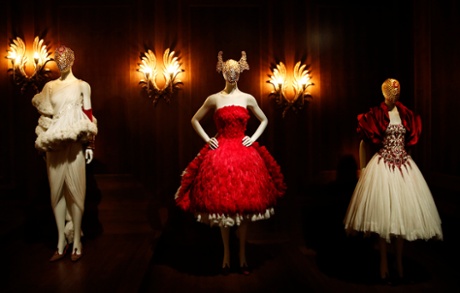 It wasn't, however, only such disquiet that prevented me from joining the swooners. There was also the intense frustration of the show's curation. It's true that the rooms look superficially magnificent, each one dressed to match a theme (a gallery full of tartan is wood-panelled; a group of tribal-inspired designs is set against walls that are covered in bones). The clothes, too, are mostly well lit and arrestingly displayed. But the labels that date and explain everything are hard to find and even harder to read – completely impossible in some cases. Equally, the lack both of biographical information about McQueen – we're told that his father was a cabbie, that he attended Central St Martins, and that he felt strongly about his Scottish "roots", and very little else – and of any context for his work is impossible to ignore. If you are going to intellectualise fashion – if you think it is indeed worthy of museum space – then at least do the job properly. What, for instance, was going on in Britain when he launched his "bumster" trousers, his moulded leather bodices, his crippling "armadillo" shoes? What do these designs tell us, if anything, about ourselves? Many of the clothes on show come from the collection of the stylist Isabella Blow; she also appears in a film that is screened in the first gallery. Yet nowhere – or nowhere that I could see – does the exhibition explain her role in McQueen's rise, the importance of their friendship, or the effect on him of her suicide in 2007.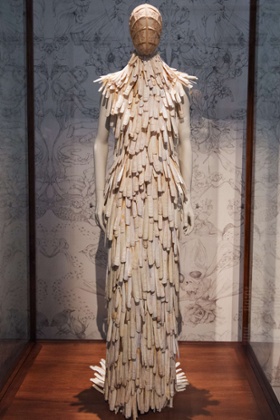 Arranging the rooms thematically deprives the show of a narrative. In the end, you can't help but feel you're in a particularly ravishing boutique. This is especially so in the case of a double-height gallery entitled A Cabinet of Curiosities. I thrilled to the sight of the accessories that were at ground level, particularly the hats Philip Treacy had created for McQueen's catwalk shows: the famous "butterfly" headdress from the La Dame Bleue show in 2008; the banana-fibre headpiece from The Horn of Plenty in 2009. But what, I wonder, is the point of putting a beaded matador-style jacket on a shelf so high no human eye can make out its finer details? I could not escape the feeling that the Gucci group, the owners of Alexander McQueen, had sought somehow to control the show – it owns the archive, after all – seeing it, perhaps, as an extension of its brand rather than as a serious investigation of a controversial and complicated talent. Certainly, the exhibition brooks no argument. To wander around Savage Beauty you would think that no one batted an eyelid when McQueen showed his Highland Rape collection in 1995. But they did, of course. I was working on a fashion magazine then, and when the images came in, I don't think any one of us bought McQueen's claim that, far from being misogynistic, the show was actually a commentary on the Highland Clearances.
In the face of this absence of debate, and of any useful facts, you have two options. Either you can buy a catalogue, which includes more of both these things than the show (yours for £45), or you can just give yourself up to the clothes and, trying hard not to worry too much about the leather gimp-style masks with which they are so often accessorised, allow yourself to be confounded by their sheer audacity and cunning. I recommend the latter, given that it seems unlikely such an extensive collection of McQueen's work will be gathered together again in this lifetime. You may not fall into fashion crowd ecstasy, but there is no doubting that you will be transfixed.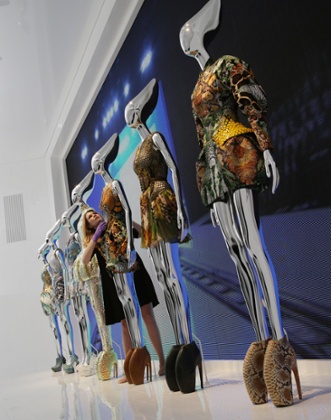 McQueen designed from the side, the body's worst angle, to ensure his clothes worked all the way around, and what I love about the best of them is the feeling they have of armour. They suit tiny, stick-thin women like Blow and Daphne Guinness, but the possibility exists that they will look good on regular females too. McQueen's dresses and jackets smooth and sculpt and, courtesy of their often unconventional twists and turns, cleverly distract from all the things a woman most wants to hide. Who, for instance, is going to notice the gentle swell of your belly when around your waist there is wrapped an embroidered obi (sash) so beautiful it would not look out of place on a cathedral altar? Who, too, is going to care one jot about the softening of your jawline when your jacket is so unfathomably well structured it seems actually to have made you grow taller, straighter? There is a dress here from 2010 – it comes from the small collection called Angels and Demons that was shown shortly after McQueen's suicide – whose bodice, sleeves and high collar are formed of golden feathers. It is a gown that would make any woman fly, metaphorically if not literally. I gazed at it for what seemed like an age and then, unable to resist, I raised one of my own wings and saluted it with my mobile phone.