Karl Lagerfeld is a man on a mission. "I fight against French-bashing," the designer said after his Chanel catwalk show, a celebration of what makes the country great.
And, this being Chanel at Paris fashion week, what makes France great is what makes France chic; in other words, café culture.
Repeating a sentiment he expressed after January's couture show – which took place in the wake of deadly terror attacks on Charlie Hebdo's offices and a Jewish supermarket – Lagerfeld acknowledged France's turbulent year.

"It is hard for [the French] to stand up and speak," he said. "But because I am a stranger [Lagerfeld was born in Hamburg] I can stand up in support of France. So that is what I am doing."
The Grand Palais was transformed for the show into a classic Parisian brasserie, detail-perfect down to the waiter behind the bar who studiously ignored all requests for café au lait. (To be fair, the waiter was top model Baptiste Giabiconi, so there were a fair few demands on his attention.)

Entry was through a brass revolving door, below a red awning proclaiming Brasserie Gabrielle. Mahogany fittings upholstered with padded, deep-red booths were lit by clusters of cream globe lamps, and attended by waiters in black waistcoats and long aprons. Tables were laid with white cloths; the front row, naturally, had table réservée signs.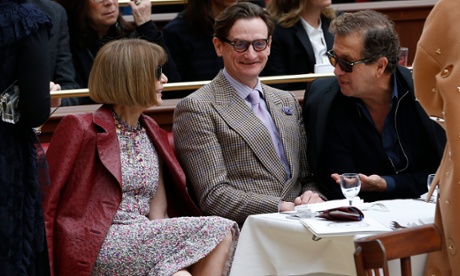 Lagerfeld stationed himself behind a bar when the show ended, albeit to avoid the crush of photographers rather than to knock up a citron pressé. He was not inclined to elaborate on his feelings about France, but instead quoted Voltaire. Not the recently much-repeated line about disagreeing with an opinion but defending another's right to hold it, but rather Voltaire's distaste for literal translations.
"If it needs to be described," said Lagerfeld, with a moue and a shrug, gesturing to the models who all around him perched on bar stools, and the tiled-floor mosaic stretching almost as far as the eye could see, "then it hasn't worked".

Brasserie Gabrielle was a hit, because everyone loves a Paris café. And that, of course, was to some degree the point. Last season's ready-to-wear Chanel show back in September was hugely divisive, with Lagerfeld's staged "feminist march" found heartening by some critics but witless by others. This show, by contrast, championed a theme which everyone can get behind. Fashion may have a reputation as an industry of ice queens, but it is a hard heart indeed that isn't warmed by the fantasy of a stolen half-hour in a Left Bank brasserie.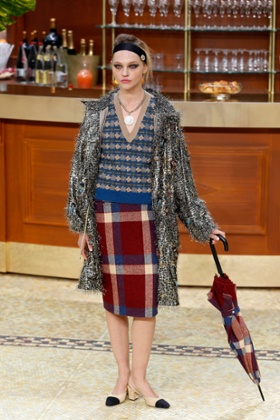 What made the fantasy all the more real was that the clothes on the catwalk were eminently wearable in 2015. Silk shirts were tucked into skirts that swung from the hip, and ended at the knee; models wore hooded coats, or carried umbrellas. Hair was worn in messy updos with a DIY charm, held off of faces by black grosgrain ribbon. Models tucked their handbags under their arms as they walked, and tucked their hands into sensible patch pockets. Cosy woollen blazers were layered over evening dresses.
"This is not café society. It is not ladies who lunch. That is from another era," said Lagerfeld after the show. "But it is still a part of French life, real life – to go to the brasserie, to have lunch or dinner. I want to take clothes that people can identify with, the sort of clothes everybody wears, and put them in a different interpretation, a different price point, a different context, so that people see them in a new way."
There were fewer comedy touches than in recent Chanel shows. Lagerfeld can't resist the odd visual joke, so there was a trompe l'oeil clutch bag styled as a stack of side plates, and another that looked like a folded menu, but many more handbags referenced the classic 2.55.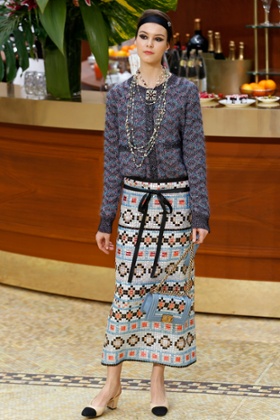 Ankle-length skirts that wrapped at the back were both a smart riff on the back-tied aprons worn by waiters and a fresh take on the wrap skirt, which has emerged as a next-season trend at Paris fashion week.
The shoes, Lagerfeld said, were "neo-bourgeois", based on a style he found in the archives. With a sensible low heel, a classic slingback, and the instantly recognisable beige-and-black two-tone toecap, he decided "they made all the other, more crazy shoes we were doing look old. This is better for now."

Once she had finished her two catwalk turns, each model took a seat at a table, and waiters hurried over with menus. Actual food then appeared, and was eaten. The immersive experience was six months in the planning, an idea which came, said Lagerfeld, just as last season's show set was being dismantled.
"This is a lot of work, you know," he said. "Me, I have no time for lunch."