If the main McQueen headlines this week will go to the V&A's Savage Beauty, opening on Saturday, Tate Britain has a quieter story in the shape of Nick Waplington/Alexander McQueen: Working Process. The exhibition displays Waplington's photographs documenting McQueen in the run-up to his last autumn/winter collection, The Horn of Plenty, shown in March 2009. Originally published in a book, it's an insight into the designer's frenetic, intense and collaborative creative process. Here are five things we learned.
Sarah Burton was definitely McQueen's righthand woman
Now the creative director of the brand, Burton appears in loads of these images, present as McQueen fits a dress on a model, trying on a hat with milliner Philip Treacy. She looks very stylish, too – wearing a leopardprint cardigan and high heels.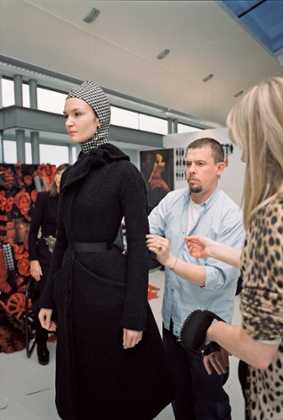 McQueen took inspiration from everywhere
The moodboards are shown here and are interesting scrapbooks of references. They include everything from the film of My Fair Lady to multiple images of swans, and swatches of houndstooth, a pattern that dominated this collection.
Recycling, in McQueen's hands, was about more than sorting out your plastics
A major starting point here was recycling – partly due to a photograph Waplington had taken of a landfill site near where McQueen had lived as a child. Rather than make couture out of cast-offs, though, McQueen used the theme to recycle elements of past collections, and references to designers ranging from Valentino to Chanel, into one unholy mix. McQueen called the collection "a sackable offence … a punked-up McQueen It Girl parody of a certain ideal".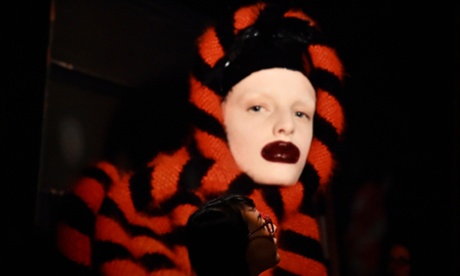 The McQueen studio played host to many fashion faces
Some of them already well-known – Anna Wintour is spotted amongst samples on a rail – some on the way up, including Agi Mdumulla, who is now behind London menswear label Agi & Sam. He's pictured with tape measure round neck, blanket on lap, in a candid snap of a studio in the process of making a catwalk collection.
McQueen was anything but the hands-off grand designer
Throughout these images, he's seen with all the paraphernalia of a seamstress – pins, measuring tape and scissors – fitting models and cutting fabric. The designer clearly feels right at home in a studio context – he's often shoeless, working in just his stocking feet. It's those kind of endearing, revealing details that this exhibition is full of.