What to wear at Glastonbury this year? The weather is only one factor, because much depends on where exactly you will be hanging out. You wouldn't pack the same holiday wardrobe for a cultured city break in Madrid as you would for a party weekend in Mykonos, would you?
The Pyramid stage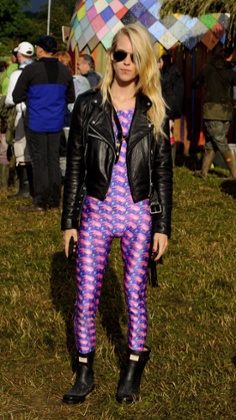 The festivalgoers who camp out right in front of the Pyramid stage are, for obvious reasons, the ones you will see on the telly. So you know this look already: cut-off denim shorts, wellies, bikini top under a brightly coloured anorak, flower garland worn as headband. Two years after Katherine Jenkins wore a flower garland, denim cut offs and box-fresh Hunters to Glastonbury 2013, the look refuses to die. This is as mainstream as Glastonbury gets, the festival equivalent of a tailored day dress and shoulder bag from House of Fraser on the 8.09 from suburbia. Which makes sense, since this is the crowd who have travelled to Glastonbury in order to hear songs they know all the words to from Cardio Workout Hits Volume 3.
Katherine Ormerod, founder of the Fashion Content Agency, predicts that this year's on-your-boyfriend's-shoulders-for-the-headliners style updates will include Hunter's short Chelsea boot-style wellies, printed bodysuits and gold and silver temporary tattoos. Around the age of 24, this crowd graduates from neon to boho tops, while cut-offs remain in play into the early 30s. But before you roll your eyes at the cut-off denim short, bear in mind that, as Emily Eavis points out, "my dad [festival founder Michael] has always worn them. They are easy to navigate in a portaloo, they don't drag in the mud, they've got lots of useful pockets. They're perfect."


West Holts stage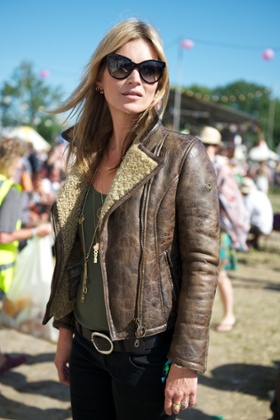 The cool kids booked the Braid Bar at Selfridges well in advance to ensure the perfect Bey/Cara-style cornrow plaits (they last for days). Then they decanted day-to-day essentials into a Mansur Gavriel bucket bag and curated a faux-casual model-off-duty look of faded black jeans, T by Wang hoodies and McQ cotton scarves. Sunglasses are a rounded cats' eye shape (Miu Miu are the best, but Zara's are pretty good). Their style flourish for the new festival season is a bandana tied around one wrist. The in-crowd slogan T-shirt at the Governors Ball festival in New York last week – "Go Burn Your Flower Crown" – may make an appearance here.
This tribe mingle with the older generation who still think of this as the Jazz World stage, and whose fashion icons are "Bob Harris and Camilla Batmanghelidjh," says Sam Wolfson, editor of Noisey. "Up on Pennard Hill, where teenagers and students tend to camp, you see a lot more of the 2008 Kate Moss festival look, with the shorts and oversized jackets, as well as bindis and Native American headdresses, rightly considered problematic by readers of Comment is Free," he says. "But Glastonbury is also a place where forgotten subcultures congregate in weird areas, so head down to Silver Hayes [the old Dance Village] at 3pm on Friday and you'll see former rave kids, now in their 40s, doused in glitter, feathers and smiley faces." Silver Hayes is also the place for "ironic sunglasses in the shape of pineapples," advises Laura Weir, fashion features editor of Vogue.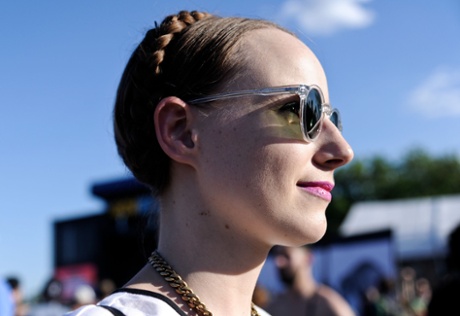 Backstage
The vast majority of the celebrity photos taken at Glastonbury are taken in the grey area simply marked "No Public Access" on the official sitemaps – the hospitality areas. The crowd are older and wiser, which means "less bum cheek, more vintage references – a bit of a Stevie Nicks, Joni Mitchell vibe", says Ormerod. And there are fewer headdresses, because, as Weir points out, "the look here is very much, 'I do this all the time'. A kind of casual, I'm-with-the-band swish." Expect a few dungarees (subtext: I wee in a Winnebago). The bar is propped up by industry execs "in rancid Britpop camo jackets," says Wolfson. "And Florence, who always dresses like Margot from the Good Life, Lily, who seems to have a rave wardrobe bought entirely from late 90s Gatecrasher kids, and Alexa, who wears the same look David Cameron would on a weekend in the Cotswolds."

Side of stage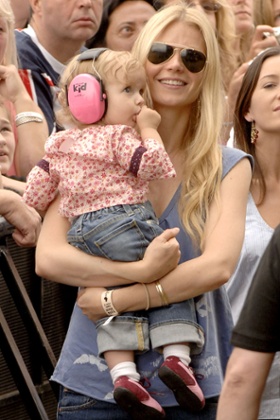 In fashion terms, Kim Kardashian is headlining Glastonbury this year. Her side-of-stage look on Saturday night is much anticipated: will she eschew wellies for Louboutins, as Bey did when she watched Jay Z six years ago? Will she do a Gwyneth in her Coldplay-wife days, and bring the baby in ear defenders? "Side of stage, you get your record label execs – who are staying off-site in a hotel, and so have a completely different level of cleanliness. Their ironed shirts look so incongruous next to backing dancers in feathers," says Anna Russell of AR Artist Management. This is also the spot to see the festival hardcore, whose epic mountains of wristbands in every possible shade rival the brass coils stacked around the necks of the Kayan people of Burma.
Shangri-La And Block9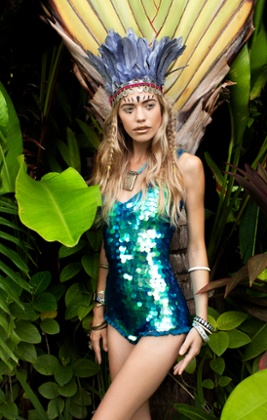 "Studio 54 meets dystopia" is how Anna Russell describes the Glastonbury neighbourhoods that come to life after dark. This is where the edgiest fashion happens (and where the major brands send their researchers and cool-hunters to sniff out the coming looks). Jonny Woo, comedian and drag artist, presides over Block9, which has "a queer, underground, urban vibe," he says. "This is where you'll see a couture Dior look, or 70s Halston at the Downlow. Or a Mad Max Cyber look at Arcardia. No one looks down on anyone at Glastonbury – it's all about the love across the whole festival. But if you come to Block9, don't be surprised if you are stripped down and re-styled by any one of the drag queens hanging off the scaffold. You'll definitley leave rocking a cooler look than when you arrived."
Woo's tip for 2015: "Beg, borrow or steal a wristband for Maceo's, which is where the cool kids – and the crew, who really go for it – head for serious partying." Didn't pack anything glam enough to get in? Head for Rosa Bloom's stall and pick up a leotard covered in outsize, round sequins. "Festivalgoers love sequins," says the label's designer Rosa Hirsch-Holland. "When I first made them, I thought they would be a niche item, but the range of people who buy them is amazing. They seem to make women feel good."

The Green Fields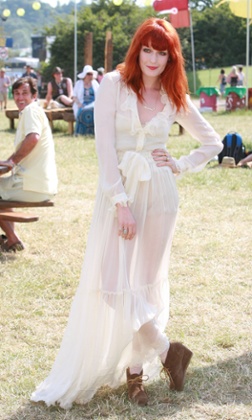 OK, so the fashion here would make Diana Vreeland turn in her grave – harem pants, those big cross-body tie-dye bags, really terrible sandals – but who cares? The commitment to recycling and sustainability here is way ahead of the pack. And now that Bey's a (sort of) vegan, breakfast at Manic Organic in the Green Fields is set to be a one-weekend-only substitute for people-watching at the Wolseley. And, as Ormerod says, "the only real Glastonbury snobbery is about community spirit. You look down on people who don't get into the peace-and-love spirit – people who steal from tents, people who drag you into the mud (especially if you're wearing Saint Laurent), litterbugs, queue jumpers etc. It's very British in that respect."
The hippie outposts are also the place to expect the unexpected. The scale of the festival, with epic walks from one stage to another on which even veterans get totally lost, means that tribes mingle. As Emily Eavis says, "You might see a bloke in a Chelsea shirt in the Stone Circle, and that's one of the things that makes Glastonbury special. There is a mainstream festival look that gets photographed a lot and has become commodified, but that's not representative of what you see here. It's so much more imaginative, a brilliant mix of practicality and fancy dress. There are incredibly dressed people, and you wouldn't necessarily expect that on a camping trip."