What a time to be alive: on Monday, while performing on stage in Stockholm's Gröna Lund theme park, Lenny Kravitz managed to rip the crotch of his leather trousers when he crouched down, revealing his penis to the crowd and, later, multiple YouTube viewers.
Of course, nip slips happen, but penis slips? Not so much, and it was particularly unexpected given the fact that Kravitz was wearing leather trousers. "Good leather trousers should give," says Peter Goodall, owner of the General Leather Company in London a leather specialist which made Adam Ant's trousers back in the day. He remains baffled that this waldrobe malfunction happened at all: "A good pair can last for ever. Adam's are 30 years old and still going strong. They don't break easily."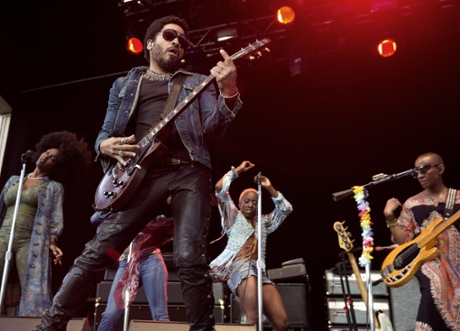 The trousers Goodall makes, which cost around £700 a pop, are often calf's leather, a durable material with a bit of "give". "The leather is double-stitched together on a specialist machine that is strong enough to feed the leather. We also tend to use a semi-stretch cotton, too. There is a single stitch, which holds the panel together, and then they are stitched on top so they should, in theory, be really tough."
While Goodall can't advise on whether to wear underwear under leather trousers (we can probably assume Kravitz wasn't), he does make the following point: "You can't dry clean them, so if you do jump or crouch down and they stretch, then you can't do much about the shape." Worth bearing in mind if you're contemplating buying a pair.
Thankfully, all is not lost and, assuming Kravitz did pay upwards of £700 for his trousers, they are easily reparable. The inhouse tailor at London Dry Cleaners, which specialises in leather, says they can fix crotch rips: "We'll patch the leather itself or, using a specialist strong cotton thread, repair the stitching on our machine." What's more, that only costs £20-£25. It will, however, take a week.