Once, towns strewn across Turkey and Afghanistan owed their economies to the western appetite for the kaftan. During the 1970s travellers on the hippy trail brought back pottery, soft furnishings and piles of clothes to remind them of their spiritual adventures.
More than 40 years on, the kaftan has had several revivals as a key fashion piece. And, like Indian cuisine, it now seems to have been adopted as a British staple. This spring, as supermodels and rock stars reach out yet again for flimsy dresses with uneven hemlines, a new book and a popular exhibition are marking the career of the late Thea Porter, the woman who is credited with bringing the bohemian look to London catwalks and eventually to every high-street fashion chain in the land.
Although Porter is not as famous a name as Mary Quant or Laura Ashley, her influence on the look of her era is just as potent and has, many would argue, lasted longer. Her loose, draped shapes and fabrics helped create the style of stars such as Faye Dunaway and Elizabeth Taylor in the 1970s, and they have since become forever entangled with the idea of rock-star self-indulgence.
While "It girls" Kate Moss and Sienna Miller were among the first to revive the hippie look, with their boho-chic outfits 10 years ago, last week it was still going strong at the music festival Coachella in California, where the stylish sisters Kendall and Kylie Jenner, and Mary-Kate and Ashley Olsen, were photographed in delicate headbands and floaty, patterned shifts.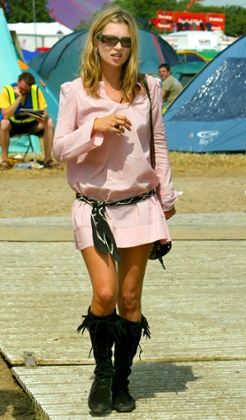 Thea Porter: 70s Bohemian Chic runs at London's Fashion and Textile Museum until early May, while the book, Thea Porter: Bohemian Chic, co-written by the show's co-curator Laura McLaws Helms, explains Porter's creative path and the breadth of her influence.
"This was a period when a whole generation of women came through into fashion and textile design together and shaped our environment, without being given much credit for it outside the world of design," said Celia Joicey, head of the museum. In 1972, Porter was named designer of the year by the Clothing Institute and, Joicey claims, the impact of her understanding of fabrics and patterns is equivalent to the design technology skills of Apple designer Jonathan Ive today.
The exhibition displays her textiles, garments, artwork and photographs, and traces Porter's journey from upholstery to clothes, taking in her abiding love of antique materials, particularly 1930s French voiles, Ottoman velvets, Swiss chiffons, Indian handprints, Islamic embroidery and the lavish brocades of Damascus, where she grew up. In the late 1960s, Porter's shop in Greek Street, Soho, London, became a magnet for those drawn to eastern style and philosophy. She introduced her customers to the distinctive features of the chazara jacket and the sirwal skirt and alerted them to the difference between a kaftan (an overarching term for a long shift dress) and the cloak-like abaya, to say nothing of the long Berber djellaba and the shorter African dashiki.
While Christian Dior had designed his own open-fronted version of the kaftan in France in the 1950s, and Yves Saint-Laurent and Balenciaga had followed suit, it was when Hollywood stars took up the look that British buyers cottoned on. When Taylor, in particular, wore a kaftan-inspired dress by Gina Fratini for her second wedding to Richard Burton in 1975, it quickly became an aspirational evening-wear look among the middle classes.
It is a fashion moment that is also soon to be illustrated in the final season of Mad Men, possibly the most style-conscious TV drama series ever. As it bows out this year, the show is set to abandon the smart twinset and pearls of the 1960s typing pool in favour of 70s swirling chiffon and muslin.
Meanwhile, over at Tate Modern, a new show opened on Wednesday that celebrates the exuberant hues and swirling patterns of artist Sonia Delaunay, who was born in current-day Ukraine at the end of the 19th century. Delaunay's wild sense of colour also informed the uninhibited tastes of the 1970s. So, as austerity continues to rein in British spending power, the demand for bright colours and luxuriant, generously cut material is on the increase. That old maxi-dress maxim about the macro economy, that the length of hemlines operates in inverse proportion to the amount of spending money around, appears to be holding true.
"It just happens sometimes that a museum show coincides with a wider public mood," said Dennis Nothdruft, co-curator at the textile museum. "You can pick it up when you walk around the show from the beginning. People are reacting to the clothes with affection and surprise. They are so sensual and visually appealing and some visitors aren't quite expecting that. They are surprised it is all quite so beautiful. There is a kind of decadence there that people are drawn to, it is visceral.
"Porter's clothes are also very flattering and, although they may cover you up, they are often in a sheer material, so there is a kind of sexiness too."
And the designer's claim on the boho, rock-chick lifestyle was not fakery, it seems. Porter really lived the image. Footage from a contemporary edition of television programme London Tonight shows her arriving at Soho's seedy Colony Room club to be greeted by the creative stars of the day. In her youth, living in Beirut – then billed as the Paris of the Middle East – Porter had prided herself on painting all day and then going out to nightclubs until the early hours. "She came to fashion from a more artistic angle than some designers," said Joicey.
While many designers copied the patterns they had seen while travelling in Afghanistan, Porter's designs stood out because she truly understood the materials and the traditional decorations. She had seen them around her all her young life, as the daughter of an Arabist theologian and his French missionary wife in Syria and Lebanon.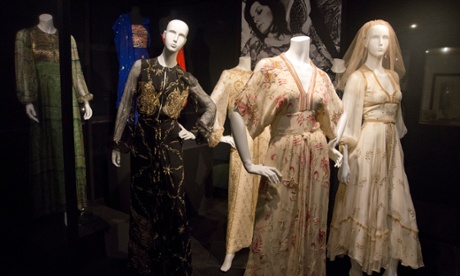 In London, her collection of antique kaftans, originally destined to be cut up for cushion covers, were soon being carefully reproduced in freshly sourced fabrics. The Beatles kitted out their Apple store in Porter's designs, and Pink Floyd wore her clothes on the cover of their album The Piper at the Gates of Dawn. Barbra Streisand, Joan Collins and Dunaway bought up her designs in handfuls, while Taylor anointed her as a favourite designer.
Alongside the radical proto-punk of Zandra Rhodes and the talents of Celia Birtwell and Biba founder Barbara Hulanicki, Porter took over from 1950s fabric designer Lucienne Day and from the bold minimalism of Quant to create flamboyant clothes that defined her times.
Her work was to be followed by the more traditional strictures of Laura Ashley's vision and, most recently, of Cath Kidston's designs, but the boho look has fought back with tenacity, being adopted and then developed by a new generation of British fashion designers, such as Alice Temperley. Design expert and author Charlotte Fiell has recently suggested that our rediscovered love for an exotic look that used to be sneered at as "ethnic" points up the interesting similarities between the 1970s and our current scene, both eras marked by economic crises and the rise of new waves of feminism.
It has been a long journey for the kaftan, an item first depicted in the art of ancient Persia from around 600BC, that was to reach its most luxurious, excessive expression first in the magnificence of the early Ottoman empire, worn by sultans, then on the back of Liz Taylor, and finally at the rock festivals of the early 21st century, flung over ripped denim shorts.