Karl Lagerfeld, who once dismissed concerns over size-zero models as the whinings of "fat mommies with bags of crisps", is an unlikely champion of feminism as a fashionable issue. How, then, to interpret his Chanel catwalk show at Paris fashion week, which closed with a megaphone-wielding Cara Delevingne leading a model army chanting for freedom, the Kardashian-clan catwalk star Kendall Jenner holding a banner reading Women's Rights are More than Alright, and a sea of placards reading Ladies First, History is Her Story, We Can Match the Machos and Boys Should Get Pregnant Too?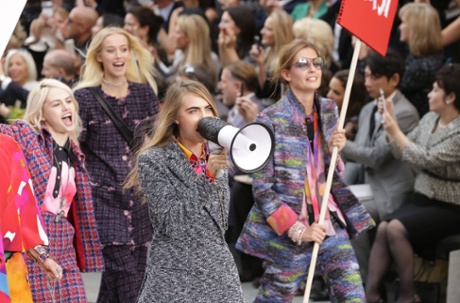 It is probably worth remembering that one of Lagerfeld's many quotes is: "Everything I say is a joke. I myself am a joke."
For the Chanel catwalk show, the Grand Palais was transformed – elaborately (an adjective almost universally applicable to Lagerfeld's actions) – into a re-creation of a Paris boulevard.
The golden-vanilla stone, the elaborate carving around the windows, the lyrical wrought iron curves of the balconies, the dormer windows in mansard roofs: all were there, in trompe l'oeil Haussmannian facades which reached to the blue sky visible through the building's glass roof.
At ground level, the scene was set for another typical aspect of French streetlife, the manifestation. In place of Chanel's typically lavish seating were rows of benches divided by stainless steel guard rails.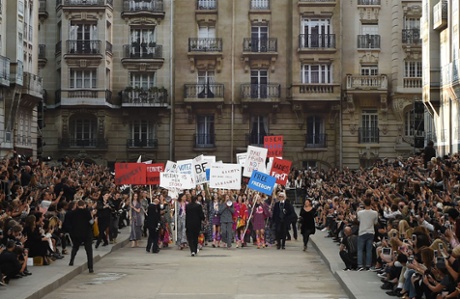 To a soundtrack of Chaka Khan's I'm Every Woman broadcast from transistor radios on classic Chanel gold chains, which swung from the young women's shoulders like the brand's signature 2.55 bags, models including Gisele Bündchen and Georgia May Jagger came in two or threes, smiling and chatting. The mood this set was very different from the usual silent, single-file parade, which as a rule exudes about as much joie de vivre and personality as a queue for airport customs.
The first looks were almost psychedelic, with paint-splatter coats, rainbow tweeds and pastel tie-dye bags, worn with peacock-toned eyeshadow and flat gold shoes. The protest theme was hinted at in accessories: a crystal-studded whistle worn as a pendant, nestling among strands of pearls; a bag printed with the legend Make Fashion Not War.
There was a hefty seasoning of masculine references – pinstripe trousers cropped to this season's on-trend "high water" hemline, just above the anklebone, and sandals which laced up like brogues – although one model carried a clutch printed with the slogan, Feministe mais feminin.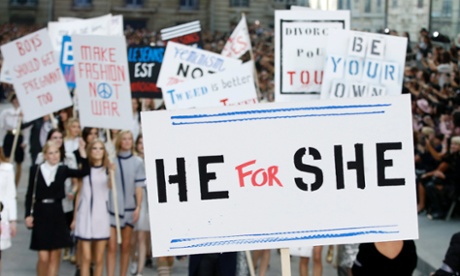 Lagerfeld can hardly be accused of bandwagon-jumping in embracing politics in Paris right now: so sorry is the state of French politics that the expected return of Nicolas Sarkozy to the fray is being viewed as a much-needed injection of excitement as the build up to the presidential elections begins.
One of the placards on the catwalk, however, was painted in support of He For She, Emma Watson's campaign for men and women to understand and support the principles of gender equality.
It would be naive to take this show too seriously. But a well-meaning joke is surely a far better thing than a nasty one.