Lenny Kravitz
Robert Peston, BBC economics editor There is nothing about this I like. I've always hated leather trousers: they're worn by a certain kind of man I never want to be. Scots can get away with tartan; I don't think anyone else can. Overall, it's a 1/10.
Amir Khan, boxer This is a cool modern take on a rock-star look. I love anyone who can rock a leather pant.
Simon Chilvers, style director, matchesfashion.com This look is from the current Hedi Slimane collection and he nails that off-duty rock-star look with aplomb. At Slimane's last show, Lenny wore a tuxedo jacket with a gold low-cut vest – all the better to show off what is surely the best male décolletage in music.
George Osborne
RP He wears reasonably well-cut suits, but he's a bit more sombre than he needs to be. There's a slightly undertakerish look about him. You can't see it here, but he's been going in for pale-and-interesting pancake makeup. He could afford to go for a bit more colour. But I like the new hair; it makes him look a bit less formal. Has he lost weight? He's in good shape.
AK I always thought politicians wore made-to-measure suits. This looks off the peg. Best to invest if you want people to have faith in you.
SC Clearly Osborne has learned from the recent Nick Clegg chino debacle. And he's had his hair snipped, which makes him look younger. Frankly, I'd rather see him in this boring suit than in his running kit.
André 3000
RP He's been spending too much time in those make-your-own pottery cafes. Those trousers look as though they've been splattered by overenthusiastic kids. Or perhaps it's the Jackson Pollock look. I've been wearing a lot of double denim recently, so I approve of that. I'm wondering whether I should try the orange beanie and white round spectacles on the 10 O'Clock News.
AK A bit "Willy Wonka does double denim" – great if you want to remain anonymous in Hollywood.
SC Fresh from playing Jimi Hendrix, André is clearly feeling some sartorial kinship, which might explain the jazzy beanie and specs combo. But this look is all about the denim. Double and even triple denim is set for a comeback. The jean jacket is the place to start – Burberry's velvet-collared version looks like it will be a hit next season. Wearing it with jeans is totally optional.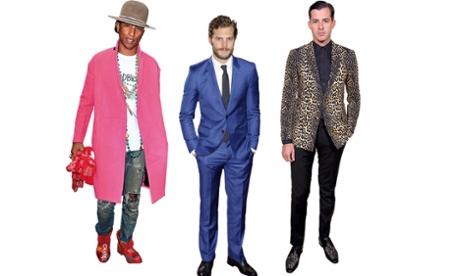 Mark Ronson
RP This is the sort of thing your auntie wore to a stylish barmitzvah in the 1970s. I used to work in Debenhams in the university holidays. Ladies of a certain age would come in and I would sell them the matching handbag, matching shoes, matching jacket. I think somebody at Debenhams has done a job on him.
AK Mark Ronson can't go wrong. This is a classic look but with a modern spin – the ultimate slick gentleman.
SC Mark has never shied away from wearing a suit with eye-bleed potential, and for that you must salute him. He's worn leopard before, though this matching shoe/blazer takes things to a new level. And I'm a fan of that neat hairdo – just the right side of 1970s suave.


Pharrell Williams
RP Help! There's been a burglary at Barbara Windsor's. This is a difficult look to pull off, but if anybody can do it, he can. I love the beads. I could wear those. But I hate the shoes. They're among the most revolting things I've seen. The branding on the toe – no, Pharrell, you shouldn't be doing that. Bizarrely, he still looks like one of the coolest people on the planet.
AK I admire a guy who can pull off a pink coat, wear Chanel and still make it look masculine.
SC Even by Pharrell's standards, this outfit is a bit crazy. The Chanel boots take the designer sneaker trend to its logical conclusion, while the bag is, as Coco herself would perhaps have observed, one accessory too many. The pink coat, however, is smashing. Bravo for the coat.
Jamie Dornan
RP I'm a bit of a sucker for a shiny electric-blue suit. I used to have a couple of these. I didn't know they were back; I'm going to go out immediately and buy myself one. This is what George Osborne should be wearing. In the runup to an election, take a few risks. Who knows?
AK I'm jealous of Jamie – he has it easy. Not only has this guy been the face of Calvin Klein, he's going to explode when his new film comes out [Fifty Shades Of Grey]. Clean, smart, fresh.
SC Anyone who goes for a bolt of blue on the red carpet has to be given props. Prince Harry recently wore a similar suit to one of those posho nightclubs – which is a good/bad thing, depending on who you hang with.