Alexander McQueen often spoke of his desire to reach a wider audience than the insular guest lists of fashion week.
This was an ambition he was exploring when, in October 2009, his Plato's Atlantis collection was the first ever catwalk show to be livestreamed over the internet.
Just four months later, an early death put a stop to all his ambitions. But next year, his work will reach a vast new audience when the V&A stages Savage Beauty, a retrospective of his work.
"Lee's [McQueen's] work transcended the catwalk. He had this ability to touch people from all walks of life, which was a huge part of what made him special," Sarah Burton, McQueen's longtime collaborator and the creative director of the house since his death, said as the V&A unveiled details of the exhibition, which opens on 14 March 2015.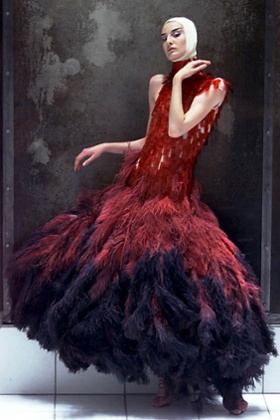 Savage Beauty attracted more than half a million visitors in its only previous outing, at the Met Museum in New York, where it shattered expectations to become the second most popular show in the history of that museum.
On its homecoming to the city where McQueen lived and worked, the V&A's director, Martin Roth, fully expects "this show will be as popular as last year's show about that other rebellious London boy – and McQueen client – David Bowie". More than 300,000 people attended the Bowie exhibition.
An entire room of the exhibition will be devoted to a reconstruction of Pepper's Ghost, the holographic image of a near-life size Kate Moss that was the finale to The Widows of Culloden catwalk show in March 2006.
Pepper's Ghost uses 19th-century technology to create a flickering image that is eerily spectral. The semi-ghostly presence of one of modern fashion's great rebel icons – albeit Kate Moss in white organza, rather than McQueen himself – will give the show a fittingly haunting mood. It's a hologram, "but Kate looks like an apparition," as Claire Wilcox, the show's curator, puts it.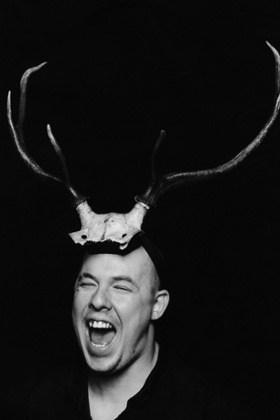 Savage Beauty has been reworked to place more emphasis on London. McQueen, the son of a taxi driver, began his career as an apprentice on Savile Row, where he famously scrawled on the linings of suits being made for Prince Charles, before moving to theatrical costumers Berman's and Nathan's where he worked on outfits for Les Misérables and Miss Saigon; at night, he explored Soho nightlife.
Later, as an MA student at Saint Martins, his obsession with historical costume and British history often drew him to the V&A. (He once said he would like to get locked in overnight.) In 1992 his 10-piece graduate collection – bought in its entirety by Vogue stylist Isabella Blow, his first patron – was entitled Jack the Ripper Stalks His Victims, inspired by Victorian London and with a strong emphasis on tailoring.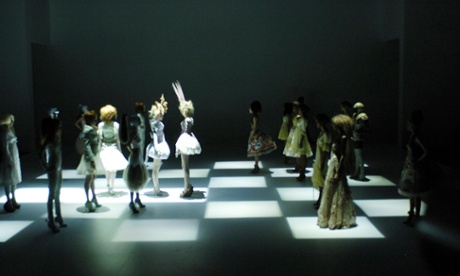 The emphasis on his London roots "will make the show feel more raw" than it did in its New York incarnation, said the show's creative director, Sam Gainsbury.
"It's more about those early years, when McQueen wasn't famous, when there was no money, no celebrity, just this incredible creativity."
McQueen is venerated in modern British fashion, and the continued involvement of many of his close-knit team in the brand and in this exhibition is lending an emotional charge to this show even at this embryonic stage.
Burton was close to tears as the presentation screen lit up a giant photograph of her and McQueen taken in 2009, the pair concentrating intently on the drape of a pair of houndstooth trousers for that year's Horn of Plenty collection. Wilcox, too, admitted to a distinctly unacademic passion for the project. "I am – well, everyone in fashion believes they are McQueen's biggest fan, don't they?" she said. "I think we all feel a huge sense of responsibility to do the right thing by him."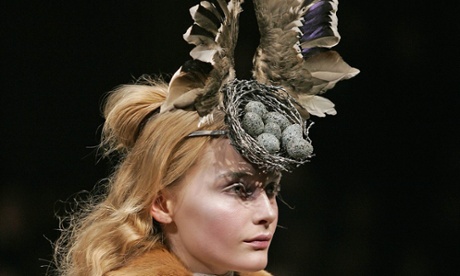 Arguably the most famous McQueen dress of all – the Duchess of Cambridge's wedding dress, designed by Sarah Burton in 2011 – is not included in the show, which focuses exclusively on the work of Lee McQueen himself.
McQueen's CEO, Jonathan Akeroyd, said that "we had conversations about integrating Sarah's work into the London exhibition, but she herself felt strongly that this should be purely about honouring Lee".