For sale: one pair of Alexander McQueen catwalk ankle boots, one careful lady owner.
Daphne Guinness has unveiled 102 lots of haute couture and catwalk fashion from her wardrobe, to be auctioned at Christies on the evening of 27 June, with the proceeds used to honour the late Isabella Blow, the stylist credited with launching McQueen's career. The story of this auction begins with the posthumous sale of Blow's wardrobe, held after her death to settle debts on her estate. To prevent the collection being fragmented, Guinness (a friend and distant relative of Blow) bought it in its entirety. Guinness now hopes to exhibit Blow's collection at Central Saint Martins college, and is selling clothes from her own collection in order to raise the funds to stage this exhibition.
Christie's estimate that the auction will raise in excess of £100,000, but the emotional charge imparted by the deaths of McQueen and Blow may make the final tally much higher.
Curator Meredith Etherington-Smith said a highlight of the collection is a sculptural metallic silver mini dress made specifically for Guinness by McQueen. "It's a Tutankhamun tomb kind of piece – by which I mean that if someone dug it up in 2000 years' time, they'd still be able to see what it meant."
Asked for her view on how the hammer prices might turn out, Etherington-Smith noted that the convergence of glamour and celebrity can make for some heady bidding. "I did the Elizabeth Taylor auction [which raised £3.6m, surpassing all expectations]. And if you'd told me beforehand I'd be able to knock those kaftans out for £30,000 a pop, I wouldn't have believed you, so who knows?"
Even by fashion world standards, Daphne Guinness is an eccentric. Her style, described in a 2011 New Yorker profile as resembling "a slightly deranged fairy invented by CS Lewis", rarely drops in volume below cocktail-hour attire, and is often more at fancy-dress pitch. For the 10am Christie's unveiling, she wore a silver dress with matching platformed, heelless ankle boots which lifted her 10 inches from the ground.
Christie's curators credit both Guinness and Blow as playing a substantial role in recent fashion history. "Both of these women are early adopters," says Etherington-Smith, "and those people are essential in fashion. They are rather brave, actually. And underneath all the frills and furbelows are two great girls with great hearts."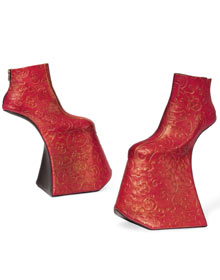 Patricia Frost, Christie's director of textiles, points out that "Isabella's way of being a fashionista was peculiarly English. She loved to spot the beginnings of things, and to nurture them. Both Isabella and Daphne love to see talent in its infancy and treasure that creativity."
For fashion enthusiasts, the collection provides a fascinating look at the links between Parisian haute couture, of which Guinness is a longtime collector, and extreme catwalk fashion. Chanel boucle jackets and Christian Lacroix suits are displayed alongside avant garde looks by Gareth Pugh and sculptural boots by Noritaka Tatehana, and many iconic McQueen pieces. Fashion folklore has it that as a young designer Alexander McQueen would spend hours examining the haute couture pieces in Guinness's wardrobe, sometimes taking them apart to understand the construction, before being ordered by Guinness to put them back together.
The auction is the latest in a prestigious roll call of single-owner sales at Christie's. Previous auctions have been held for the collections of Elizabeth Taylor, Marilyn Monroe and Princess Diana.
"This is a particularly interesting collection, because it is so modern," says Frost of the pieces, some of which are as recent as 2009. "Most couture collections which have been sold are clothes from 40 or 50 years ago."
One potential sticking point of such a sale is the size of the clothes. Daphne Guinness is extremely slender – the custom-made pieces are in some cases smaller than catwalk samples – meaning that few women will be able to wear these dresses. However, the increasingly global fashion market presents a solution to this problem, says Etherington-Smith. "Daphne is absolutely tiny, so we are actively looking at China and Asia, where we have many clients with similar measurements. We expect a good deal of interest."