A year after Sarah Burton's wedding dress for Kate Middleton became one of the most copied gowns on the planet, clusters of young fashion designers are turning to bridal wear with a mission to make the fusty satin-and-lace sector cool.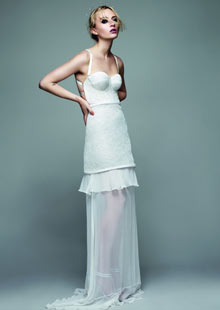 The British designer Richard Nicoll has launched a bridal range with Topshop aimed, he says, at more fashion-conscious brides. Far from the traditional "meringue" with endless layers of skirting, the range includes delicate slipdresses, lace in "T-shirt dress" shapes and tight, body-conscious dresses with bustier detailing.
"I liked the idea of making a modern, affordable alternative to meringue culture," the designer said.
Others on a similar crusade include the designers Sergio Rossi and Charlotte Olympia, who have launched bridal shoe ranges.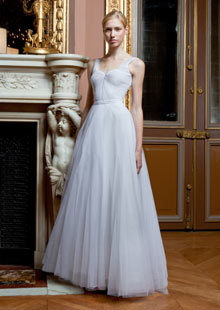 Sophia Kokosalaki, the London-based Greek designer, debuted her Greek goddess-inspired, draped wedding dresses for Net-a-Porter's online bridal shop this year. Their success has inspired a bigger range, which will go on sale in November.
"I thought there wasn't much on offer for the contemporary bride," said Kokosalaki. "By this I mean a modern woman that doesn't want to feel overwhelmed by her dress and has a very chic approach to how she would like to be dressed for the day."
Charlotte Dellal, the designer behind Charlotte Olympia, was inspired by her own wedding to create trademark platforms strewn with lovehearts, leopard print and red lips. "I was struck by the limited range [of bridal shoes available]," she said. "Not everyone wants to wear peep-toe court shoes in white. I thought there was a gap in the market."
Despite a 50% divorce rate, marriages between 30- to 34-year-olds are up 6% year-on-year in the UK, creating a growing market for more cutting-edge bridal gowns.
"The younger woman is far more fashion-savvy than an earlier generation," said Caroline Burstein, founder of Browns Bride, the fashion boutique dedicated to weddings. "She doesn't accept that the bridal shop knows better, she wants to express who she is by the dress she is buying."
Holli Rogers, fashion director of Net-A-Porter, attributed the success of the site's wedding shop, launched in 2009, to such consumers. "Although there is still definitely a place for the traditional white wedding dress," she said, "we find our customers are more often looking for newness and seek out the fashion-forward pieces in our edit."
The average spend on a wedding dress in the UK is £1,000.
"A bride who is looking to the catwalks for her dress is thinking beyond a meringue," said Kay Barron, fashion features director of Harper's Bazaar. "For the majority of women their wedding day is the only time that they are willing to pay a lot for just one dress. It is good business sense for designers to capitalise on that."
Both Dellal and Kokosalaki also point out that their pieces – not so immediately identifiable as bridal – can also be worn on other occasions.
The trend away from bridezillas in meringues has also been evident at recent celebrity weddings, not usually renowned for their understated style. Last month Facebook's founder, Mark Zuckerberg, married his long-term partner, Priscilla Chan, who wore a simple lace slip design by Claire Pettibone (in a surprise ceremony that guests initially thought was a party to celebrate Chan's graduation).
In April, the actor Carey Mulligan and musician Marcus Mumford held their wedding in a Somerset farmhouse. While the bride, her mother and the bridesmaids all wore Prada, Mulligan reportedly accessorised her dress with Wellington boots.
Although Drew Barrymore harked back to a different era by selling images to People magazine of her wedding to the art consultant Will Kopelman – including shots of the custom-made Chanel dress – younger stars have a different attitude. Keira Knightley announced her recent engagement to the Klaxons' keyboard player, James Righton, with a short statement from her agent to the press rather than a Posh and Beck-style photocall. Justin Timberlake's fiancée, Jessica Biel, recently said that "marriage wouldn't change anything" between them.
Whether this understated mood will trickle down to the average British wedding and crush the meringue for good remains to be seen. Yet Kokosalaki believes a different take on the ceremony is appreciated by many of the brides who buy her dresses.
"The customer base crosses a huge range, from younger women who cannot visualise themselves in a cake, to more mature women who just want to look elegant and sophisticated on the day."
Not that traditional pieces will ever completely disappear. "Many brides might start with the idea of wanting a cooler dress, but peer pressure from mothers or friends tend to change that," said Barron.
"It's great that there's now an alternative," added Burstein, "but most girls still want something traditional. Twenty years down the road you don't want to look like you've dressed up for a fashion shoot. It's about more than just the dress, really."