Google has marked the first day of spring with one of its famous doodles – in this case, a charming little blobman watering a handful of lovely flowers. Google's chap obviously doesn't live in England, which has suffered its wettest winter in 250 years and where the daffodils definitely don't need watering.
But there's also something curiously dated about announcing the start of spring after daffodils, crocuses and other buds of spring have been out for several months in some parts of the country. 20 March is the spring equinox which, in the astronomical system of seasons, is the first day of spring.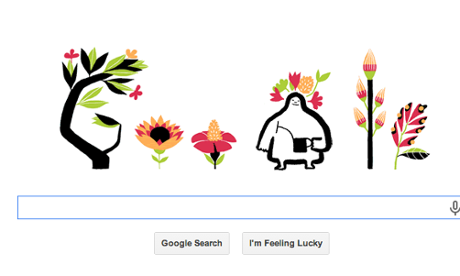 The date the spring and autumn equinoxes fall each year - the days are the ones when day and night are roughly the same length - fluctuates because of the Earth's orbit around the sun.
Meteorological types, like the Met Office, prefer to use a temperature-based system, where spring is fixed every year - it officially starts on 1 March, and runs through to the end of May. (The Met Office has a good blogpost on the difference between the two systems).
However, both systems feel like they've not kept up with the times. As average temperatures have gone up due to climate change, studies have found British flowers came out between 2 and 12 days earlier in the past quarter century than in any previous 25-year period.
This year, traditional harbingers of spring, such as ladybirds and butterflies, and hazel and snowdrops flowering, appeared in early January. The winter, as well as being exceptionally wet, was also unusually mild, even by the standard of recent years.
Maybe next year, Google's spring doodle will appear a couple of months earlier too.