Thieves have raided a police storeroom holding Mozambique's largest ever haul of confiscated rhino horn and ivory, making off with 12 horns valued at around £700,000.
A police spokesman told the investigative journalism group Oxpecker that the horns had disappeared from the police headquarters in the capital, Maputo, early on Friday morning and had not been recovered.
Four state officials who were guarding the store were arrested on suspicion of aiding the theft. A further two suspects were arrested for producing bull horn replicas to switch with the stolen horns. The suspects were due in court in Maputo on Wednesday.
Two weeks ago the largest seizure of ivory and rhino horn in Mozambique's history was made from the house of a Chinese national in Maputo. The 1.3 tonnes were poached from 65 rhinoceros and 170 elephants. Worth millions of pounds on the black market, the cache was reportedly secured with just three padlocks.
Rhino are extinct in Mozambique. The horns likely came from South Africa, where a rhino poaching crisis centred on Kruger national park has spiralled out of control in recent years.
Governments across Africa have become increasingly hostile to the international crime gangs that operate the trade in ivory and rhino horn. But in Mozambique the gangs have found a vulnerable gateway to the black markets of China and Vietnam.
Peter Knights, the executive director of WildAid, said: "Mozambique has fenceless borders with the largest supply of rhino horn – Kruger national park in South Africa. Powerful gangs similar to Colombian drug cartels can walk across the border, poach, and then escape home with horn to safety as police are either bribed or intimidated."
Sabri Zain, director of policy at wildlife trade monitoring group Traffic, said the government's credibility had been damaged by the security breach. "The reported disappearance of rhino horns from a police warehouse just days after they were seized is a serious cause for concern and puts Mozambique's law enforcement actions firmly back into the limelight for all the wrong reasons," he said.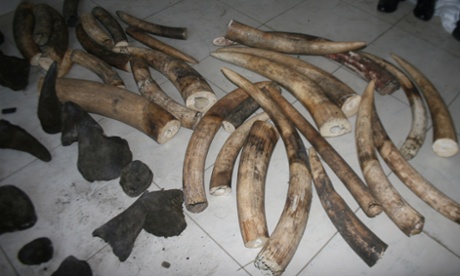 Colman O'Criodain, a WWF wildlife trade analyst, said the country was under scrutiny by the standing committee of the convention on international trade in endangered species (Cites) for its failure to combat rhino and elephant poaching and this breach could lead to sanctions under the convention.

"We are extremely concerned by news of the theft of 12 rhino horns from a police facility after a very successful seizure," said the Cites secretary-general, John Scanlon. He said the organisation's Maputo office would assist in the attempt to retrieve the stolen horns.
WWF's Mozambique director, Anabela Rodrigues, said: "The Mozambican authorities must do everything in their power to recover the stolen horns before they are smuggled overseas, and to arrest and prosecute all those involved – both the wildlife criminals and corrupt officials."
David Higgins, head of Interpol's environmental security unit, said "corruption, bribery, murder and fraud are at play across the entire illicit trade chain".
"As can be expected, some countries are more advanced than others in their law enforcement response, which means criminals target the countries that have greater law enforcement vulnerabilities. Mozambique faces some challenges that it is working to address, but the international community also has a role to play in providing support to Mozambique to help them confront the challenges," he said.

Mozambique's president, Filipe Nyusi, used an address to a police anniversary celebration this week to lament police involvement with trafficking. "When policemen are caught in the gangs trafficking in rhinoceros horns, elephant tusks, and various drugs, or facilitate these same crimes, I am unable to sleep," he said.
The founder of wildlife charity Born Free, Will Travers, called on Nyusi to personally intervene to stop police corruption.
He asked: "What is the point of carrying out enforcement in the field, tracking and intercepting wildlife crime and putting the lives of rangers and other officers at risk if confiscated high-value wildlife products can be so vulnerable to corruption and insecurity?"
In a separate incident this month, Kenyan airport authorities arrested a Vietnamese man carrying $82,000 worth of rhino horn between Mozambique and Hanoi while he was on a stopover in the Kenyan capital Nairobi. On Tuesday, the Wildlife Conservation Society announced Mozambique had lost half its elephant population to poaching in five years.
The Mozambique government was not available for comment. The Chinese embassy did not return calls asking for comment on the alleged involvement of Chinese nationals in the theft.