The killing of activists protecting land rights and the environment has surged over the past decade, with nearly three times as many deaths in 2012 than 10 years previously, a new report has found.
Deadly Environment, an investigation by London-based Global Witness documents 147 recorded deaths in 2012, compared to 51 in 2002. Between 2002 and 2013, at least 908 activists were killed in 35 countries – with only 10 convictions. The death rate has risen in the past four years to an average of two activists a week, according to the report, which also documents 17 forced disappearances, all of whom are presumed dead.
Deaths in 2013 are likely to be higher than the 95 documented to date, the environmental rights organisation warned, with under-reporting and difficulties verifying killings in isolated areas in a number of African and Asian nations. Reports from countries including Central African Republic, Zimbabwe, and Myanmar, where civil society groups are weak and the regimes authoritarian, were not included in the Global Witness count.
"Many of those facing threats are ordinary people opposing land grabs, mining operations and the industrial timber trade, often forced from their homes and severely threatened by environmental devastation," the report said. Others have been killed for protests over hydroelectric dams, pollution and wildlife conservation.
Brazil, the report found, is the world's most deadly country for communities defending natural resources, with 448 deaths between 2002 and 2013, followed by 109 in Honduras and Peru with 58. In Asia, the Philippines is the deadliest with 67, followed by Thailand at 16. More than 80% of the recorded deaths were in Latin and Central America.
There have been only 10 successful prosecutions connected with the killings in Brazil over the past 12 years. Isolete Wichinieski, national coordinator of the Brazilian group Commisão Pastoral da Terra, said: "what feeds the violence is the impunity".
The investigation unearthed information on perpetrators in just 294 of the 448 deaths, of which 54 were identified as police or military units.
In Brazil, the Amazon is the main frontier and most violent conflicts take place in newly deforested areas where communities are first confronted by illegal loggers, closely followed by cattle ranchers and soy bean farmers.
In Honduras, the second most dangerous country, 93 peasant farmers in the fertile Bajo Aguan region have been murdered since 2010 amid land conflicts with agribusinesses expanding African palms plantations that are traded globally on the lucrative carbon credits scheme.
But the murder of Brazilian ecologists José Cláudio Ribeiro da Silva and Maria do Espírito Santo in May 2011 suggests high-profile campaigners are not immune from the violence. Two assassins in this case were convicted.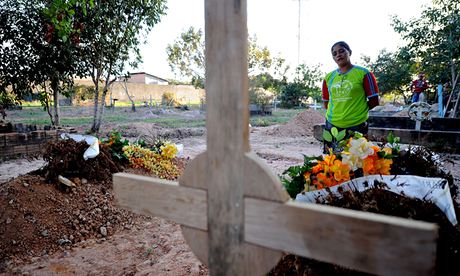 Oliver Courtney, senior campaigner at Global Witness, said: "There can be few starker or more obvious symptoms of the global environmental crisis than a dramatic upturn in killings of ordinary people defending rights to their environment and livelihoods from corporate and state abuse. Yet those responsible almost always get away with it, because governments are failing to protect their citizens and the international community is not paying enough attention to their plight."
The insatiable global appetite for gold, silver and other minerals is powering extractive industries in countries with weak institutions, and is linked to at least 150 deaths since 2002. This includes 46 extrajudicial killings of demonstrators around mining sites across Peru. There were also deaths linked to protests against contamination, waste disposal and conservation of coastlines and wildlife.
Indigenous communities are particularly hard hit. Several in Guatemala and Honduras told the Guardian that they were unaware their territory has been sold until machinery and security guards working for mining or hydroelectric companies appeared overnight. Their resistance efforts have been denigrated as anti-development and dozens of community leaders face dubious criminal and civil charges.