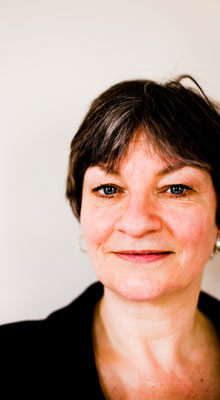 The head of the largest teaching union today accuses the government of undermining its own promises to expand educational opportunities for people from poorer backgrounds through "planning failures" that threaten to bar tens of thousands of students from sixth forms, colleges and universities this year.
Christine Blower, the acting general secretary of the National Union of Teachers (NUT), said that the government had failed to properly anticipate the rise in demand for education in the recession, and that places at sixth forms and colleges were being "rationed" despite high-profile pledges by ministers to guarantee all 16-year-olds a place to study.
Speaking before the union's annual conference in Cardiff today, Blower blamed Labour's break-up of the school system through the introduction of academies and trust schools, which she said made it harder to plan locally.
She also said that a boycott of Sats, being debated by the union this weekend, would halt national testing next year, forcing government reform of the system.
Blower said: "What I think the government has lacked is a genuinely proper approach to planning. It's taken the wrong approach and it has left us with significant difficulties. The economic crisis has made all of this much, much worse ... I believe it's a failure to plan which has left us more exposed to some of these difficulties now."
She said: "It leaves the chancellor and government with very serious questions to answer in the budget. The likelihood is that if you have some kind of rationing and scarcity of places then those people who can get the places will be people with parents and carers who can best advocate for them, and they will not, generally speaking, be children and young people from the lowest-income backgrounds."
Sixth forms and colleges were told last week they would be receiving up to £200m less in funding than they had expected, with some estimates claiming that 35,000 places on courses due to start in September are threatened.
Ministers have also been forced to reduce the expansion of university student numbers because of a separate £200m shortfall in funding in the higher education budget.
Universities are facing record applications, but are being told they face heavy fines if they over-recruit.
The funding problems put at risk two important Labour promises: to expand higher education, particularly for students from disadvantaged backgrounds, and to guarantee all pupils places to learn after they turn 16.
Blower said: "The enthusiasm for extending education was absolutely right, but there is a failure of planning which it seems to me is down to the fact that you allow the market to do these things."
Blower said that the government's "privatisation" of the education system was, for example, behind the crises of last year's Sats marking and the distribution of education maintenance allowances to 16 to 19-year-olds. Both collapsed under new private providers.
Blower took over the position of general secretary last year following the sudden death of Steve Sinnott. She started her teaching career in the 1970s at Holland Park school in west London, then known as the "socialist Eton", where Tony Benn sent his children. She has long been associated with the left of the NUT.
The proposed boycott of Sats is likely to dominate the NUT conference this weekend. Blower said she was confident that her members would back the motion. The move, being proposed jointly with the National Association of Head Teachers (NAHT), would bring the testing system to a halt next year unless ministers reformed the system, she said.
"I am also absolutely hopeful that the tide may be beginning to turn," Blower said. "Ed Balls [the education secretary] saying that Sats are not set in stone is extremely helpful.
"The boycott is there to demonstrate the absolute commitment the NUT and NAHT have to getting rid of the existing system and in particular league tables. We believe there is time for an orderly transition."
The union will tomorrow also propose a policy to oppose the creation of new faith schools. Blower said: "We don't want there to be discrimination but we recognise that there is currently discriminating law. We have a position which says all schools should relate to their local community. The religious element shouldn't be an overriding criterion in admissions."
A spokesman for the Department for Children, Schools and Families said Blower's analysis of the root of the funding problems was "misleading".
"As schools minister Jim Knight made clear last week, the funding issues have been caused by a rising interest in staying on in education and the fact that some young people have decided to get extra qualifications rather than enter the current job market."
The increases had been anticipated but had turned out to be higher than expected, he added.