Zooey Deschanel: 'Manic pixie dream girl? I'm not a girl. I'm a woman'
As her duo She & Him release a Beach Boys covers album, the actor-musician answers your questions on duetting with Prince, crying to Björk and raging at the US supreme court
As told to Dave Simpson
21, Jul, 2022 @12:00 PM
Post your questions for Zooey Deschanel
As her duo She & Him release a Beach Boys covers album, the actor-musician will answer your questions – post them below
Ben Beaumont-Thomas
12, Jul, 2022 @10:40 AM
Rock'n'role: a dizzying number of actors want to be pop stars, but which ones are worth listening to?
Downton Abbey co-stars Michelle Dockery and Michael Fox have announced their debut EP. With so many film and TV stars trying their hands at pop, our music critic rates actors' past efforts
Alexis Petridis
01, Mar, 2022 @10:00 AM
The Celebrity Dating Game: haven't we suffered enough already?
An ill-advised reboot of the 60s show features a confused Zooey Deschanel and a bizarre Michael Bolton hosting with hard-to-recognise celebs looking for love
Stuart Heritage
15, Jun, 2021 @5:34 AM
Hear me out: why The Happening isn't a bad movie
The latest in our series of writers defending hated films is a plea to reconsider M Night Shyamalan's human v nature thriller
Beatrice Loayza
05, Mar, 2021 @2:18 PM
Hear me out: why Your Highness isn't a bad movie
The latest in our series of writers defending loathed films is a plea to reconsider David Gordon Green's foul-mouthed fantasy adventure
Jesse Hassenger
05, Feb, 2021 @7:22 AM
Almost Famous at 20: Cameron Crowe's warm-hearted ode to music journalism
The writer-director's semi-autobiographical comedy remains a generous and insightful film about growing up on the road
Scott Tobias
14, Sep, 2020 @7:06 AM
New Girl: screwball comedy gets funnier and smarter – and is best when binged
Dismissed upon its debut, the zany Zooey Deschanel sitcom eventually became sharper and more self-aware – and has surprising staying power
Shaad D'Souza
25, Mar, 2020 @4:30 PM
The attachment secret: are you a secure, avoidant or anxious partner?
It's difficult to find lasting love, but by recognising your attachment type you can be more conscious in your relationships and stop self-sabotaging
Elle Hunt
05, Nov, 2019 @6:30 AM
What Lena Dunham and Girls owe to the Mary Tyler Moore show
Many modern stars were inspired by TV's single career woman who died last week
Vanessa Thorpe Arts and Media Correspondent
29, Jan, 2017 @12:04 AM
Trolls review – multicoloured collectables overcome in children's sleepover fare
Perky troll Poppy enlists the help of misery Branch to help her find tufty-haired happy in a glaringly bright kids' cartoon with songs
Peter Bradshaw
20, Oct, 2016 @9:45 PM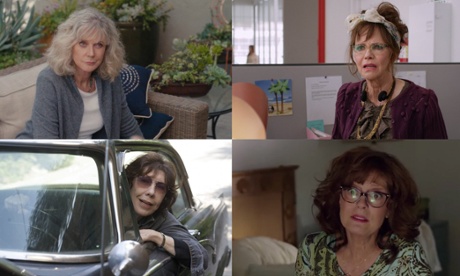 Getting on: how the Manic Pixie Dream Grans conquered Hollywood
Lily Tomlin's fierce lesbian poet, Blythe Danner's spunky widow, Sally Field's kooky nan ... Move over Zooey Deschanel, granny wants a piece of the action
Stuart Jeffries
29, Nov, 2015 @2:00 PM