Joan Collins: 'I just gave them a knee to the groin. It's hardly suffering'
Joan Collins on abuse in Hollywood pre #MeToo, staying relevant at 85, and why she suspects her sister Jackie might have returned as a fly...

Sophie Heawood
02, Dec, 2018 @10:00 AM
American Horror Story and Joan Collins are made for each other
The award-winning TV series has done much for underused older actors, but of them all, Collins could turn her newly announced role into a career highlight
Stuart Heritage
03, May, 2018 @6:28 AM
The celebrity passport photo office: 'Errol Flynn just said, Yep! It's me!'
From Uri Geller, who bent the shop's only spoon, to the Beatles, Arnie and Joan Collins, a small London shop near the US embassy has been taking passport snaps for the famous since 1953
Andrew Male
21, May, 2017 @2:30 PM
The Time of Their Lives review – depressingly cardboard pensioners' comedy
Joan Collins and Pauline Collins play silver-years friends on a jolly to a funeral in France, in a sentimental comedy that tests indulgence to the limits
Peter Bradshaw
09, Mar, 2017 @9:45 PM
Molly Moon and the Incredible Book of Hypnotism review – mirthless and shoddy
This adaptation of Georgia Byng's plucky-orphan story features a cracking cast but has all the appeal of a disposable Christmas stocking novelty
Leslie Felperin
01, Dec, 2016 @9:30 PM
Dynasty is being rebooted: here's how not to ruin it
The Carringtons and the Colbys are back in town – but can the producers of The OC recapture the glamour and melodrama of the original series?
Lucy Mangan
03, Oct, 2016 @2:14 PM
Joan Collins Unscripted review – rambling chat and fleeting jokes
Dynasty star treads a line between spontaneity and laziness in the company of her fifth husband and an adoring audience
Mark Lawson
02, Oct, 2016 @1:25 PM
Joan Collins – A Life in Lipstick: lessons in how to live glamorously
From 'coffee bar Jezebel' to imperious Alexis Carrington in Dynasty, by way of Hollywood: Joan Collins still bubbles along like fine champagne
Hannah Verdier
28, Jul, 2016 @4:05 PM
From Warren Beatty's love letters to power suits: the Joan Collins auction
Hundreds of objects go under the hammer in Beverly Hills, including her costumes from Dynasty and her film appearances
Maev Kennedy
13, Dec, 2015 @5:23 PM
Joan Collins 'nagged sister about mammograms', tribute reveals
Actor says she only found out about her sister's illness two weeks before she died
Nadia Khomami
27, Sep, 2015 @8:11 AM
Like Jackie Collins, I kept my cancer diagnosis a secret – and I don't regret it | Jenny Hirschkorn
Keeping her illness from her sister Joan must have been one of the hardest decisions Jackie Collins had ever had to make – I did the same to protect my parents
Jenny Hirschkorn
23, Sep, 2015 @9:50 AM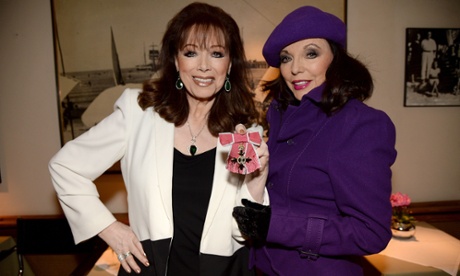 The pleasure of a Jackie Collins novel was always the dish
She was not Edith Wharton, and she knew it, but Collins' novels contained sharp, useful truths about sexual attraction and vanity in the days before reality TV
Farran Smith Nehme
21, Sep, 2015 @3:52 PM