Nikesh Shukla: 'Reading Spider-Man made me feel less alone'
The author and screenwriter on his love of comic books, James Baldwin's moral fury, and how The Buddha of Suburbia is one of the funniest books ever written
Nikesh Shukla
18, Feb, 2022 @10:00 AM
DC drops Batman image after claims it supports Hong Kong unrest
Picture trailing new Frank Miller comic showed Batwoman throwing a molotov cocktail against the legend: 'The future is young'
Alison Flood
29, Nov, 2019 @2:12 PM
Frank Miller: 'I wasn't thinking clearly when I said those things'
After stirring up outrage lambasting Muslims and Wall Street protesters, The Dark Knight Returns creator has been awol from the comics world. He discusses the mentor who got him back on his feet, what he thinks of Donald Trump, and his new prequel to 300
Sam Thielman
27, Apr, 2018 @5:00 AM
Tom Hiddleston and Ben Wheatley to reunite for Frank Miller adaptation
High-Rise actor and director to collaborate on big-screen version of Miller and Geof Darrow's comic Hard Boiled
Andrew Pulver
22, Nov, 2016 @11:56 AM
Frank Miller's fascist Dark Knight is a very modern archetype
Miller presents Gotham through the ugly lens of a billionaire's delusional, messianic fantasy – his Bruce Wayne is not so different to Donald Trump
Damien Walter
01, Apr, 2016 @2:00 PM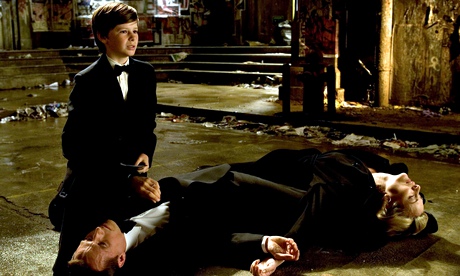 Is Dawn of Justice turning into a Batman origins story?
Ben Child: Reports from Batman v Superman suggest Zack Snyder is shooting the iconic Wayne parents' murder scene. Why?
Ben Child
14, Nov, 2014 @3:16 PM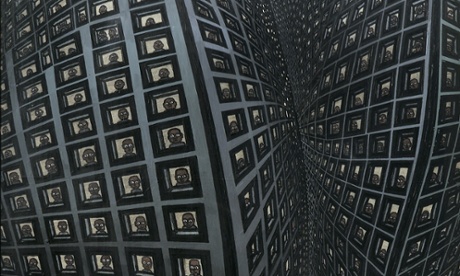 From Hell to Electropolis: how comics depict cities – in pictures
Delirius, the planet-sized city. William Gull shaking his bloody fists at the Nat West tower. The gentle Julius Knipl, Real Estate Photographer. For every urban locale and lifestyle, comics are obsessed with cities like no other genre

Pascal Wyse
09, Sep, 2014 @9:38 AM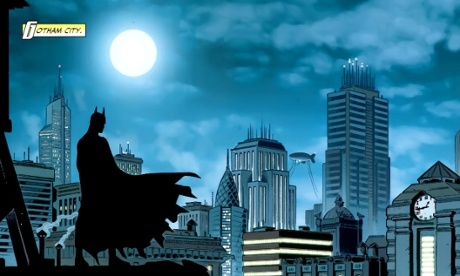 Gotham state of mind: what do comics tell us about cities?
Raised in New York, fed by newspapers and nourished by urban life, comics tell the secrets of cities … and of those of us who live in them, writes Pascal Wyse
Pascal Wyse
09, Sep, 2014 @9:37 AM

Sin City 2: A Dame to Kill For review – uncompromising and still-satisfying pulp vision
Frank Miller and Robert Rodriguez's lustrous visuals still dazzle, even if not all parts of their second noir-inflected portmanteau keep up, writes Mike McCahill
Mike McCahill
21, Aug, 2014 @9:50 PM

Comic-Con trailer paradise for Hollywood's 2014 movie blockbusters
Glimpses of the new Hobbit and Hunger Games, along with Sin City 2 and Horns were among studio hopefuls on offer to comic-book fans at the San Diego convention, reports Ben Child
Ben Child
29, Jul, 2014 @4:03 PM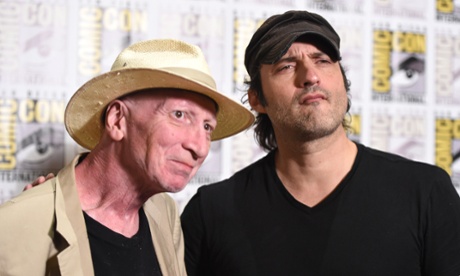 Comic-Con: Sin City 2 performances '10 times, 100 times better'
A Dame to Kill For director Robert Rodriguez hails advances since 2005 original based on Frank Miller's graphic novel

Carys Herz in San Diego
27, Jul, 2014 @1:37 PM
Sin City: A Dame to Kill For trailer – back to the graphic side of comics
Miller and Rodriguez's followup to their 2005 neo-noir will offer sci-fi fans a welcome break from robosuited megageniuses and aliens with conveniently all-American values, writes Ben Child
Ben Child
13, Jun, 2014 @7:00 AM