Something to crow about: climbing the rig of the Cutty Sark
The world's most famous tea clipper launches a new rig climb experience on Saturday. We shin up for a sneak preview and fantastic views of London
Rachel Dixon
01, Apr, 2022 @1:41 PM
Cutty Sark mutiny: staff asked to join picket lines as dispute hits tourists
While visitor numbers soar, workers are paid below the living wage in employment practices recalling the navy in the 19th century
Ben Quinn
31, Dec, 2017 @12:04 AM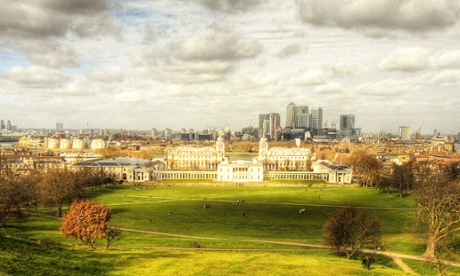 Great city walks: Blackheath and Greenwich, London
Enjoy spectacular views of London while walking through one of the most beautiful parts of the capital
• Five more walks tomorrow

Tesco scoops Carbuncle Cup for 'inept, arrogant, oppressive' Woolwich store
Architectural 'prize' goes to supermarket's London south-east project 'inspired by 1948 Berlin blockade', judges decide
Robert Booth
03, Sep, 2014 @5:00 AM

Cutty Sark reborn as cabaret theatre
By day, the drydocked sailing ship will continue as a museum; by night, an 85-seat space for comedy, music… and sailors' tales, writes Maev Kennedy
Maev Kennedy
21, Jan, 2014 @2:30 PM

Tate Modern receives £10m gift from Israeli shipping magnate Eyal Ofer
Modern art gallery to rename rooms after donor as it closes in on £215m fundraising target for extension
Mark Brown, arts correspondent
02, Jul, 2013 @3:50 PM

Mary Rose museum is a pearl - pity about the limpets
The Tudor ship's new home has the timeless sense of the ancient vessel, although the tacked-on pavilions are a bit of an anticlimax
Oliver Wainwright
30, May, 2013 @6:30 AM

The Cutty Sark rises from the flames - in pictures
Britain's last surviving tea clipper, the Cutty Sark, reopens after an extensive conservation project
In praise of … the restored Cutty Sark | Editorial
Editorial: In the days before the Suez Canal, it was one of the fastest commercial vessels taking tea from Shanghai and wool from Sydney
Editorial
23, Apr, 2012 @9:55 PM

The Cutty Sark: hoist the main sail!
The Cutty Sark has survived storms, pounding oceans and even fire. As the restored tea clipper reopens in Greenwich, Steve Rose explores our new appetite for nautical museums
Steve Rose
23, Apr, 2012 @6:00 PM

Cutty Sark reopens with gallery of 'Long John Silver' figureheads
Clipper ship's £50m restoration after fire five years ago creates exhibition space in dry dock beneath the keel
Maev Kennedy
21, Mar, 2012 @5:12 PM
TV review: Cutty Sark: National Treasure
Sam Wollaston: It's a lovely old ship, and the restorers are characters - but is it really worth £50m?
Sam Wollaston
04, Feb, 2012 @1:37 AM