So long, farewell, auf wiedersehen, good night
That's about it from me – I've wrung the soggy flannel of internet happenings sandal-dry for one day and must now go home (pub) to rest my weary head (eat Scotch eggs in the pub). The frankly astonishing Louis Pattison will be in the Guide Daily hotseat tomorrow so get back here sharpish for more silly nonsense and, of course, the weekly internet-sensation-in-gestation, #Review Anything.
I leave you with this: the Eurasian Turtle Dove, or Streptopelia Turtur.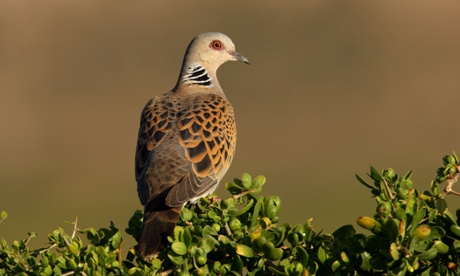 Tarrarabit.
The Big Thursday Gig Guide
So, apart from watching all the ace stuff on telly on Thursdays, what is there to actually do tonight apart from go to a gig? Besides, you know, sitting in your pants eating processed cheese and crying.
Go and see these things, safe in the knowledge it was the right thing to do.
London:
Charlie XCX – Heaven, WC2
Eagulls – The Scala, N1
Jungle – o2 Shepherd's Bush Empire
Birmingham: Lamb, The Institute
Leeds: Raleigh Ritchie, The Wardrobe
Liverpool: Wild Beasts, o2 Academy
Manchester: Foxygen, The Ruby Lounge
Bristol: The War On Drugs, o2 Academy
Dunfermline: Courteeners, Alhambra
Edinburgh: Black Lips, The Electric Circus
Glasgow: Royal Blood, o2 ABC
YAS.
Updated
STOP EVERYTHING: Further essential Halloween stuff
Yes, yes, Halloween's not until tomorrow but, as my scout master (fictional) used to say, preparation prevents propane's propensity to privatise preambulations (paraphrasing fictional person). To this end, look at THIS SLAB OF UTTER BRILLIANCE before sending your blank cheques to Luke, The Guide, erm, London, and the rest of the address which you can find by Googling, because, somehow, this is the greatest thing of all time. And that's worth cold, hard cash.
Updated
What It's Like to Walk on the Street While Being Male
You may have come across this video of a woman documenting how difficult it is to simply walk around without being harassed. If you're a woman this may be depressingly familiar, whereas if you are a man, which technically I am, you probably felt a pang of shame.
Funny Or Die have just released a companion piece which only further demonstrates the gender inequality rife in our stoopid society, albeit by being very funny. Enjoy.
Updated
Death Waltz mixes up Halloween
That's right – esteemed purveyors of gruesome horror soundtrackery Death Waltz Records (who were by us named as one of the labels defining the sound of 2014) are some dropping spooky mixes, ideal STs for whatever debauched and depraved activities you've got planned for tomorrow night. Here's the first, done for the ace FACT magazine, and check back here tomorrow for the one they're doing for us. It'll be great, or your money back. Oh, you're not paying for any of this. I see.
Jake Gyllenhaal does thing on chatshow: redux
He's doing the rounds, certainly, but this is good. I've never played War before but it doesn't look to hard. Unlike...oh, never mind. Insert your own nipples joke here. I can't be bothered.
Trailer for Alex Garland's Ex Machina
If cinema has told us anything it's that nothing bad will even come of creating artificial intelligence. 28 Days Later, Sunshine, The Beach and Dredd dude Alex Garland seeks to redress this imbalance with a film about very bad things happening after the creation of artificial intelligence. The designs look a bit I, Robot while the muted colours suggest Under The Skin. The trailer, though, as with so many, because the people who make them are clearly FOOLS, appears to give away pretty much everything besides what happens in the few seconds before the credits roll. See what you think anyway and let us know.
TUNE-ALANCHE RIGHT IN YOUR FACEHOLES
First up, check out this new vid from triumphant Scot melancholists the Twilight Sad, Last January. It's taken from current album Nobody Wants To Be Here And Nobody Wants To Leave, and the video depicts what it would be like to try and recreate the Scar Tissue video, only in Scotland, and in vests that simply do not fit. I approve wholeheartedly of all of this.
Next, PMR goes at bit MOR: Jessie Ware becomes the Brixtonian Balladeer performing Say You Love Me on Seth Myers. She nails it of course, but it's all a bit Disney romance montage for me. The vid can't be embedded though so you can watch the performance simply by clicking you wee pointer on these here words.
And since there's no vid to fill this space, here is a picture of a goose.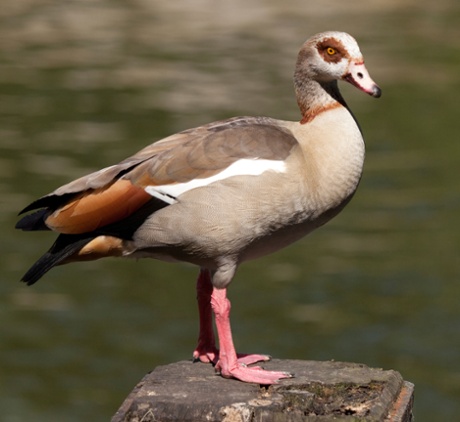 For woozy, neon-tinged R&B, have a listen to this from Atlanta songsmoothsmith Rome Fortune, who follows up the ace, Four Tet-featuring Small VVorld mixtape with this SuicideYear-produced effort. Bonzer.
Here's In The Forest, the new one from a former Guardian band of the week, those wistful dreamdie ('dream' and 'indie' - that's one of mine, that is) north-easterners VEYU. Best not to watch this with a hangover though. It all goes a bit swirly. Nausea aside, this is fairly superb.
And if you like you keep your rock stored safely in the garage (erm, I'm referring to "garage rock". I don't really think this analogy works) try THIS: Marlene, by scuzzy Costa Rican trio Las Robertas.
And finally, this is just lovely: Elephant Micah, née Joseph O'Connell, has plopped this affable blob of Indiana folk on the SoundCloud doorstep. Like rolling around in a pool full of stoned redneck puppies. Or something. Probably something. Again, unembeddable, but go here and swoon at it.
As such, as as in now customary for some reason, have a gawp at this, the ring ouzel. Its binomial name is turdus torquatus. Yes - a bird with 'ring' and 'turd' in its name. Go forth and tell everyone.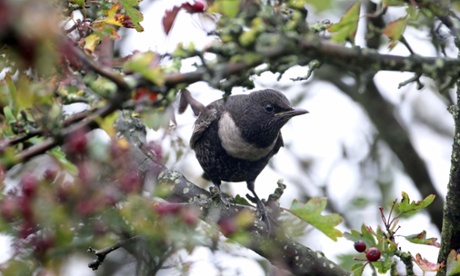 Updated
More movie stuff alert
You should definitely take a couple of minutes to have a butcher's at the new trailer for the Spongebob movie, in which our gaggle of subaquatics leave behind the two-dimensional realm cartoonery to swell into the Z-axised, IRL rotundity of 3D. It looks pretty damn funny too.
Fox Searchlight have also released this new clip from Babel and 21 Grams director Alejandro G Iñárritu's (thank you copy and paste) snappily titled black comedy, Birdman Or (The Unexpected Virtue Of Ignorance). Michael Keaton plays the former star of a superhero franchise trying to shed the shackles of typecasting to stage a new, daring new show on Broadway. See what everyone's doing here? Meta and shizz. It also stars Zach Galifianakis, Edward Norton, Andrea Riseborough, Amy Ryan, Emma Stone and Naomi Watts (thank you again copy and paste) and is set to hit cinemas on the 1st of January. No one at all goes to the pictures on the 1st January. Just an observation.
Goosebumps gadge writes story on Twitter
Anyone of a certain vintage remembers Goosebumps books, and the king of them, RL Stine, is ringing in Halloween with a new tale, delivered in Twitter chunks. See what you think.
You! Sniggering at "They are biting holes in Willy from the inside"! Get out!
Ellen scares the bejesus out of Jake Gyllenhaal
Tomorrow is Halloween: the one day a year when scaring the pants off someone for absolutely no reason ceases to be an act of social assault and becomes the height of popular japery. Ellen Degeneres has started early – here she is punking Jakey G on her chatshow, even though he probably never did anything to her. I think he handles it pretty well.
A few lunchtime things for you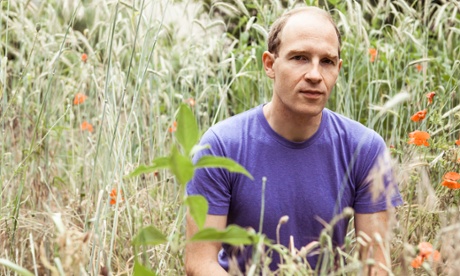 Stuffing a wretched, moist ham and cheese into your gob while trying to look busy because you'd rather kill yourself in the face than speak to your awful colleagues about their annoying kids? You might as well look at something on the internet while you're doing it then.
See you back here on the flipside.
Wretch because Richie Rich is set to reach your ranch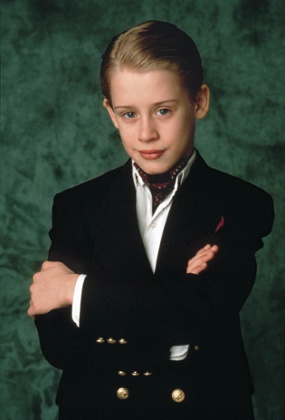 No I'm not sold on that headline either. Not. At. All. Anyway, the point is, Netflix has picked up a new TV show due to be streamed next year based on the annoying 1980 cartoon and even more annoying 1994 Culkin-vehicle Richie Rich. It will no doubt be intensely annoying.
Moreso, isn't Richard "Richie" Rich the most preposterously convenient name ever given to a character in the history of the atom? Oh, your name's Rich? And you're rich? OH I GET IT. NOW GO SOMEWHERE AND DIE PLEASE. It's a bit like:
Hannibal "The Cannibal" Lecter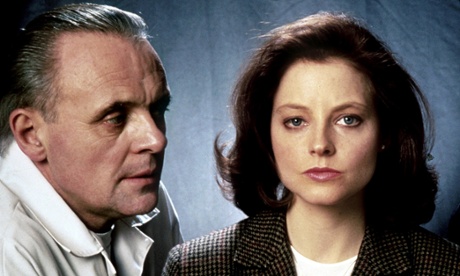 Let's say the odds of someone being a cannibal are, and I'm being generous, 1,000,000-1, and the odds of someone being called Hannibal are an equally generous 1,000,000-1. This would make the odds of these two variables conflating 1,000,000,000,000-1, or one trillion to one, or one in 1012. Therefore about as likely as Nigel Farage being born with the equally assonant surname "Piggott". That would have been brilliant.
Spit The Dog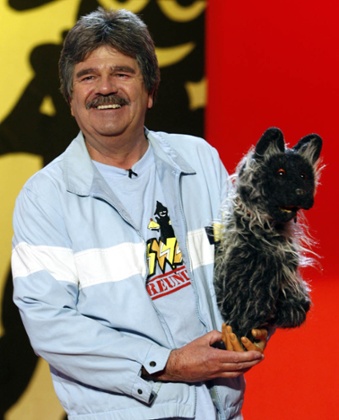 Let's assume the egg came before the chicken here and that Bob Carolgees didn't neglect to give his poor mutt a name until, one day, it hocked a dirty great wodge of neck-oyster right into his 'tache. This means one of two things: either Spit The Dog's name is fairly convenient, or Bob conditioned the poor animal to spit through a Pavlovian regimen of beatings, rewards and Benson and Hedges Gold. Harrowing.
Max Payne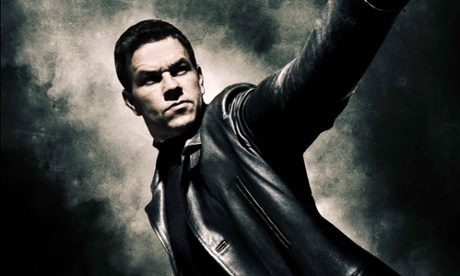 Oh, whatever Max. OF COURSE that's your birth name. Your parents hated you that much. Deed Pole had NOTHING to do with it. I bet he's really called Neil Hamm. Or Adrian Potts. Or Nobby Pratt. He's also forgetting that the name of Max has already been owned, ever since Homer Simpson changed his name to Max Power:
Who's the best musical Young?
The Fathers' Mercurial victory surely books them a place at the Young family Christmas dinner table. But, despite their moniker, they're just the whippersnap upstarts at this point - they're at the kids' table drinking Ribena, daring each other to eat a sprout. They've got some way to go before usurping these proud owners of the family name.
Neil Young - "Paw"
Young Knives - "Annoying lit-student cousins"
Yung Lean - "Grumpy, pubescent, COD-obsessed little brother"
Young Black Teenagers – "Drunk, 'we-were-in-a-band-back-in-the-day-you-don't-know-you're-born' uncles"
Will Young - "Cousin who moved to London and never speaks to anyone"
Kirsty Young – "Maw" (because I searched for ages and couldn't find a single musical female Young)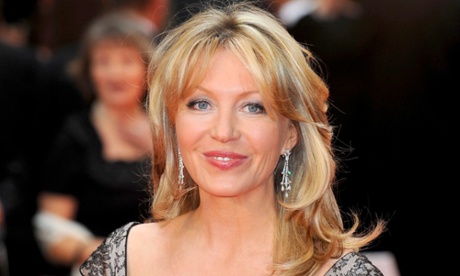 Updated
The annual "someone I didn't expect to win the Mercurys won the Mercurys!" shocker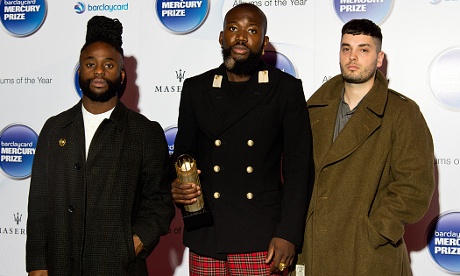 Did you bet your spondooleys on FKA twigs or Kate Tempest? It was, apparently, a two-nag race between these two. So it's surprising then that those who betted "safely" on one of these might as well have scrunched their money up into a tiny ball and hurled it down the nearest well. Me? I didn't bet. Gambling's a mug's game. I know better. I was simply mildly surprised that Edinburgh rap-scallions Young Fathers won, and nothing more.
I know what you're thinking: who dem? Wat Dey? Why dis? So to commemorate the taciturn trio's triumph – and, probably, to introduce a few people to who they actually are – here's their Mercury-winning album Dead in full. Enjoy.
Updated
Hunger Games trailers: erm, we're full now
Here's one final trailer for the bisected closing segment of Katniss Everdeen's YA adventures. The film's released on the 21st November and, if the previous two are owt to go by, will probably be pretty solid. But after Potter, The Hobbit, Twilight and now this, can we declare moratorium on splitting films into bits to get more cash? Wait, sorry, how much? That much, really?! Blimey. As you were.
Anyway, let's have a closer gander at this. First, the two Mockingjay films feature the late, great Philip Seymour Hoffman in his final film role. Two more chances to hail PSH.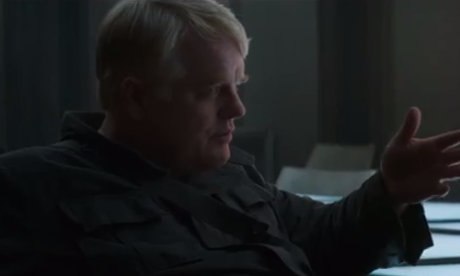 We also see Julianne Moore managing to both resemble Saruman the White and still look pretty damn cool.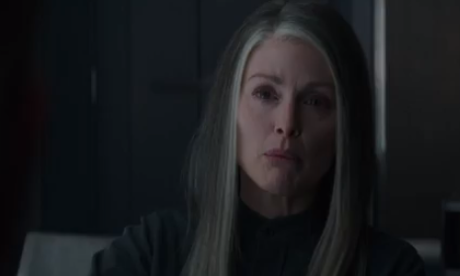 Extra With Beard and Extra With Asymmetrical Hair more than earn their Equity rates.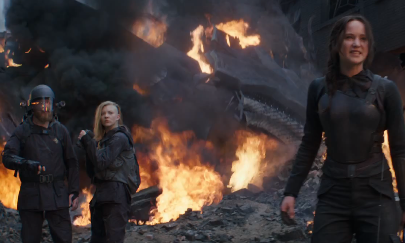 Prominent characters remain irritatingly oblivious to the bow and arrow and crossbow's obsolescence in an age of hi-tech projectile ordnance.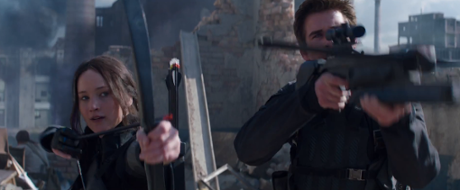 And the Power Rangers turn up to save the day, though "grittiness" prevents them from donning their classic colours.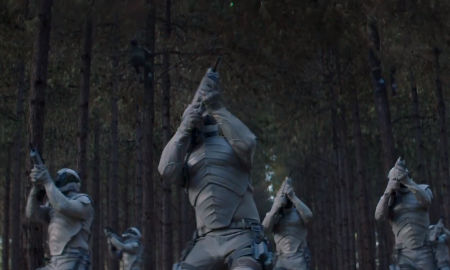 Updated
Morning is here!
And with it, and to get the day off to a jovial start, a nice early reminder of the looming threat presented to us all by the ebola virus. Luckily, said portents come from the wibbly wobbly gob of gurny funster Jim Carrey, he of renowned medical schools Mr Popper's Penguins and Batman Forever. Here he is testing David Letterman for the disease:
Haha! It's funny because we know he doesn't actually have it! HA! Perhaps Jim Carrey is in fact some kind of hero. Perhaps the CDC and WHO are now utterly redundant. Nevertheless, I think more vaguely desperate out-of-favour comedians should take it upon themselves to administer invasive medical procedures on other celebrities. But then again I do hate them all. And I'll watch literally anything.
Updated