It's moving-in madness at Neneh Cherry's house. Back to London after eight years in Stockholm, her phones aren't working, missing leads are still packed away and there's a houseful of people to boot.
"There are always heaps of people at my house, whatever we do," says the musician, reeling through the roll call. "There are no extra bodies in my room," she says with that unmistakable husky laugh, "but I don't know if I want to look."

Cherry is also back in the spotlight with Blank Project, her first solo album in 18 years. Released in February 2014, it has been well-received by critics which surprised and delighted her.
"It's a fairly leftfield record, I thought it was going to have a harder time," she says. She had her own misgivings: "There was this funny demonic voice somewhere in my head going: 'This is a bit of a big deal. You haven't made a record for ages – what's it going to be?' Then I had this other trumpet somewhere else going: 'Fuck you! We're just going to make a record, it doesn't really matter.' It's more important to stay true to what it's going to be."
She's currently touring the album around Australia with collaborating electronic band RocketNumberNine. Although they started off playing to small venues in Europe, they quickly transitioned to international festival stages. "There's only three of us and you get used to hearing it in a confined space. Then all of a sudden, it grew and adapted and definitely worked in this other environment too."
Festivals can be a double-edged sword, she says, with an audience of both the curious and loyal. "Hopefully we converted a few people [although] I'm sure we lost a few too."
With Blank Project's experimental electronic sound, Cherry is well aware that new songs like Everything and Out of the Black (featuring close friend and fellow Swede Robyn) may be something of a surprise to those expecting a rehash of Buffalo Stance, Manchild and 7 Seconds. While she's still fond of the old hits – "like members of my family" – she has clearly moved on.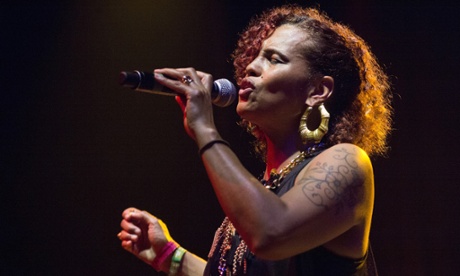 "I would dread to be in the situation where I was relying on those songs to do anything, as if that was all I had. I'm really proud of them but I think there is a time and place and I would hate the only interest to be in something that has been and gone. So it's cool that I've got this new music that, to me, feels better than anything else that I've ever done."
Cherry came of musical age in the late 80s, so she's seen the industry go through seismic shifts. She describes it currently as "in recovery". And as the stranglehold of the major labels slacken, she's encouraged by those running independent labels. "What I like is that the boundaries between different kinds of music are becoming less relevant. Of course you have a mainstream area and a more leftfield area, but even those lines are becoming slightly thinner."
She's also relieved to see the waning of manufactured television talent show acts. "Everything to me was contrived and focused on fame and celebrity, rather than 'I want to make music and I'm going to eat beans on toast for five months so that I can buy a sequencer.'"
What hasn't changed, she says, is how female musicians are perceived. Cherry's name is often evoked as a forerunner to musicians like MIA, Azealia Banks and FKA twigs, but she's surprised audiences still react to strong female performers like they're oddities. Cherry is excited to see them taking a stand. "That doesn't necessarily mean that you're confident all the time but just that you're doing something that you're not necessarily going to compromise."
Cherry remains optimistic. Recently she spent some time with next-gen riot grrrl group Skinny Girl Diet, already tipped for success by Cherry's one-time Slits bandmate Viv Albertine. "They really have it," says Cherry. "You hear and see them play and they are just there doing it."
The band embrace feminism, as Cherry believes all female performers should. "It's not that you have to hammer on about being in a constant dialogue about politics and the world and the bad things going on – but it's there all the time, around us and we have a responsibility to be aware of it, and take responsibility for the things that we can."
• Neneh Cherry and RocketNumberNine play Arts Centre Melbourne on 6 March, Golden Plains festival on 7 March, Womaedelaide on 8 & 9 March, Old Adelaide theatre on 8 March, and Sydney Opera House on 11 March.