When Florence + the Machine were elevated last week to the top of the bill at the Glastonbury festival, a pressing concern in the music industry seemed to have been answered: here was a female performer headlining a major music festival, appeasing critics who complained that British festivals were such a male-dominated zone.
But does the unexpected upgrade – after injury caused Foo Fighters to pull out – in fact underline a continuing failure in the vision of music promoters, who stand accused of believing that only big-name male rock stars can sell tickets in big numbers? After all it is 16 years since a band with a female lead – Skunk Anansie – last took a headline spot on the Pyramid stage at Glastonbury.
Figures collated by the Observer this weekend suggest there is a way to go before women operate on a level festival field. Across Britain's major summer music events, only three predominantly female acts – apart from Florence + the Machine – are booked at the top of the bill. This compares with 50 acts of similar status that are male-led.
At festivals from the Isle of Wight last weekend and Glastonbury next weekend, to Latitude, Creamfields, V, Bestival, Reading and Leeds, T in the Park and Womad, the key female acts are Portishead, featuring singer and lyricist Beth Gibbons, Fleetwood Mac, featuring Stevie Nicks and Christine McVie, and Patti Smith. Festivalgoers searching for another woman at the top of a bill must wait for August and the Green Man festival in the Brecon Beacons or Wilderness in Oxfordshire, to see St Vincent or Björk respectively.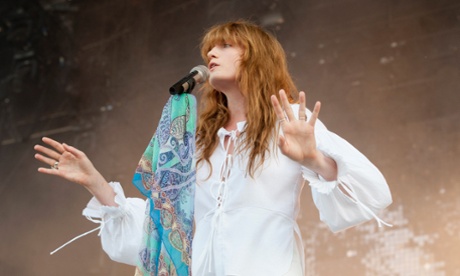 The swift shift for Florence + the Machine, fronted by lead singer and songwriter Florence Welch, from supporting spot to main act on the Pyramid stage, was occasioned by the broken ankle of a male artist. Dave Grohl, Foo Fighters' frontman, fell off a stage in Sweden earlier this month and the band were forced to pull out. The choice of Welch's band as substitute is testament to the big following she has amassed since 2010 when her first album, Lungs, won a Brit Award.
Across Britain's bigger festivals, other popular female performers are in evidence: a supporting tier of female stars this year includes Jessie Ware, Mary J Blige, Laura Marling, Lianne La Havas, Paloma Faith, Ellie Goulding, Lily Allen and Annie Mac.
There are also appearances to catch from Neneh Cherry, Suzanne Vega and Alabama Shakes, and a late-breaking signing for Latitude in the shape of Australian saxophonist Amy Dickson.
Promoters are wise to book women, according to campaigning group UK Music, which released a report last week showing how valuable live music is to the British tourist trade. Its study, Wish You Were Here 2015, carried out by Oxford Economics, reveals that music tourism to Britain has increased by a third in the past three years. "And it's certainly not all men coming to see big rock bands," Jo Dipple, UK Music's CEO, said this weekend. "Tourists would not be attending the smaller festivals in such big numbers if that was the case."
Dipple believes that, contrary to tradition, female performers are a strong draw for festival fans, whether they are travelling within Britain or from abroad.
"It is the whole festival experience people seem to want, with a mix of acts. Now, with the economy recovering, people are spending money on what they love most. And that is happening across the board, with music events, including the smaller concerts and, especially, family events."
Yet last year, had Lily Allen not filled in at the last minute at Latitude, there would have been no woman topping the bill at a major festival.
In the VIP area at Glastonbury next weekend, Welch and Patti Smith will be joined by fellow female performers Mary J Blige, Alabama Shakes, Paloma Faith, Courtney Barnett and Rachel and Becky Unthank. Almost every other major act across all the stages on each night will be male.
Veteran music publicist Barbara Charone, who represents Madonna, Rufus Wainwright and Mark Ronson, is not surprised. "I think – hope – things are changing, but it's an uphill battle," she told the Observer this weekend.
"We've just started working with this wonderful band, Savages. They played Field Day the other week, alongside Patti Smith. When I first met them they told me how a New York Times review had run a photo with the caption 'female indie rock band', or something like that." The band reacted by posting the image on their website but altering the caption to read just "rock band".
"It got retweeted a lot and the New York Times had the good grace to change the caption to 'indie rock band'. That reflects the problem in a nutshell. It shouldn't be about gender, but about music. Florence deserves to headline Glastonbury on merit, not gender." Meanwhile female artists have to work hard in the middle of the bill: the same names crop up across Britain and last year Haim, three Californian sisters, played both Latitude and Glastonbury.
Yet music sales suggest women singers should be equally feted at festivals. Adele was Britain's richest young musician last year, according to the Sunday Times. Mike Smith, A&R chief at Virgin EMI, said she could walk into the top slot of any festival she chose. "Things will change when the new crop of women singer/songwriters have become established," he said this weekend. "Female singers are leading the industry, whether it is Taylor Swift, Adele or Katy Perry, or further down the chain. But to headline a festival you have to play to a crowd that is not necessarily your normal audience, so you need a big back catalogue.
"Look at the male solo artists that can fill stadiums or headline festivals nowadays: there aren't that many, and they tend to be in their 60s. Festival acts are also more likely to be bands and there are just fewer female bands around."
So far, notable female headliners at British festivals have included Sinead O'Connor, Beyoncé, Jessie J, PJ Harvey, Kelis and Dolly Parton. Kylie Minogue hasn't played Glastonbury since pulling out in 2005 after her breast cancer diagnosis, but she is performing in Hyde Park this summer.
Finding a line-up to please a whole festival crowd is a thankless task according to Emily Eavis, who runs Glastonbury. This March she had to defend her choice of Kanye West. "To say that our headliners should be 'rock' is, I think, a bit silly," she wrote in the Guardian. "Those acts never have been limited to rock, and never will be. Stevie Wonder, the Prodigy, Curtis Mayfield, the Chemical Brothers, Jay Z, Gorillaz, Beyoncé and plenty of others prove that."