It is Sunday, and as Lovebox has barely ebbed away, Victoria Park's dusty grounds are invaded by this smaller, more boutique-y event, offering a roller-rink, beach volleyball, brass bands covering Rage Against the Machine, and a bill spanning Afrobeat arkestras, hip-hop landmarks and indie-rock scions. "A mirror on a city" is Citadel's motto, and its eclectic lineup – like a random shuffle through a judiciously curated iPod – gamely reflects London's cosmopolitan musical kaleidoscope.
Stripped to his waist and dancing with an infernal carnality, Seun Kuti is Afrobeat royalty, fronting his late father Fela's band Egypt 80 and playing fast, loose organ like Kuti Sr. But Seun is no tribute act. His Higher Consciousness rewires classic Afrobeat as a funky assault on the senses, the brass blitzkrieg mastering a time-signature that could baffle Prof Stephen Hawking, but easily seduces this tent.
A hometown hero thanks to his particularly south London mash of rap boom-bap and dancehall sonics, Roots Manuva revisits his hits in advance of a new album later this year. Inevitably, it's Witness – Brit-hop's high-water mark – that sends heads reeling, its earthquake buzz and toasted wisdoms undimmed by familiarity, and even the laid-back Manuva still visibly relishing its cyborg skank.
"Fuck nostalgia!" yells Neneh Cherry before Manchild, a rare backwards glance in a set drawn from her recent album with synth/drums duo RocketNumberNine. It's fierce and impressive, Cherry howling and strutting as Weightless cycles through grungy grind, gospel breakdown and drum'n'bass excursion. When she notes the "intimate" crowd, she sounds piqued – rightly so, as her furious, futuristic avant-funk is more thrilling than any nostalgia.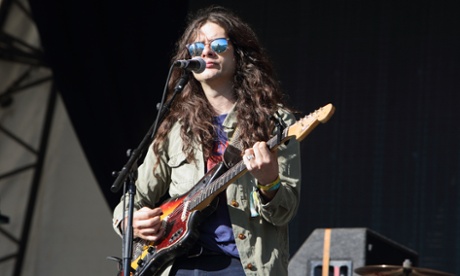 On the main stage, laconic Philadelphian Kurt Vile is struggling to connect, eschewing banter and eye contact as he strums. His hazy, discursive songs are an acquired taste, but the meditative On Tour is gorgeous, and the Creedence-goes-krautrock chug of Freak Train electrifying, even if Vile's atonal riffing leaves some baffled. Bombay Bicycle Club's rousing crescendos are better received, as they play that lucrative poignant-upbeat dichotomy like Coldplay and the Mumfords, with an electronic edge. The beats and boy-girl vocals actually suggest a balearic Deacon Blue. It's an unlikely and sometimes overly pleasant mix, but an affecting, climactic You Carry Me works as surely as their crowd-pleasing confetti-cannons.
There are few such distractions from headliner Ben Howard: it's his intensity that commands attention, and his Knopfler-esque guitarscapes. Indeed, his songs are less compelling than the way he performs them – a cover of Sharon Van Etten's Everytime the Sun Comes Up puts his own material in the shade – but when his band crescendo, their burnished classic-rock-isms peak high enough to forgive, perfectly pitched for this wide open space.