Team America: World Police
As recommended by: naatjim, TheCedarRoom and judeanpopularfront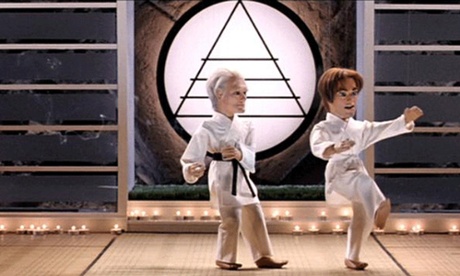 Ever thought workout scenes all resemble one another? These guys can show you why. The team behind South Park satirises training montages from action films in a scene that shows protagonist-marionette Gary Johnston learn shooting, martial arts and multi-axis rotation to a chorus of "We need a montage – montaaaaage!" Judeanpopularfront, TheCedarRoom and natjim give the film a deserved mention.
Terminator II
As recommended by: happydepressive, DominiqueDevereux, Lovepolitics and yula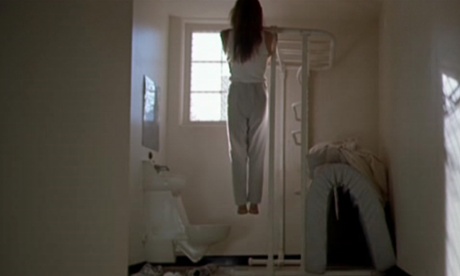 After proving her mettle as tough waitress-turned warrior in Terminator, Linda Hamilton returns with muscles fit to intimidate even the most advanced cyborg. In the second instalment, James Cameron's establishing shot of Hamilton shows her doing slow pull-ups in a sweaty scene that received several nominations from readers.

Flashdance
As recommended by: iacs, Dmitry Donskoy, Damian Petts and floripakid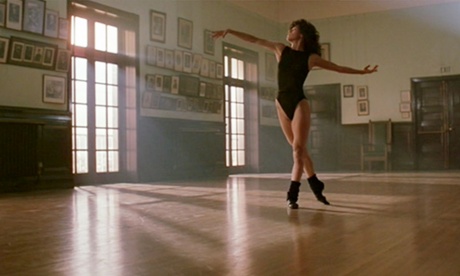 Many readers have requested recognition for Jennifer Beals's workout scene as dancer Alex Owens in 1983 romantic drama Flashdance. Her energetic exercise routine takes place to the strains of Michael Sembello's song Maniac and shows off her lithe muscles as she works off the frustrations and pleasures of her tough life in Pennsylvania.
American Gigolo
As recommended by: keithron and salfordexile66

Is narcissism sexy? It was in the 80s. Richard Gere is the paradigmatic American anti-hero in American Gigolo where a famous scene involving upside-down biceps curls caused a nationwide obsession with gravity boots. "Surely not good for the joints," says reader keithron.
Spartacus
As recommended by: AngerDiscussed and limahong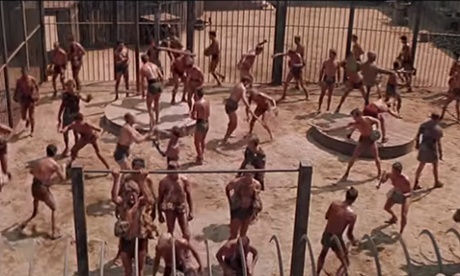 In the midst of new technology, we mustn't forget the simple pains of our ancestors. "The gladitorial training school in Spartacus seemed quite effective in removing unwanted flab," says AngerDiscussed. In Stanley Kubrick's 1960 epic Kirk Douglas dodges metal balls as Spartacus shows off his aptitude on the first day of gladiator training school.
Dodgeball
As recommended by: amv2014, FarqeweDave and Dickdong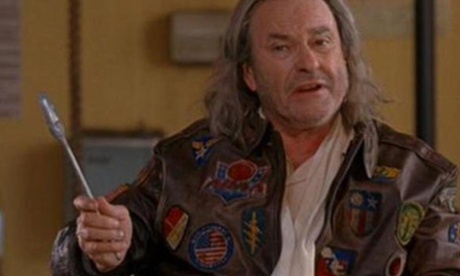 "What about the workout in Dodgeball with Rip Torn chucking spanners as a motivational weapon?" asks amv2014. Although not strictly a physical workout, the memorable scene in which coach "Patches" O'Houlihan throws wrenches at his team of dodgeball underdogs has all the main features of a workout scene: fear, a physical challenge, reconciliation and, later, mastery. A must-watch for the undistinguished athlete.
Batman Begins
As recommended by: TheCedarRoom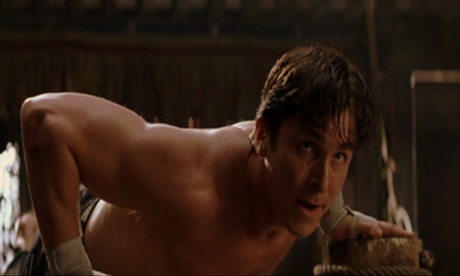 Bruce Wayne (aka Batman), played by Christian Bale, trains as a ninja. The montage is full of memorable quotes and teachings, enabling Batman to build his eventual expertise.

Taxi Driver
As recommended by: HappyCycling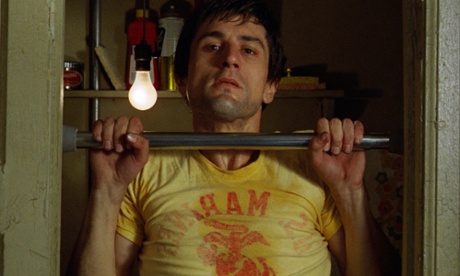 "Taxi Driver, surely!" says HappyCycling. Martin Scorsese's 1970s thriller portrays the insanity of obsessive exercise, when down-and-out military veteran Travis Bickle, played by a young Robert De Niro, institutes a maniacal training regime. We see him wild-eyed and veiny in his cluttered New York flat: "From now on it will be 50 push-ups every morning, 50 pull-ups. From now on it will be total organisation, every muscle must be tight."
Full Metal Jacket
As recommended by: saucepan, osheap2212 and colddebtmountain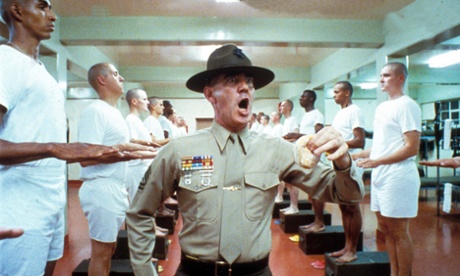 Another old- school workout scene from Stanley Kubrick in Full Metal Jacket, a Vietnam war film with a long sequence set at a Marine boot camp. Readers enjoyed the officers' colourful language during their brutal training: "Oh that's right, Private Pyle, don't make any fucking effort to get to the top of the fucking obstacle. If God would have wanted you up there he would have miracled your ass up there by now, wouldn't he?"

An Officer and a Gentleman
As recommended by: in6087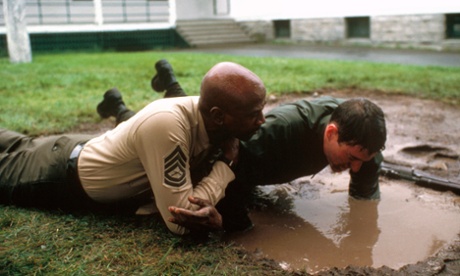 Finally, in6087 says the training scenes in Taylor Hackford's 1982 navy drama stand out. Indeed, the sequence where Sergeant Foley tries to break protagonist Zachary Mayo by making him jump up and down under a hose and do infinite push-ups in a puddle is unique in its depiction of a man pushing the boundaries of what is physically possible as he resists the taunts of his superior: "You ready to quit now, Mayo?"