John Kander, composer
As I see it, I was part of the last generation that was allowed to fail. In 1965, my writing partner Freddie Ebb and I were about to open our first musical, Flora the Red Menace, in New York. Things were not going well, and Hal Prince, the producer, said: "Whatever happens with this show, we'll meet at my house and talk about the next project." Flora opened and it was a terrible flop – but the next day, we were at Hal's house talking about the next show, just as he'd promised. That show turned out to be Cabaret.
The first thing I did was listen to all the German jazz of the 1920s that I could find, believing that somehow the music would seep into my body. I've done that several times since: when we were writing Zorba, I listened to lots of Greek music; with Chicago, it was American jazz. It's like sitting on a pile of books, hoping that the information will sneak up into your body without you having to think about it. And it does.
Cabaret went down quite well in New York, but it was with the London production that things got really interesting. Lila Kedrova – a wonderful actress but wrong, I felt, for the part of Fraülein Schneider – got rave reviews. And Judi Dench, who was without question the best Sally Bowles I've ever seen in my life, got bad ones. She filled out the character in a way we have never seen, before or since. She was innocent and knowing, vulnerable and tough.
I remember working with her on the song Cabaret. Judi hadn't sung that much in the theatre, and she was having a problem with the ending, which is one long, held note. I was showing her ways to cheat, but she stopped and said: "Wait a minute – what do you want? What do you really want?" I said: "Well, I'd like it the way I wrote it." And she said: "That's what you want, that's what you'll get." How could you not fall in love with somebody like that?
We were writing it right up until opening night: about two years in total. We brought in the character of the Emcee to sing what we were initially just calling "Berlin songs". And Hal decided at some point to cut it from three acts to two. It was the right decision: the fact the show worked at all is really down to his wisdom.
The film version came as a shock, though. They showed us a print, just the two of us, Freddie and me, sitting in a room. We didn't say a word until it was over. We were flabbergasted because it was so different from the show. But we came to like it. In fact, when we watched it a second time, it seemed like a masterpiece.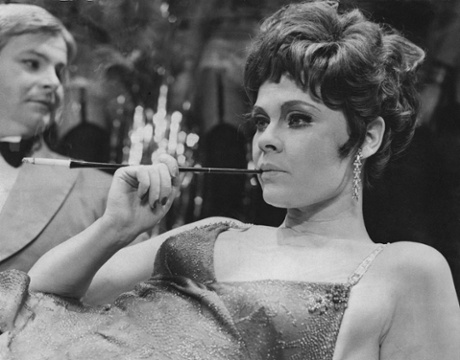 Judi Dench, actor
I'd never done a musical before. I'd been in a play, The Promise, that Hal had come to see. The next thing I knew, my agent was saying Hal wanted to see me about a show called Cabaret. In the audition, I told him: "I'm not a singer at all." And Hal said: "Remember that in a musical, you're not to speak in one voice and sing in another. If that's the voice you speak in, that's the voice you sing in." It was such an empowering thing to say: I've since passed it on to lots of people.
I got hold of Goodbye to Berlin, the book by Christopher Isherwood that it's based on, and kept it on my dressing-room table – open at the page about Sally being just a middle-class girl from Cheltenham. She couldn't sing at all, but there was something about her you couldn't stop watching, something mesmerising. I read that passage over every single night.
Rehearsals were very tough – everything was new to me. There was a very fast dance where I had to jump backwards on to somebody's shoulders – very exciting – and the score was different from anything I'd ever heard. I had singing lesson after singing lesson. I remember saying at one point: "I don't think I can do that last note of Cabaret." Someone in the crew was going back to America and asked if there was anything he could bring me back. I said: "You can bring me back the last note."
They were happy times. We had to send to America for green nail varnish – you couldn't buy it over here – and the company made my false eyelashes by rolling bits of black paper round pencils. I remember sitting on the stairs at a wonderful party with John and Freddie. I was very fond of them both. One night, after the show, I saw three men walking down the street carrying a cardboard cut-out of me as Sally. They must have got it from the theatre. And my dressing-room was underground, so I could hear what people were saying as they walked past, which could be quite unnerving. After one matinee, I heard a woman say to her husband: "Oh, you told me it was all about nuns and children." I think she was rather disappointed.
I was so frightened on the opening night: people thought I had a cold, and we had to explain to them it was just nerves. I have no idea what the reviews were like, but it was a thrilling thing to do. I wouldn't have missed it for anything.
• The Scottsboro Boys by John Kander and Freddie Ebb is at the Garrick theatre, London WC2 (0844 412 4662, scottsboromusicallondon.com) until 21 February.
• Come to the Cabaret: Kander and Ebb's classic – in pictures