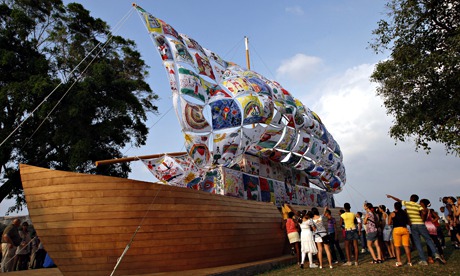 Mattituck, at the far end of Long Island, New York, is not so much a town as a series of houses scattered in the woods, with a shopping mall as a point of reference. One of these houses, at the end of a narrow road, belongs to the artist Ilya Kabakov and his wife Emilia. It stands on the shore of a bay, opening on to the Atlantic in the distance. It was used by a liquor smuggler during Prohibition when boats from Canada would sail in and unload their goods, the owners of neighbouring houses turning a blind eye.
Emilia tells us this story, adding that when they made some alterations to the house they found a stock of empty bottles behind a partition, which must have been used to decant the liquor. Having reached this point I could no longer contain the question that had been uppermost in my mind during the two-hour bus ride from Manhattan. Why did Kabakov, who was born in 1933 in Dnepropetrovsk – then a town in the Soviet Union [now in eastern Ukraine] – and who has been Russia's best-known artist since the 1980s, decide to come and work here, in the back of beyond, in a country where he barely speaks the language?
Emilia provides a practical answer: the house was affordable and had room for a large studio. Ilya's answer, translated by his wife, is more revealing about the way he works: he could have settled in New York City, but there, in the places where he was offered a loft, he could not have worked. "What do the artists who live there do? Socialise. Every evening, they meet up with other artists, dine with artists, drink with artists. When do they work?" he objects. He paints from 8am to 4pm. He used to stop at 6pm, but last year he turned 80.
Emilia, who assists her husband in every aspect of his daily life, adds that they are not involved in the artistic and social life of Long Island either. "Vanessa Beecroft, Richard Serra and many other artists live round here, but we never see them," she explains. "When we arrived, people invited us a lot: a party every evening, with collectors, curators, artists and so on. We accepted two invitations and in one case I went on my own. Since then people have stopped inviting us, which is fine."
The layout of the house bears out this attitude. There is no reception room, no luxuries, just the view of the bay and an amazing number of knick-knacks of all sorts, souvenirs from the countless journeys, guest appearances and exhibitions that have brought international recognition for Kabakov, first in Europe but in the past 20 years all over the world.
Neither of them seem in any hurry to talk about L'Etrange Cité – the installation they will exhibit for the sixth edition of Monumenta at the Grand Palais, Paris (10 May to 22 June) – less still to show us anything. Over lunch they talk about their visits to Paris, their friendship with Dina Vierny – who was Russian – and the life of Maillol, for whom she posed. Only when we get to the coffee do they come to the point. "Would you interested in seeing the studios?"
There are three studios, for distinct purposes. The first is part of the house itself and not visible from outside. It is here that Ilya paints. Work is under way on a large canvas, others are facing the wall. Sketches have piled up on the workbenches, along with tubes, brushes, pots and ladders – all one needs to paint. The canvas in progress is, at best, half finished. About six metres long, it is only partly covered. There is a scene evoking a burial at one end, with figures on a much larger scale at the other end, and coloured areas in between. It is hard to say how it will turn out. Even the sketches only provide a rough indication. It all suggests a slow, gradual creative process.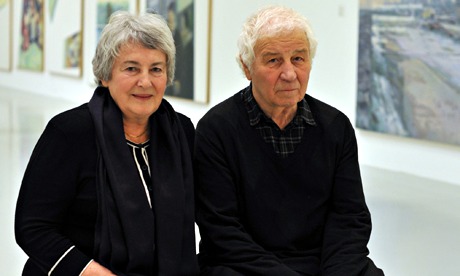 Kabakov confirms my assumption: "When a canvas is more or less complete I move it from the studio to what I call the museum – a clean, white space the size of a Chelsea gallery – to take a critical look at it, from a distance. I can't do that in the studio itself. I examine it, I can see what's good and what isn't; sometimes I wait several months, the time needed to decide, and I can always change it."
So we proceed to the museum-studio. A canvas represents a group of workers gathered below a portrait of Stalin. A white circle, with frayed edges, drills a hole in this scene. Does it pass muster? "No, not quite," the painter answers. "But I can't find what's missing."
Other works are finished, in particular a series of huge paintings each consisting of six adjoining panels, created by cropping and superimposing several images, some more or less photographic, others borrowed from 18th-century painting or other unidentifiable sources. Apart from the size of these paintings, what is disconcerting is their spatial ambiguity. Two-dimensional areas are set in a three-dimensional space. In some cases narrow strips break up the overall effect; in other cases, patches with irregular borders, which might be scraps of patterned fabric, are pasted on to an almost realistic painting – almost, because sometimes figures have tipped over and what should be horizontal is now vertical.
Will they be in Paris, we inquire. "No, not those ones, others," Emilia says. Which ones? "We can't show you them, but you'll be able to see the model." That is in the third studio, home to a collection of the models for all past projects, whether or not they were realised: buildings, monuments and spaces invented by the artist in the course of his career. It might be Leonardo da Vinci's attic: extravagant, unworkable projects rub shoulders with highly symbolic, spectacular architectural designs. Biblical allusions – Jacob's ladder, fallen angels – stand next to historical references – Stalinist neoclassicism, Suprematist fantasies, military bases.
Here at last is L'Etrange Cité. Under the glass nave of the Grand Palais, Kabakov plans to lay out an ideal town, occupying its full length. On the Champs Elysées side there will be a sort of cupola, tipped over at an oblique angle to form a concert hall; in the middle, a door opening on to the void and five oblong boxes enclosed by two concentric circles; then two more boxes, a bit longer, which will lead visitors to the exit, on the Seine side. The boxes, currently under construction, will house paintings, sculptures and installations. Each space has a name: Le Musée Vide, Le Centre de l'Energie Cosmique, Les Portes and Comment Rencontrer un Ange. The two longer spaces are called La Chapelle Blanche and La Chapelle Noire.
There being no question of discussing what we will see inside, we turn to another tricky point, the dimensions of this strange city. Given the height of the hall the structures must not look too small. "Yes, I know. I thought of that straight away," Kabakov counters. "The Grand Palais is a terrible place and magnificent. The boxes will be between six and 10 metres high. I think that should be OK, at least I hope so …"
There is also the question of the light, which can be overpowering. "No, that's settled. It will all be covered over, so I can control the intensity of the lighting." The model is so complete there are even photocopies of the paintings pasted on the walls. But they are too small to be worth discussing. "What I would like is for visitors to be caught, like in a labyrinth, going back and forth, stopping, taking time to look and think."
This article appeared in Guardian Weekly, which includes material from Le Monde