It is springtime in Italy. A blur of soft rain, wild fennel, wisteria, artichokes. In Camogli, a fishing village on the Italian Riviera, the late afternoon sun has drawn the people outside: early tourists peruse the gelaterias, a small dog chases seagulls along the beach, and on a hotel terrace Steve Coogan and Rob Brydon stand looking out over the blue waters of the Golfo Paradiso.
Both wear a British approximation of a Riviera look – chinos, light blazers, inoffensive shirts and soft shoes, and are in deep discussion about how best to seduce young Italian women. "Come back to my house and have a stand-up bath," Coogan says, in an exaggerated Italian accent. "Then we will have sex."
Brydon stares out across the water. "I'd just ask what type of breakfast cereal they like," he says.
The pair are here in Italy to film the second instalment of The Trip, the BBC series directed by Michael Winterbottom that despite its unusual format – a kind of unstructured, unscripted circumnavigation of a comedy show – proved to be hugely successful with audiences and critics. Last year the writer and director Richard Curtis named it one of the greatest television programmes of all time.
Reading this on mobile? Click here to view video
The premise of season one was that Coogan had been commissioned by the Observer to set out on a gastronomic tour of the north of England, from the Inn at Whitewell in the Trough of Bowland to the Yorke Arms in the Yorkshire Dales. For complicated reasons involving the breakdown of his relationship, he ends up inviting Brydon to join him.
It was about the food, of course – the preparation and presentation of each dish was lovingly shot. But it was also about many other things besides. Brydon and Coogan played fictionalised versions of themselves, and along the way there were hand-dived scallops, one-night stands, sticky toffee puddings, Michael Caine impersonations, much bickering, pork belly and quoting of Romantic poets. In among it all were touching ruminations on fame, success, and what it means to be male and in midlife.
Season two, The Trip to Italy, presents a similar, if sunnier, scenario: a food tour from Liguria to Capri, via Rome and Pompeii and Ravello, again on behalf of the Observer. This time, though, there has been a shift in the pair's relationship: where the first series chose Coogan as its focus, this time it is Brydon who's reviewing the restaurants and finds his life in flux – his career in ascendance, his marriage at sea.
Some while later, I spot them together in the hotel bar. The cameras are no longer rolling, yet the conversation could easily have been plucked from any episode of The Trip. Brydon is eating a Lion Bar; Coogan is inspecting the interior decor. "Look at this," he tells Brydon. "It's curved glass. Very expensive. And you know the thing is, there's no need for it." Brydon looks up and frowns. He has been busy scrolling through his iPhone, hunting for a Rod Stewart song – a rare recording of Hot Legs. "Are you ready?" he asks. "Listen to this!"
The decision to return for another series took some deliberation. "Certainly after the first one I didn't want to do another," says Brydon. "I thought that's it now, there's nothing else we can do. But then time passes …" Coogan agrees. "And Michael said he was going to do it in Italy," he says. "And I thought it sounded nice."
Reading this on mobile? Click here to view video
Without even the aid of stand-up baths or breakfast cereals, Italy has somehow quickly seduced them. "I arrived here just knackered, thinking I don't really want to do this," admits Coogan. "And then we sat down and started eating, and drinking nice wine, and I thought this is quite nice. I slowly slid into it."
Already there have been some at least semi-memorable meals: "That pasta, in that bowl," Coogan says enthusiastically. "A ravioli," he adds. "What the Italians do very well are simple foods with simple ingredients, but they have the best ingredients. They send us all the shit stuff. They hang on to the best tomatoes …"
Brydon nods. "I quite enjoy going to Carluccio's if I'm in Kingston town centre," he says. "I've nothing against Carluccio, but it puts it in perspective when you're out here." Coogan smirks. "He's a friend of yours, isn't he?" he asks, and Brydon adopts his best Ronnie Corbett tone: "He's a friend, a very dear friend, we play celebrity golf together."
"Italian was all I ate as a younger man," he continues. "Not so much nowadays. I seek out fish more now – it feels like you're putting decent things inside you're body. I used to have a massive appetite for sweets and chocolate and rubbish, but it's really dropped off."
Coogan looks surprised. "Did you?" he asks. "Mine's got more. I like tea and chocolate in the evening in front of the telly. Sometimes I'll have Sleepytime tea. But I mix it up: I play fast and loose with my tea." Brydon leans over. "That's Steve all over," he says in a conspiratorial tone. "Try and predict what he's going to be having and you're on a hiding to nothing." Coogan nods. "I try and surprise myself. Loretta'll say, 'What kind of tea'll you have?' And I say, 'You know what, I'm going to have mint.' " Brydon shakes his head. "It's Loretta I feel sorry for," he says. "It's a rollercoaster."
The success of series one surprised them. Winterbottom had cajoled them into taking part over lunch, and they had turned him down twice. "I thought it would just be self-indulgent, because a person playing himself is not an original idea. But then I said to Rob, 'Let's just do it. It's Michael doing it. The worst it can be is a noble failure.' " It was in the Lake District, around the time they shot at L'Enclume, that Coogan began to have a feeling it might be something special. "Because I couldn't think of anything it was derivative of."
This is not to suggest that either of them entirely understands it. In lieu of scripts, Winterbottom will give them a story, a scenario, topics for discussion (in this case, anything from the Italian adventures of Byron and Shelley to the merits of Alanis Morissette's Jagged Little Pill), and then the pair allow the conversation to meander off at their leisure.
But the edits and the structure of each episode belong to Winterbottom, and at times his cuts have proved baffling. "It's like if anything smacks of craft, he'll kick against it," says Coogan. "He deliberately wants to deconstruct things, in a way I find a bit frustrating. You'll say: 'Why have you left all that? We're just repeating ourselves!' And then Michael says: 'Well life's repetitive.' "
We head into town for dinner, the assorted cast and crew taking over a long table in a near-deserted restaurant overlooking the beach. There is calamari, swordfish, giant prawns, baskets of focaccia, and the restaurant's silence is broken by Brydon's phone, spilling out the new Rod Stewart album through its speaker, and by a ceaseless run of impressions: Paul McCartney, Roger Moore singing Simon and Garfunkel, and an assortment of increasingly risqué tales all related in the voice of Alan Bennett. "I watched the young women swimming," runs one such story. "Their legs opening and closing beneath the water. Opening and closing. Opening and closing. Opening and closing. And then opening once again …"
I meet them in London some months later. We are lunching at Quo Vadis, the Soho institution recently revived once more by the Hart Brothers, who introduced a seasonal British menu.
Brydon is already at the table when Coogan arrives. Once again they are wearing near-identical outfits. "We do this so often," he says. "I nearly wore a blue jumper underneath my slightly tweedy jacket. And what have you got on your feet?" They are both wearing brown brogues. "Brown!" laughs Coogan. "I like to have a bit of 'whoa' on your feet."
It has been a particularly successful year for Coogan, with the success of Alpha Papa and Philomena, and the prize for outstanding achievement at the British Comedy Awards. The pair adopt their familiar dynamic in which Coogan is the feted Hollywood mingler and Brydon the aspiring star.
"I was chatting to Warren Beatty the other day …" Coogan says as they inspect the menu. "Ha ha ha!" bleats Brydon. "How is he? I haven't seen him in ages! I don't think I've seen him since last Christmas!"
Coogan, aware of quite how ludicrous his life has become, laughs a steady "chuck chuck chuck". "He invited me round to his house," he says, and Brydon frowns: "Why?" Coogan shrugs. "Because he'd heard that I was someone worth talking to."
Brydon shakes his head. "OK," he says, "let's talk about this, I want detail. Tell us everything. Take your time."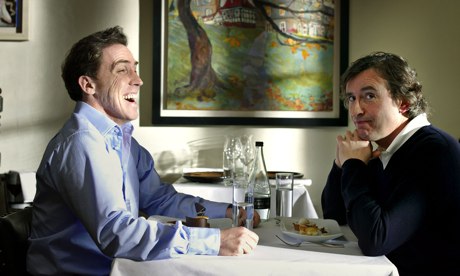 The waiter arrives and Brydon orders the shepherd's pie. "Well then I should get something different. I wanted to get that but I might have a nibble of yours. What's a coquelet?" He asks the waiter, and then looks horrified at the explanation. "REALLY?" he says. "Did you hear that? Well what's an onglet? I'm scared to ask! I'll have the lamb."
Brydon is keen to return to the matter of Warren Beatty. "Have you ever met Warren?" Coogan asks him.
"Have I ever met Warren? Has Warren ever met me?" Brydon replies. "I just bumped into Aled Jones and Lorraine Kelly in the street. They told me to tell you how much they enjoyed Philomena. Bravo, bravo, they said." Coogan laughs. "So on the one hand you've got Warren," continues Brydon, "and on the other you've got Aled and Lorraine."
It is hard to steer them on to the subject of food. Conversation with Coogan and Brydon is a little like Morecambe and Wise making breakfast: more about the perfectly synched performance than the fact they're making toast.
They will begin discussing the incredible meals they enjoyed in Italy – the seafood linguine, the-remarkable-risotto-in-that-family-restaurant-up-the-steps-that-very-hot-day, and then Brydon will go scurrying off on to the matter of Bobby Davro in a hot tub or Coogan will suddenly address the peculiar melancholy of business hotels: "One of those places that looks nice from the outside but it's got fire doors on the inside and those reinforcements they put on stairs – the rubber or brass strips on the steps. You see them and it does take a little bit of your soul."
How important, I ask, is food to The Trip? "I was far less aware of it this time," Brydon says, part-way through his Arbroath smokie. "I was far more aware of the need to be interesting. I ate a lot less, because I was wolfing it down on the first series and I put on eight pounds. I haven't put any weight on this time. But this time the actual meals I found to be a slight inconvenience or a distraction."
They remember the conversations more clearly: "Have you seen the Ravello scene?" Brydon asks Coogan. "We are so drunk. Look at my eyes in that scene. That was so funny. We're doing Gore Vidal and you were trying to remember that quote and swearing 'cause I'm drunk, but determined to get the quote out."
Then there was the day Brydon had to eat a stuffed onion while nursing a fiendish hangover. "I was ill," he recalls. "I'd been quite excessive the night before. I was feeling deathly, and I was having to bloody eat."
Coogan laughs: "I said, 'You're going to have to act like you're not ill.' That was my acting advice."
Series two was, they say, akin to a travelling circus, moving from town to town, eating, drinking, sitting on beaches. "It was magical," Brydon says warmly. "It was a proper trip. You see us progress from the north to the south and that's what we did."
"Actually our relationship was pretty similar," says Coogan. "We went through our own little odyssey off-screen as well." Brydon agrees. "I think we became closer," he says, and Coogan hesitates, fork midway to his mouth.
"I don't like that word," he says, and they laugh.
"Steve struggles with his feelings," explains Brydon, "but I know if he were a man who could express his feelings he would say that he feels closer to me as well."
Certainly there is a warmth to their relationship that seemed less evident when I visited them during the first series; then Coogan had seemed to do the bulk of the talking while Brydon sat quietly and said little. Today, they share pie and figgy pudding, divulge unrepeatable gossip, give one another career advice.
But despite best intentions they do not socialise off screen. "It's one of those things where life gets in the way," says Coogan. "Having said that, that probably lends itself very well to us working together. Because we haven't said everything already."
Brydon suddenly takes out his phone. "I've got a video of him diving off a cliff. Do you want to see it?" he says, and digs through his picture archive. "Ladies and gentlemen, Mr Coogan, diving from a cliff."
He shows us the footage: a warm spring day, a steep cliff, blue water and Coogan arcing into the air. "That cliff," says Brydon fondly, "was as much a metaphor as much as it was a cliff." Coogan watches it over again. "I was quite scared," he says.
"I tell you what was nice this time," Brydon continues, "was that quite often when Steve and I would stay in the nice hotel and everyone else would stay in the cheaper hotel down the road, it meant that having acted eating meals each day we would find ourselves just the two of us sharing a meal at the end of the day. And it turned out to be really lovely. We actually opened up to each other a bit. We bonded a bit."
"We did," says Coogan. "Sometimes it was more interesting than on screen." Brydon looks back at the video of Coogan, diving into the Italian sea. "And now," he says, with a tenderness that seems as genuine as it is comic, "well now we're very happy together."
Six of the restaurants Coogan and Brydon visit on their Italian tour
Cenobio dei Dogi, Camogli
Ligurian cooking, famed for its use of olives, pine nuts and basil, and best summed up by the simple pesto alla genovese.
La Suvera, Pievescola
The hotel's L'Oliviera restaurant, inside an old olive mill, offers signature dishes such as lobster ravioli with broccoli.
La Cantina, San Fruttuoso
With its sublime setting on the edge of the sea, you'd be advised to try the seafood, particularly the fritto misto.
Il Riccio, Capri
A stylish hangout, renowned for the abundance of its seafood buffet and dessert specialities such as baba and delizie al limone.
Villa Cimbrone, Salerno
Won its first Michelin star last year for a menu that draws on the produce grown on site.
Oliver Glowig, Rome
German chef Glowig relocated to Rome and earned two Michelin stars in the process. Expect veal fillet with peanuts and mint-flavour escargot, and spaghetti with oyster and cauliflower.
The Trip to Italy premieres at the Sundance film festival on 20 January. The TV series will be broadcast on the BBC later in the year