When Michael J Fox walks into the reception of his office in New York, he arrives like a bantam-weight boxer ready for a fight. It is not so much the way he moves, although that is partly why he gives that impression, his weight shifting restlessly from foot to foot. "I feel like I'm dangling from a coat hanger, with my toes scraping and kicking at the ground," he writes in his excellent autobiography, Lucky Man, describing the effects of Parkinson's disease, which for more than two decades now has racked his body.
What really gives him the appearance of a readying boxer is the look in his eyes. Whenever Fox meets someone for the first time, he slips on this look as instinctively as others shuck on a jacket when they leave the house. It is a proud and confrontational look, honed from 20 years of dealing with people's initial reaction to him, stricken at what has happened to Marty McFly, who once moved with such grace on a skateboard.
"Hi, thanks so much for coming," he murmurs, his right arm swinging out to grab my hand. We are exactly the same height – 5ft 4in (1.63 metres) – and he looks me straight in the eye for a few seconds before leading me into his office, which is decorated with Emmy awards, classic guitars (Johnny B Goode!) and photos of him and his wife Tracy Pollan and their four children.
"Is the chair OK? Right, so …" he says, sitting on the sofa and looking up, ready.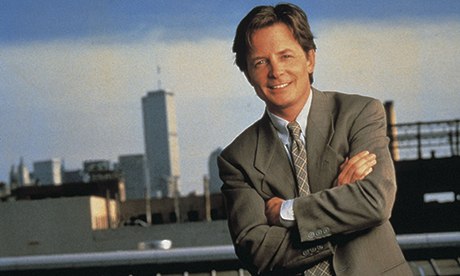 The reason Fox has agreed to endure this journalist's reaction to him is because he is promoting his new sitcom, The Michael J Fox Show. It is his first since he left the highly lauded Spin City in 2000 when his Parkinson's made it too complicated to continue. Although Fox is best known internationally for his films – Back to the Future, Teen Wolf, Doc Hollywood – he has always been TV gold in America. He was launched to fame on the hugely successful 1980s sitcom Family Ties as Alex P Keaton, the Republican son of hippie parents. Since leaving Spin City, Fox has appeared in several TV shows to great acclaim, including his friend Denis Leary's show Rescue Me (for which he won an Emmy), The Good Wife, Boston Legal, Scrubs and, most amusingly, as himself on Curb Your Enthusiasm, in which Larry David accuses him of exaggerating his Parkinson's symptoms to annoy him ("I thought I was the sickest guy on this block but you're the new champ," Fox replies.) American networks vied fiercely for Fox's new show and it is difficult to walk for more than two blocks in New York without seeing a giant advert for the 22-episode series. It is an extraordinary achievement for a 52-year-old man who was told when he was 30 that he would be lucky if he could still work when he was 40. He takes special pride in having defied the doctors' prognosis, just as he would once defy school sports coaches who would look at his slight build and pick him last for a team: "If you pick me last, I will do everything I can to make you look like a fool," he says.
The show tells the story of Mike Henry, a news anchor who retired five years previously because of Parkinson's and has now decided to return to work. It is an avowedly traditional sitcom and, judging from the pilot, it hasn't quite figured out how to let Fox display the sparkiness and bite in which he always excelled as a comic actor. But for those of us who grew up watching Fox, it is a joy to see him working again, and it is a sentiment he echoes.
"Denis [Leary] told me after I did Curb that I should get back to work, and I wanted to, to create a world and entertain people. There is also a satisfaction in knowing that maybe you're doing something bigger, but that's not for me to ponder. However, if the show does cure humanity's ills, that's cool," he says drily.
But Fox clearly set out to make some points about Parkinson's through the show (as well as being the star, he is the executive producer.) It is repeatedly emphasised that, while the public sees his character Mike purely as a man with Parkinson's, applauding whenever he enters a room, Mike's family does not. They make no allowances for him, grabbing food from under his nose that he is too slow to eat, and that is just what he wants.
"A lot of times, people who are in a health situation become the observed patient and other people project their own feelings on to them: 'No, you're too tired to go there,' 'No, you don't want that.' But I don't want to make my life more complicated by accepting other people's projections of me, or making my own projections about how they should deal with me," he says, reaching for a water bottle, which he wrestles with studied practice towards his mouth.
His children have never known him without Parkinson's: his son was born in 1989, two years before his diagnosis, his twin daughters were born in 1995 and his youngest daughter was born in 2001. "So for them, it's just part of the household. If you asked my kids to describe me, they'd go through a whole list of words before even thinking about Parkinson's. And honestly, I don't think about it that much either. I talk about it because it's there, but it's not my totality," he says.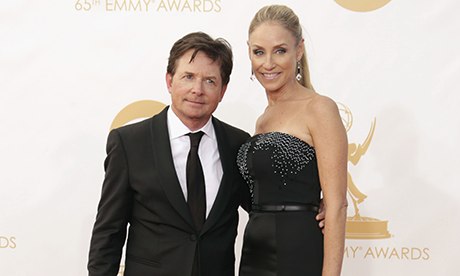 The pilot also stresses that Mike and his wife have a very happy physical relationship, showing them scampering into the bedroom and frequently touching one another. Was this a point Fox wanted to make clear to the public?
"Yeah, it's important. When people ask me about my relationship with my wife, I say that it all depends who's the agent of motion at that time. But other than that it's all good," he replies, and although his face can't quite make the smile, the grin is in his voice.
Fox is still as boyishly handsome as he was when he appeared in Back to the Future at the age of 24, and the voice is the same one that once begged Doc Brown to return him to 1985. Born and raised in Canada in a military family where money wasn't plentiful, Fox started acting in his teens, partly for fun and partly for the cash. He has not needed the money in a long time, and he writes in his book about how much luckier he has been than most early-onset Parkinson's patients, who suffer crippling financial problems when they are forced out of work.
The first 20 minutes or so when we sit down are when he is at his most unsteady, and twitches and cramps roll through his body like water rolling over a rocky riverbed. After he was diagnosed with Parkinson's, he hid his illness from the public for years and he still sometimes tries to incorporate his tremors into seemingly deliberate gestures: an arm in sudden spasm will be forced upwards as though he simply meant to smooth his hair. Yet he never loses his strand of thought, and even if he struggles to find a word occasionally, he always gets it in the end.
His mental alertness is so vivid that I soon don't notice the physical shifts, which eventually calm from waves to small ripples anyway. He is also extremely funny and, as Fox says himself, the best way to overturn pity is to find the humour. When I ask him whether the secret to his and his wife's happy 25-year marriage is love or friendship, he replies without missing a beat: "Regular animal sacrifices." When I later tell him that he looks in great shape, he replies with an audible wink: "I move around a lot, you know."
Although Fox insists, "I never set out to be heroic", he knows that he is, nonetheless, the public face of Parkinson's. In the past, some people with the condition have criticised him for appearing on talkshows after taking his medication, thereby not showing the true effects of the illness. At the other extreme, radio talkshow host Rush Limbaugh displayed the ignorance and cruelty for which he is so handsomely paid when he mocked Fox in 2006 for "exaggerating the effects of the disease" when he appeared in a political advert unmedicated. Does he feel conflicted about how best to present the disease to the public?
"No, not at all. I take the medication for myself so I can transact, not for anyone else. But I am aware that it is empowering for people to see what I do and, for the most part, people in the Parkinson's community are just really happy that Parkinson's is getting mentioned, and not in a pitying way," he replies.
Fox has an absolute horror of being pitied and that is almost certainly another factor in his return to work.
"Because of all the things I've done, nobody pities me, and that's great. I couldn't stand it," he says.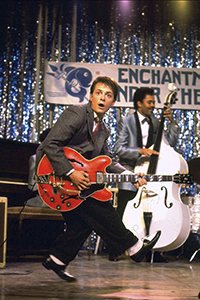 Some people might have wanted a bit of pity if they were diagnosed with Parkinson's at the age of 30 with a young family, I say. He shakes his head sharply: "Pity is just another form of abuse."
This determination to control the reaction to his illness also lies behind his well-known optimism. As the title to his autobiography makes clear, he considers getting Parkinson's "a gift", albeit "one that keeps on taking", and he has been an unflappable advocate in finding a cure. His eponymous foundation has raised more than $350m to fund research into Parkinson's and despite facing hurdles that would fell many – the Bush administration's opposition to stem cell research, for example – he has continued with determined equanimity. It took a few years to find this optimism and when he was first diagnosed he used to "punch and pummel" his arm when it started twitching. But these days, he is full of epigrams about looking on the bright side and some of his phrases feel as worn down as an ocean-tossed pebble, smoothed through years of repetition to reporters, his family, himself: "You get what you get and you don't get upset", "It is what it is." He knows that some people might doubt the veracity of his attitude: "But all my happy talk and rah-rah cheering, that's as real as someone else's anger. I chose not to choose anger," he says.
It was really his wife who helped him to make that choice. Fox and Pollan met when she played his girlfriend on Family Ties and he was helplessly smitten when she told him off one day for being rude. They got married in 1988.
"I wouldn't be alive today if it weren't for Tracy, I don't doubt that. People picture Tracy as this paragon of stoicism, this long-suffering wife, and that's all bullshit. This is my situation and she deals with it, and I never feel like, 'I'm sorry you have to put up with this' – it's nothing like that. When I told her about the Parkinson's I said to her, 'Are you in for this?' and she said, 'I'm in for it.' And that was it. It was still a struggle but that was a really great moment. She is so funny and she puts up with my happy idiot persona." Also, he adds with a look of delight, "She is so HOT! Sometimes I look at her and I just can't believe it!"
Fox has the tendency of those who have been through therapy to look at his past and see patterns and answers. As a celebrity, he grew used to the staring, the whispering, the sense of a loss of a control. When, in the late 80s, his drinking was getting out of hand ("I come from a Canadian background: you drink to the point of saturation"), he employed the same tools to dry up that he would later use to cope with Parkinson's: "Accepting your powerlessness with grace."
So fame and alcoholism helped prepare him for Parkinson's?
"Exactly. It was perfect."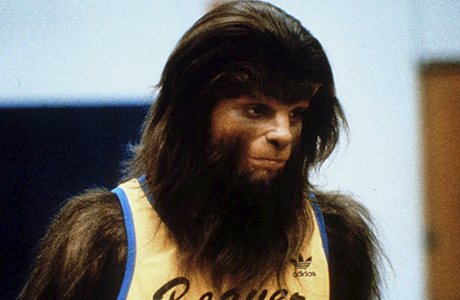 When Fox was first diagnosed with Parkinson's, after noticing his little finger twitching during the filming of Doc Hollywood, he was at a tricky point in his career. Family Ties and the Back to the Future franchise had ended and he, along with many other 80s teen idols, was realising that audiences were not so sure if they wanted to see him play a grownup. He grabbed any role he could, appearing in the underrated The Hard Way and the more successful but less smart Doc Hollywood. When he was diagnosed he decided to appear only in things he actually liked, starting with a return to TV in Spin City and doing the voiceover in Stuart Little. Would he have been able to step back if he hadn't become ill?
"I don't think so – there was too much ego going on. I also don't think I could have curtailed my drinking without [the diagnosis], and maybe my wife and I would have drifted apart because of that. I don't know." This is why he believes getting Parkinson's was a gift. But while he no longer resents getting the disease, he definitely wants to find the cure.
Fox has spoken in the past with moving certainty about the likelihood of a cure being found imminently and how he plans to "dance at my children's weddings". Does he still think about it?
"Finding a cure? I don't view that as something that will happen in my lifetime," he says.
I'm astonished at this crack in the optimism. Really?
He looks, for the first time, a little sad: "That's – that's not my purpose, to find a cure for myself, and that's not noble of me, that's just the way it goes. But I know somebody will one day figure it out," he says, and he takes another drink of water.
Fox's office is on the ground floor of the Upper East Side apartment building where he lives with his family. It is a rarefied, leafy neighbourhood, peppered with museums and private schools, just two blocks from where his wife lived as a child, and he clearly loves being a part of her world, which is so far from the one in which he grew up. When he talks about his wife's childhood, I mention that I, too, grew up a few blocks away.
"What school did you go to?" he immediately asks, like the New York dad he is.
I mention a nearby school and his eyes pop happily: "That's where my girls went!" I try to return to asking questions about him, but he's not having any of it: "So you're one of those girls! Now I get it. Wow!" he grins and looks at me in an almost paternal way. He proceeds to reel off the names of teachers I'd long forgotten: "Did you have her? She was quite imperious and frightening."
At the end of our time together, I ask him for something that I have never before asked of an interviewee: a photo. He cheerfully agrees and slings an arm over my shoulders as I fumble with my phone. Afterwards he forces his arms around my body, cradling me with fatherly care. Back outside I look down at my phone. In each of the pictures, his face is slightly blurred due to the tremors. But his gaze never wavers and his eyes stare straight back at the viewer, hard and clear and bright.