If you wish it could be Christmas every day
Nutcrackers, various
You know it's Christmas in the ballet world by the number of Nutcrackers touring the world's stages. In the UK alone, there are close to a dozen doing the rounds, but the top three remain the Royal Ballet's exquisitely traditional version, the sparky family friendly production by Birmingham Royal Ballet, and English National Ballet's – with the best snow scene of them all. Royal Opera House, London (020-7304 4000), 4 December to 16 January; Birmingham Hippodrome (0844 338 5000), to 12 December; London Coliseum (020-7845 9300), 11 December to 5 January.
Father Christmas
Does Father Christmas use the loo? Does he secretly long for summer? Does he have strong views on the size of chimneys? You bet he does. Raymond Briggs's gorgeous picture book gets a heartwarming makeover for under-sixes. Lyric Hammersmith, London (020-8741 6850), to 4 January and West Yorkshire Playhouse, Leeds (0113-213 7700), 6 December to 11 January.
Messiah
The Dunedin Consort's annual performances of Handel's oratorio have become a Christmas tradition. John Butt's choir and orchestra manage to combine scholarly stylishness with wonderfully communicative singing and playing – the best possible kind of historically aware performance. Queen's Hall, Edinburgh (0131-668 2019), 20 December; Kelvingrove Museum, Glasgow (0141-353 8000), 21 December.
The Nutcracker
Not the ballet, but the play based on the ETA Hoffman story. So there's no lush Tchaikovsky, but instead plenty of action and emotion as Clara tries to break the enchantment on the Nutcracker and defeat the dastardly King of the Mice in an age before pest control. Nuffield, Southampton (023-8067 1771), 5 December to 12 January.
El Niño
With texts from the gnostic gospels and Latin American women poets, John Adams's Nativity Oratorio was originally designed for both concert hall and opera house, but it works best as a concert piece. Vladimir Jurowski's performance with the London Philharmonic is the final, climactic event in the Southbank Centre's year-long The Rest is Noise festival. Royal Festival Hall, London (0845 875 0073), 14 December.
Henning Wehn's Authentic German Christmas Do
Henning Wehn bring his festive show to the West End over three consecutive weekends. Expect much gloating about how good the Germans are at Christmas, plus singalong Stille Nacht and lots of jokes about "ruthless efficiency". Leicester Square theatre, London (08448 733433), 1, 8 & 15 December.
Gone with the Wind
Its history and politics look bizarre now, but this extravagant melodrama of America's old south destroyed by the civil war has a potent storytelling force and the performances are something to savour. Clark Gable is the devilishly handsome and uncaring Rhett Butler, Vivien Leigh is the kittenish belle he loves, Scarlett O'Hara. On general release.
Matthew Bourne's Swan Lake
It's 18 years since Bourne premiered his reimagined Swan Lake, with its male corps of swans, witty contemporary design and lost prince. And with some new dancers added to this season's revival, including Liam Mower – the original West End Billy Elliot – its humour and imagination are reasserting themselves for a new generation. Sadler's Wells, London (0844 412 4300), 4 December to 26 January.
Hansel and Gretel
Christopher Hampson's first Christmas ballet for Scottish Ballet is a Hansel and Gretel relocated to 1950s Scotland and mixed with other fairytales to create a new story about lost children battling a cast of magical and sinister dancing characters. Music is extracted from the Humperdinck opera. Theatre Royal, Glasgow, (0844 871 7673), 10 to 28 December.
Festive family fun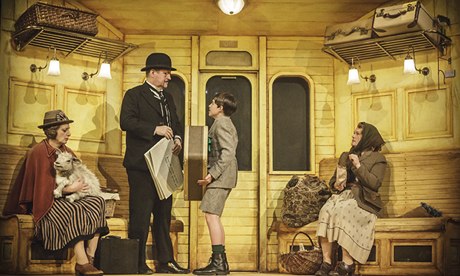 Emil and the Detectives
Not a book that's much in fashion any more, but Erich Kästner's tale, set in 1920s Berlin, about a boy who sets out on an adventure on his own, should transpose to the stage very well. Olivier, London (020-7452 3000), to 18 March.
The Wind in the Willows
William Tuckett's delicious version of the Kenneth Grahame classic sets the action in the attic of the writer's imagination, using old clothes and props to drive the storytelling mix of dance, music, puppetry and text. Grahame's words are narrated by Tony Robinson, with a fabulous dancing cast that includes Will Kemp as Ratty. Great for over-fives. Duchess theatre, London (020-7304 4000), 11 December to 1 February.
Matilda
Witty, warm and wise, Tim Minchin and Dennis Kelly actually improve on Roald Dahl's novel. A show every family should see, to remind them that it's never too late to be the hero of your own story. Cambridge theatre, London (020-7494 5080), booking until May.
Saving Mr Bankss
For lovers of Mary Poppins – which celebrates its 50th anniversary next year – this film is a treat. It's the story of how Walt Disney finally persuaded Poppins creator PL Travers to let him adapt her masterwork for the screen. Tom Hanks plays wily Walt and Emma Thompson the schoolmarmish author determined not to be impressed by flashy Hollywood types. On general release.
Oliver!
Foot-stamping songs, winsome urchins and one of the great stage antiheroes in the reprehensible yet somehow lovable Fagin. Crucible, Sheffield (0114-249 6000), 29 November to 25 January.
Mr and Mrs Moon
The latest for very young from Oily Cart who always deliver the moon when comes to kid's theatre. Stratford Circus theatre, London (0844 357 2625), 7 December to 5 January.
Stonehenge Visitor Centre
Britain's most famous prehistoric monument opens its new visitor centre and an exhibition on the origins of this enigmatic site in time for the winter solstice. The mystery of Stonehenge is only equalled by the controversy surrounding its mistreatment by the modern world. Will this new presentation save it? Stonehenge, Salisbury Plain (0870 333 1181), from 18 December.
The Hundred and One Dalmatians
The New Vic always do a great festive show – although quite how they are going to put 101 dogs on stage is a mystery. New Vic theatre, Newcastle-under-Lyme (01782 717962), to 1 February.
Antarctica
The fabulous Little Bulb theatre company are leading intrepid little explorers on a journey into a winter wonderland. It may just be an excuse for the company to dress up as penguins, but it should be great for the under-sevens. Bristol Old Vic (0117-987 7877), to 4 January.
The Good Neighbour
The return of BAC's brilliant maze show which takes children and their families on a thrilling interactive journey around the Old Town Hall as they unravel the memories of George, a man who lived nearby a century ago. Part treasure hunt, part like falling down a rabbit hole. Battersea Arts Centre, London (020-7223 2223), 6 December to 4 January.
Silly Kings
A new show for children and adults who haven't lost their sense of fun, inspired by the fairytale flights of fancy of Monty Python's Terry Jones. The setting will include a Spiegeltent in the grounds of Cardiff Castle, the adventures should be madcap, the humour slapstick, and the sound of the horses' hooves will definitely be made by coconut shells. Cardiff Castle (029-2063 6464), 19 December to 4 January.
Wendy and Peter Pan
Why are there no lost girls in Neverland? The gender focus is shifted to Wendy (often portrayed as horribly soppy) in Ella Hickson's new adaptation of JM Barrie's masterpiece. Peter's refusal to grow up is contrasted with her realisation of the need to do so, in a production that promises ticking crocodiles and a murderous Captain Hook. Royal Shakespeare theatre, Stradford-upon-Avon (0844 800 1110), 10 December to 2 March.
Escape the tinsel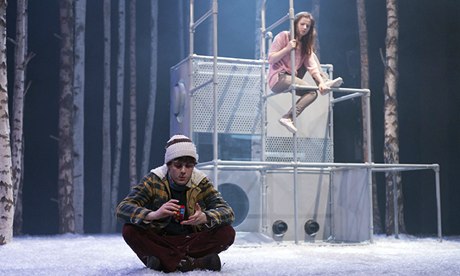 Let the Right One In
Bullied boy meets vampire girl in this flesh-creeper based on a Swedish novel and horror movie. Royal Court, London (020-7565 5000), until 21 December.
Coriolanus
Shakespeare's greatest Roman tragedy gets a rare outing with Tom Hiddleston as the uncompromising warrior who turns his back on his native city. Mark Gatiss and Deborah Findlay co-star as Coriolanus's wise counsellor and his militant mum in an ever-topical play that warns of the dangers to democracy of strong men. Donmar Warehouse, London (0844 871 7624), 6 December to 14 February.
Parsifal
The Royal Opera's new production is also its belated contribution to the Wagner bicentenary celebrations – his last and most enigmatic opera, with Simon O'Neill in the title role and the wonderful René Pape as Gurnemanz. Royal Opera House, London (020-7304 4000), 30 November to 18 December.
Ciara
If Christmas is all about families, Ciara's Glasgow gangland clan is one you wouldn't want to meet. The magnificent Blythe Duff reprises her role in David Harrower's award-winning solo about an art dealer who realises she has been traded all her life. Traverse, Edinburgh (0131-228 1404), 3 to 21 December.
Shobana Jeyasingh: Strange Blooms
Jeyasingh's rich, inventive spin on her classical past is showcased in this double bill that ranges from her 1988 collaboration with Michael Nyman, Configurations, through to her stylish take on cities, flowers and the baroque, set to music by Gabriel Prokofiev. Queen Elizabeth Hall, London, (020-7960 4200), 3 and 4 December.
American Psycho
Doctor Whos are everywhere this Christmas. While David Tennant is installed at the Barbican as Richard II, Matt Smith stars in this musical thriller based on the notorious Bret Easton Ellis novel about a serial killer at large in 1980s Wall Street. Expect plenty of shock and schlock. Almeida, London (020 -7359 4404), 3 December to 25 January.
Jordi Savall
If the viola da gamba is your thing, then a solo appearance by Savall on the instrument that established his international reputation is a must. St George's, Bristol (0845 4024001), 6 December.
Nebraska
Veteran actor Bruce Dern is terrific in this bittersweet American road movie about a grumpy, bewildered old man who journeys to Nebraska in search of a lottery payout. On general release.
Protest Song
Rhys Ifans plays Danny, a homeless man living rough by St Paul's, who wakes up one morning to find himself at the heart of the Occupy movement. Tim Price's monologue promises to be funny and savage, while offering a reminder of the thousands who will be homeless this Christmas. The Shed, London (020-7452 3000), 16 December to 11 January.
Festival of Fairytales for Grown-ups
Dare you venture into this Victorian warehouse by the Thames to meet the devil, fly with fairies, and encounter the dead? The Crick Crack Club's annual festival of bawdy performance storytelling also features live music and rum-laced hot chocolate. Barge House, London, 11 to 15 December.
X Marks the Spot
The London jazz underground gets into the festive spirit with a semi-improvised production from Pop-Up Circus and the Chaos Collective. Christmas has gone missing. Can a crack team from Edinburgh-fringe favourites Clout Theatre and the Xmas Big Band including rising-star jazz pianist Elliott Galvin and drummer Mark Sanders save it? Vortex, London (020-7254 4097), 18 December.
Trevor Noah
South African standup Noah made a big impact at the 2012 Edinburgh Fringe with his set about growing up mixed-race under apartheid. Warwick Arts Centre (024 7652 4524), Tuesday, then touring.
Brian and Robin's Christmas Compendium of Reason
Last year, their End of the World Show featured contributions from Steve Coogan, Eric Idle and Simon Singh. This year, TV physics heart-throb Brian Cox and rationalist comic Robin Ince return with another comedy-and-science floorshow. Hammersmith Apollo, London (0844 249 4300), 12 to 14 December.
Jonzi D – Lyrikal Fearta
When hip-hop choreographer and impresario Jonzi D was offered an MBE, the conflicting emotions he experienced inspired him to choreograph The Letter. It returns to the stage alongside a new work that examines old and new school generations of hip-hop artists. Lilian Baylis Studio, London (0844 412 4300), 9 to 11 December.
Shunga: Sex and Pleasure in Japanese Art
For childless adults who plan to spend the holidays in a metropolitan setting safe from cosy family gatherings, this superb exhibition offers fun that's far from Christmassy. Best not to get a print for your grandparents. British Museum, London (020-7323 8181), to 5 January.
Seasonal singalongs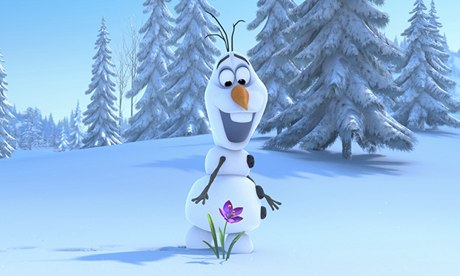 Frozen
Disney's animated musical is a new twist on Hans Christian Andersen's The Snow Queen. Elsa is a princess with the power to control snow and ice. When an evil duke exiles her to a freezing wasteland, her gutsy sister Anna must rescue her. With songs by the Book of Mormon writing duo Robert Lopez and Kristen Anderson-Lopez. On general release.
The Sixteen at Christmas
A beautifully devised touring programme, interleaving early carols with seasonal choral pieces to mark two anniversaries, Britten's centenary and the 50th anniversary of Poulenc's death, including the former's Ceremony of Carols and the latter's Quatre Motets. St John the Evangelist, Oxford, 7 December; then touring).
Meet Me in St Louis
Have yourself a very merry Christmas with UK stage premiere of the 1944 Judy Garland vehicle. This tiny venue should burst with festive goodwill. Landor, London (020-7737 7276), 11 December to 18 January.
That Day We Sang
Lives unfulfilled and missed opportunities are the subject of this play with songs about a middle-aged insurance clerk in 1960s Manchester who thinks that life might have peaked for him 40 years previously when he sang at the Free Trade Hall. Victoria Wood's 2011 charmer is reinvented for a new space. Royal Exchange, Manchester (0161 833 9833), 5 December to 18 January.
Chicago
Murder just got musical with this new revival of Kander and Ebb's tale of 1920s Chicago and femmes who prove pretty fatal to the men in their lives. Paul Kerryson's revival should give rein to the mix of comedy and corruption that exposes this adult musical's dark heart. Curve, Leicester (0116 242 3595), 29 November to 11 January.
Michael Clark
Clark has always claimed rock music as his most formative influence, alongside his Royal Ballet training – and this triple bill is set to Scritti Politti, Relaxed Muscle, Sex Pistols and Pulp. Barbican, London (020-7638 8891), 22 to 30 November.
Kurt Vile and the Violators
Celebrate the end of 2013 with the maker of one of the albums of the year. Wakin' on A Pretty Daze by Philadelphia singer-songwriter Kurt Vile (his real name) is hypnotic and beautiful, packed with long, slowly unfurling songs and surprisingly witty lyrics. Various venues, (kurtvile.com/live), 11 to 17 December.
Warp x Tate
Collaboration between the UK indie label (famed for techno, but far more eclectic than that) and artist Jeremy Deller, Warp x Tate features sound installations by Rustie, Oneohtrix Point Never and Hudson Mohawke, and a performance by Deller's Acid Brass: a brass band performing old rave hits. Tate Britain, London (020-7887 8888), 6 December.
Calvin Harris and Tiësto
Giant EDM festive jamboree: the sheer size of the venues visited by the two DJs showing the commercial impact of this strain of dance music. Various venues , 18 to 23 December.
Perfect pantos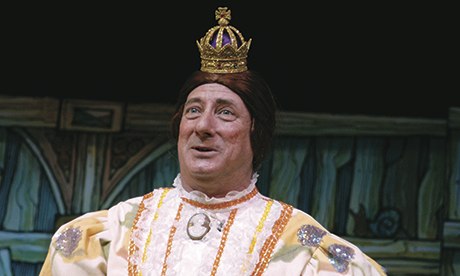 Aladdin and Twanky
Great excitement atBig news from the Royal: tThis year's panto will have an exciting addition – a plot. One of the great annual shindigs with a great dame in Berwick Kaler, spectacular sets and groan-inducing jokes. Theatre Royal, York (01904 623568), 12 December to 1 February.
A Gay in a Manger
The nativity story gets a queer makeover, with lifestyle gurus Tranny and Roseannah giving tips on manger decoration. Should be outrageous trashy fun for adults only. The Arches, Glasgow (0141 565 1000), 12 to 21 December.
Jack and the Beanstalk
Its 30 years since Kenneth Alan Taylor first donned his frock to play Dame Daisy. This will be his last panto, but it's less of swansong than a melodious moo. Nottingham Playhouse (0115 941 9419), 29 November to 18 January.
Peter Pan and the Incredible Stinkerbell
Terrible Tink has always been a tearaway, but now she's got flatulence too. JM Barrie's story remade as a wild romp that will make us all clap our hands and say we believe in fairies. Tron, Glasgow (0141 552 4267), 29 November to 4 January.
Dick Whittington
Will the streets be paved with Olympic gold? Will the cat get the cream? We can't answer those questions, but we're confident this will be one of London's finest pantos in a theatre that lends itself to the art form. Theatre Royal Stratford East, London (020-8534 0310), to 11 January.
Gather round the TV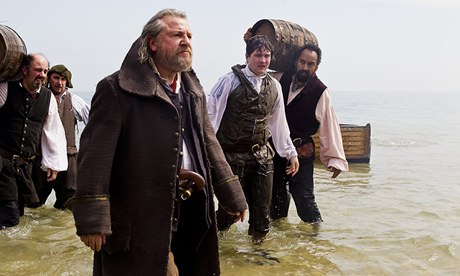 Moonfleet
A sumptuous new adaptation of J Meade Falkner's 1898 novel of diamonds and smuggling. Sky's Christmas dramas have faltered in the past, but this – starring Ray Winstone, Phil Daniels and Aneurin Barnard – looks like perfect family fare. Sky 1.
Death Comes to Pemberley
Having run out of books by Jane Austen, BBC1 gets as close as possible to a new Pride and Prejudice in an adaptation of PD James's crime-fiction sequel. BBC1, TV timings not yet finalised.
Still Open All Hours
The ghosts of Christmas schedules past haunt some of the BBC's most-anticipated offerings. In the absence of Ronnie Barker, David Jason takes over Arkwright's grocer's shop in a revival of Roy Clarke's sitcom Open All Hours. BBC1.
Nan
Despite repeated suggestions that she had hung up the cardigan of her highest-profile character, Catherine Tate has been persuaded to return in a special edition of Nan, with commissioners hoping it can repeat the success of Nan's Christmas Carol some years back. BBC1.
12 Drinks of Christmas
Christmas is all about two things: alcohol and worrying that Alexander Armstrong lacks the ability to say no. This show – where he and his brother-in-law Giles Coren attempt to assemble the perfect selection pack of Christmas booze – has both. BBC2.
Man Down
Traditionally, sitcoms have to be established and beloved to warrant a Christmas special. Man Down – Greg Davies's brilliant new offering – is neither. How will the show's funniest scenes, usually the ones where Rik Mayall attacks Davies while dressed as a bear, translate to the festive season? Channel 4.
Sherlock
Sherlock finally returns after delays caused by writer Steven Moffat's Doctor Who commitments and Benedict Cumberbatch's soaring movie career. BBC1.
For the parsnip peelers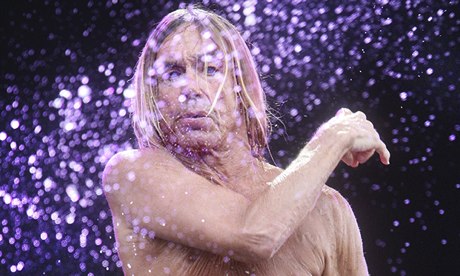 Iggy Pop's Christmas show
Christmas lunchtime wouldn't be the same without a screaming topless man. Mr Pop will present a two-hour radio show about "joy and compulsion". And then, because there's nothing more festive than cognitive dissonance, you'll watch the Queen's speech. BBC 6 Music.
Desert Island Discs
Would Miranda Hart actually listen to any music if she was on a desert island? Surely she'd be too busy tripping over the gramophone again and again. Nevertheless, the Sunday before Christmas we hear her choices, redundant as they obviously are. Radio 4, 11.15am, 22 December.
National Velvet
This new adaptation of Enid Bagnold's classic starring Alison Steadman and John Sessions sounds like precisely the thing to tune into. Radio 4, 2.15pm, Christmas Day and Boxing Day.
Friday Night is Music Night
Ken Bruce presents a star-studded Christmas concert by the BBC Concert Orchestra. If you've ever wanted to hear what the West End's biggest names sound like doing Christmas standards, this is for you. Radio 2, 20 December.
The Radio 4 Comedy Advent Calendar
Throughout December, acts like Mitchell and Webb, Lenny Henry, Sue Perkins and Johnny Vegas will pop up all over the place – from Today to Woman's Hour – to deliver their politely skewed take on the world. All the fun of a real advent calendar, without the disappointing sliver of chocolate that tastes like cardboard.
Selections by Lyn Gardner, Michael Billington, Andrew Clements, Alexis Petridis, Judith Mackrell, John Fordham, Brian Logan, Stuart Heritage, Mark Lawson, Jonathan Jones