Simon Donald is a 49-year-old standup comic, musician and occasional actor best known for co-founding the satirical magazine Viz with his brother, Chris, in 1979. Although Simon was an actor in his teens, joining the Newcastle People's theatre in 1976, he didn't begin his career in standup until 2005. He has since performed throughout the UK, doing several runs at the Edinburgh festival. He is currently touring new material and will be at Nozstock: The Hidden Valley, Bromyard, Herefordshire, 26-28 July.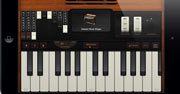 I have always used GarageBand, which is Apple's free music-making and recording software. But I recently bought an iPad and got the new version. A few nights ago I was in Newcastle and I decided to completely rewrite the end of the show, including a song I had written. The new GarageBand means you can actually use real drums rather than loops. It is simple and beautifully easy to use and the results are amazing. People who reckon you need more complicated software like Logic (Apple's professional music-making application) have almost certainly forgotten why they are making music in the first place. The best songs were recorded in ways far more simple than now and no one complains about the production, quite the reverse in fact.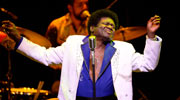 This is the extraordinary tale of Charles Bradley, an African-American singer who for most of his life made his money as a James Brown impersonator. The film tells you about how he grew up poor in Florida and takes you through his years being homeless. When he took up singing he was a brilliant performer, but he spent his life pretending to be somebody else. Then someone from a record label encouraged him to get his own songs together and sing about his own life and they are just beautiful soul songs. He now has two albums of his own out. You have to see the film, it really is an incredible tale.
Music: Rod Stewart: Time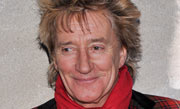 After punk happened, I hated the way music went; the whole electronic synthpop thing did not appeal to me. So I went backwards. I became obsessed with the Small Faces and then the Faces, which is where I discovered how great Rod Stewart is. I really like a lot of his solo stuff, including even Da Ya Think I'm Sexy? which I know you're supposed to hate. The new album has some truly beautiful songs on it. It's Rod looking back at his life. Apparently it's a sort of companion piece to his autobiography, but I haven't read that yet. The album is moving and amazingly frank, dealing with past love affairs, ups and downs and even his divorce. It is just a great record.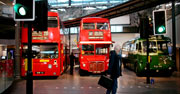 As a rule, I don't visit many museums. You can go and see the tomb and treasures of Tutankhamun or the crown jewels but they don't really tell you much about how normal people lived in those times. The London Transport Museum on the other hand tells you how ordinary people lived. It is beautiful and fascinating and instructive. When I went there I thought how brilliant it was to have the smell of diesel fuel in the air, as if to evoke a sense of engineering and machinery. Actually the bloody place was on fire so we were all evacuated. I still haven't seen it all but my ticket is valid until the end of October, so I am going back.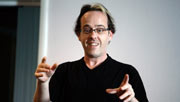 He is a superb comedian. Comedy is hard to talk about and he is particularly hard to talk about because his comedy is so surreal. The show, which I was fortunate enough to see a preview of, is called Seymour Mace Presents Marmaduke Spatula's Fuckin' Spectacular Cabaret of Sunshine Show. Great name. Seymour has this effortless way about him, he is very working class and very natural, which accentuates the strangeness of it. He'll be playing Edinburgh this year and I really recommend seeing him.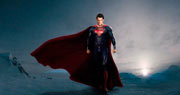 I wanted to include this because I am a huge comic-book reader. It was not the film I wanted it to be. There are way too many religious references – Superman as Christ – and they are hammered home in really unsubtle ways. They have also modernised him in a way that will annoy most fans of the original comic. His uniform for instance is all black and where the original comic was insanely colourful, here everything is grey, like the director was remaking Blade Runner. They even got rid of Superman's red underpants. The final straw