At the heart of the Civic Centre in Newcastle, a modernist palace in concrete, is an elegant antechamber that contains a model of the city. The council leader, Nick Forbes, sees it every time he leaves his wood-panelled office. It is a miniature vision of a city that, depending on your interpretation, he is either desperately trying to save, or using as collateral as he performs a perilous act of political grandstanding.
Labour-run Newcastle is the second council in England to threaten to axe its arts budget; Conservative-controlled Somerset was the first to do so, last year.
When I asked Forbes – the 39-year-old, Cambridge-educated son of a County Durham postman – to explain Newcastle's decision, he said: "Local government is facing a massive funding crisis... by 2018 the council won't even have the money to provide the services it is legally obliged to." The proposed 100% cut to the city's culture budget was, he said, "a reflection of austerity in practice".
The cuts by central government to the council are deeply unfair, he argued: councils in the north were losing more per head than their colleagues in the south. Saving the arts budget wasn't even an option.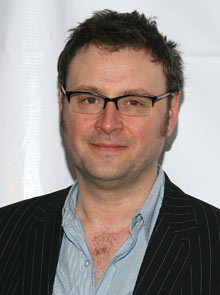 But Lee Hall, the Newcastle-born writer of The Pitmen Painters and Billy Elliot, who learned his craft at the city's Live Theatre and still regularly works there, has another way of seeing the cut to culture. "It is draconian, crazy, extreme, contemptuous and divisive," he told me when we met in his book-lined study in London, Hall brandishing his copy of the city's draft budget.
The proposed cut follows a £39.3m reduction to the city's government grant by 2016, though the council argues that the real cut it must make is £90m, or a third of its total budget, to cover inflation, redundancies and extra pressures on social care. It is also proposing to cut 10 of its 18 libraries and reduce funding to its museums by half.
Newcastle's position is causing tremors nationwide, for it has, with neighbouring Gateshead, done as much as any city to stake out a post-industrial identity by investing in culture.
The fear is that if Newcastle stops funding, the floodgates will open: "doing a Newcastle" is already slang for total arts cuts. Last week Tory Westminster became the latest to threaten it. A Labour councillor called the move "a shameful and mean-minded action from the nasty party".
In a Civic Centre committee room on Thursday afternoon, leaders of Newcastle's arts organisations met Forbes and the shadow arts minister, Dan Jarvis. There was much talk of positive ways forward and commitment to culture by other means. The elephant in the room, during the part of the meeting I attended, was the revenue cut.
One thing that became instantly clear was that Jarvis stands shoulder to shoulder with Forbes. After the meeting he said: "Do I like the fact that they have been forced to make a 100% cut? No, but I am here to try to make sure we can find a way through it. Ultimately, I don't blame Nick Forbes: I blame Eric Pickles."
Jarvis's stance has infuriated many: Hall wrote to him afterwards: "If as the shadow culture minister you cannot robustly and publicly defend the right of working-class and disadvantaged people to have access to libraries and culture I do not understand what you are doing holding that brief."
One woman at the meeting holds a lot of cards. Alison Clark-Jenkins is the head of Arts Council England's north-east office. The body's official position is that it will not be the sole provider of public funds to the arts in any one location. In other words, it would consider cancelling its support if an organisation became unviable because of a local authority pulling the plug. If that happened in Newcastle, it would be "curtains overnight", according to Jim Beirne, the entrepreneurial chief executive of Live Theatre (he has established a pub and a cafe, and is renting out office space to support the community-based new-writing theatre).
Live was among the shock troops of regeneration, one of the first to move to Newcastle's then "dark and dirty" quayside 40 years ago. "We are being led down a path of no return: it's taken us 40 years to get to this point, and they could just fritter it all away," he said.
The next morning, I spoke to Clark-Jenkins. She said the meeting had been constructive. "The council is now looking at other ways to support the arts in Newcastle, including helping with capital projects which may help some organisations earn more money. But," she added firmly, "there needs to be revenue funding as well."
The diplomatic tone in the committee room belies the anger outside. The local paper, the Journal, is following the controversy daily, frequently on its front page. All around the city are postcards emblazoned with the slogan "Not 100%" produced by the city's arts organisations: the idea is to send them to the council before 1 February, when the budget consultation ends. "I know the city council must make cuts," runs the message on the back, "and I don't expect the council's funding of arts to be an exception, but 100% is too much. Please reconsider this proposal to remove ALL funding from these organisations."
Philip Bernays, the chief executive of the Theatre Royal, gave me a tour around his exquisite 1837 pedimented building on Grey Street, the jewel in the crown of one of the finest neoclassical streets in England. The theatre receives no Arts Council funding, but currently just over £600,000 a year from the council. He has no idea how it would absorb a total cut; 50% might be just about doable. He said: "We will have to set the ticket prices as high as we think people will bear, and we're looking at our education and community work."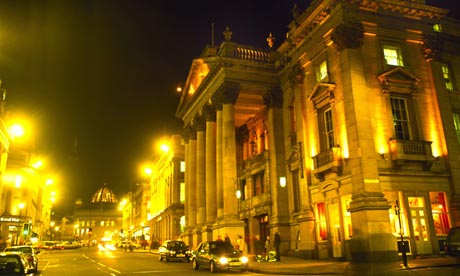 As with the other arts organisations affected, council funding accounts for only a small proportion of Bernays' turnover – in his case, 6.4%. But, he said, even these small sums really matter.
Beirne at Live agreed: "We are either tuppence down or tuppence up. Our grant may only be £80,000 out of a £1.6m budget, but that's four jobs. You lose your education or literary development department."
But is it justifiable to protest against cuts that, some argue, largely affect the middle class, when so much else is at stake, from Sure Start centres to care for the elderly?
Beirne and his colleague, artistic director Max Roberts, point to a 40-year history of working with children from the most deprived parts of Newcastle, and their communitarian focus on the history and people of the city. Later, I met Tim Bennett, a gentle, intense man who failed nearly everything at school but found the theatre.
Apart from his work on stage, he runs long-term projects with the Theatre Royal for vulnerable children and young adults – for example using theatre skills to increase confidence in children who have been so bullied they can no longer attend school. His kind of work is already scarcer in Newcastle. "They used to have a budget, and now they don't," he said.
The anxiety and anger in Newcastle is heightened by the fact that not everyone trusts the council's figures. The £39.3m is ratcheted up to £90m by what many believe is pretty approximate thinking: £10m is adduced as the cost of redundancies, and £20.8m is given as the cost of inflation.
Or rather, it is on page 11 of the proposed budget; on page 12, it is given as £21.7m. Such glaring discrepancies cause alarm: can any of the budget projections be trusted?
Anthony Sargent is chief executive of the Sage, the silvery landmark concert hall across the Tyne, in Gateshead. His experience of working with the local council is strikingly different: he describes "mature and constructive conversations" with Gateshead, leading to a cut of "around 15% to 17% over the next year". He feels Newcastle's figures are "clearly unravelling. They are talking about inflation of over £20m – it's all nonsense". Forbes (who sings bass in a choir at the Sage) made a choice, he argued: "No wicked Tory held his hand over the paper … saying they are compelled to do it is completely dishonest language. The whole thing smacks of being a political stunt."
The suspicion, vehemently denied by Forbes, is that the tough situation in Newcastle is being exaggerated to draw political attention to the limits of austerity measures. When I asked him about the criticism, he replied: "What's made me extremely angry is the way that some people have blown this out of context and deliberately misrepresented what is happening in Newcastle."
Of Hall's campaign of resistance, with its open letters, speeches and detailed inquiries about the way the draft budget has been calculated, he said: "I think in attacking the city council, he has got the wrong target." Exchanges between the pair have at times been ill-tempered, with Forbes referring to "Geordie expats who have made their fortune portraying the north-east".
I visited one of the 10 libraries due to close: Fenham Library, an imposing 1938 building with a polygonal reading room. Two staff smiled and asked if I needed help. I browsed: here was Zadie Smith's NW, and shelves of pink-spined romances (The Forbidden Passion; The Virgin's Proposition).
Librarian Becky Gardner told me: "A lot of our readers can't afford the bus fare to the city library." Her colleague, Kay Connelly, said: "People spend all day here – we've got the heating on, and we make people tea and coffee. It's somewhere people can belong, and you can feel safe."
She added: "You'll lose the younger generation, too: and then they'll wonder why literacy rates are going down. Once we're taken away, we won't reopen. Once we're gone, we're gone."