Marianne Faithfull was one of the most photographed women in the world during her youth. With her angelic English looks and long legs, she was the physical embodiment of the sexiest part of the 1960s, particularly when draped around the rock stars who made up her circle of lovers (Brian Jones, Mick Jagger) and friends (George Harrison, Paul McCartney, Bob Dylan). But, in fact, she never much liked modelling. "God no," she says in her filthily smoky voice. "I never saw myself as beautiful. I can look back and see it now, but then? Never."
Still gorgeous ("Oh no, I'm so fat!"), she remains, at the age of 66, somewhat averse to the process – when her shoot finally finishes, she tucks into a late lunch of sausages and mash with relief. Still, she concedes, there are plus sides to modelling: "I'm glad to know I can still turn into Marianne Faithfull."
Does she not feel like Marianne Faithfull the rest of the time? "Oh no. There are so many myths out there about Marianne Faithfull, I had to, um, detach. But I can turn it on because Marianne Faithfull is really an attitude, you know." And what is that attitude? She picks up a forkful of mashed potatoes and smiles beatifically: "That attitude is: fuck off."
There is nothing of that attitude about her in person – she remembers everyone's name on the fashion shoot and hugs them all at the end of the day – but there has always been a disjunct between Faithfull's public image and her personal reality. For a start, the woman whose name will for ever be associated with a notorious – if wholly fictional – sex act never saw herself as sexy and abhorred the sexualisation of women in the 60s: "The 1960s were so sexual, and I was never comfortable with that. I mean, there was fantastic sex. I love sex, or used to, anyway. But to be reduced to it diminishes a person. Also, I couldn't really do any work then. Anita [Pallenberg] tried to when she was with Keith [Richards], and he didn't want her to. But I couldn't contort myself into a place other people would find acceptable. I had to find my own path."
And for the past 30-odd years, ever since her 1979 album Broken English, she has done just that. She lives what she describes as "a solitary life" in Paris and Dublin, and has worked consistently as an actress and singer-songwriter, performing in shows such as Absolutely Fabulous (in which she played God) and Robert Wilson's mesmerising 2005 opera, The Black Rider (in which she played the devil). Whenever she comes to London, she spends time with her son, Nicholas, and her infant granddaughter. "My life," she smiles, "is wonderful."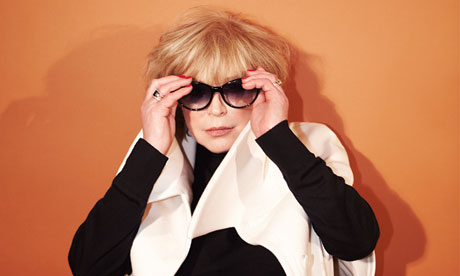 But things might easily not have worked out so well. Even when Faithfull seemed to have everything in the 60s, she was consumed by insecurities (she still winces at references to the Beatles song about her, And Your Bird Can Sing, because she hears it as a dig against her when it was intended as a jibe at Jagger). Then, when Faithfull lived on the streets for two years in the 1970s, she was a drug addict and anorexic, and none of her old friends came to her help, not even Jagger, with whom she'd lived for years. "He was very upset because I left him," she says forgivingly. "He loved me and I loved him, but I had to step out into space and be my own person. Also, when I found out my mother wanted me to marry a rich man, I instantly didn't want any rich man."
Presumably Jagger wasn't the man her mother had in mind? "No, but he'd have done, poor old thing. It wasn't his fault – I was proud and didn't want anything from him, and I think in the end he appreciates that."
In the 60s, Faithfull wore little dolly dresses and boots; in the 70s, she embraced punk; in the 80s, she went for a more edgy aesthetic ("Thank God I didn't wear big shoulders!"). But today she is all in black: black trousers, black vest top, black cardigan. "I always wear black. It's more anonymous. Once you stop seeing yourself as a sex object entirely, a lot of the inspiration for fashion goes."
A lot – but not all. Faithfull concedes that if she had the money, she'd buy all her clothes from Chloé and Akris, and her wardrobe is supplemented by gifts from Karl Lagerfeld at Chanel and Stella McCartney. "I love going to her shows, but mainly to see Paul. I always loved Paul – not in a sexual way, although I don't think Linda ever quite believed that."
Although she has some friends in the fashion business, she mainly keeps her distance: "Except from Kate [Moss] – she's an exception, because she's clever and interesting, which is rare. Also, she's clean now, which is great. It makes things much easier. She's almost 40, which is a good time to stop. It's when I stopped."
Faithfull's desire for anonymity is nothing new. When, at the age of 19, she left her husband and the father of her son and began a relationship with Jagger, she found herself in a public spotlight that she has never liked but has, over time, learned to accept. The press, she says, has long had it in for her, vilifying her as a "bad mother" after the famous drugs raid in 1967 when she was famously found wearing nothing but a bearskin rug. Faithfull talks bitingly about the attempts of various scriptwriters to turn her autobiography, Faithfull, into a film: "They always want to make me into a bad person. It's always men who do that, and I just won't have it. I don't get why people are so hard on women, but they are."
Her great-uncle, Leopold von Sacher-Masoch, famously gave his name to masochism and Faithfull thinks she probably was a psychological masochist in her youth, always beating herself up. But that has changed now. The body of work behind her proves that she is Marianne Faithfull the person, not Marianne Faithfull the myth, "I've got to where I've always wanted to be. I just feel more myself and I've learned not to care what other people think. It's happened slowly, very slowly. But I did it."
• The re-issue of Broken English is out on UMC/Island; mariannefaithfull.org.uk